Didn't Get a 1095-A or ECN? You Can File Taxes Without Them.

You can find the information found on a 1095-A yourself. You don't need a 1095-A from the Marketplace to file the 8962 form and don't need an ECN for the 8965 from.
On this page, we explain how to file your taxes if you got an incorrect 1095-A, didn't get a 1095-A, or didn't get an Electronic Confirmation Number.
UPDATE FOR 2019: This information is still generally helpful and relevant. In each year the IRS and/or marketplace may or may not issue updates on solutions.
UPDATE FOR 2017: The IRS confirmed you can file without the 1095-B or C, but not a 1095-A in 2016 (see Questions and Answers about Health Care Information Forms for Individuals (Forms 1095-A, 1095-B, and 1095-C). This means the advice below is going a bit against the grain. With that in mind, people may find all the data below helpful.
If you are expecting to receive a Form 1095-A, you should wait to file your 2016 income tax return until you receive that form. However, it is not necessary to wait for Forms 1095-B or 1095-C in order to file. – The IRS
NOTE: This information is helpful whenever thinking about 1095 forms, but if it's before April of any year, you will likely want to follow up with the Marketplace and wait for your form. 1095-A forms weren't filed until February 2nd, 2015 last year.
Before you file
you should look at 
IRS and Treasury clarification issued April 3rd, 2015
for those who got an incorrect 1095-A or didn't get a 1095-A. The information supports what we present on this page, but directs those who didn't get a 1095-A to file
Form 4868
 – request for an automatic extension. Finding the information on a 1095-A can help you estimate your return so you can pay in advance and avoid any penalties.
This video from the New York marketplace does a good job at explaining the 1095-A basics. If you don't live in New York, just replace instances of New York with
HealthCare.Gov
or
your state marketplace
.
Double Checking For an Incorrect 1095-A
Most people who got tax credits through the Health Insurance Marketplace got their 1095-A in February or March 2015, it was correct, and all was well. However, some people got a piece of incorrect data on their 1095 form. Everyone should make sure their 1095-A is right by checking it against the SLCSP tool below.
The Fix: You can check double check the Second Lowest Cost Silver Plan (SLCSP) reported on your 1095 against the Second Lowest Cost Sliver Plan on HealthCare.Gov https://www.healthcare.gov/taxes/tools/silver/. Just pick your state and find the second lowest cost sliver plan (all cost assistance is based on this "benchmark" plan)
Already Filed? If you already filed, you probably got a few more dollars than owed, no worries. The Treasury Department, said (paraphrasing), "If you like your refund, you can keep it." If you feel that the amount was wrong for any reason, you can dispute your 1095-A results (directions for California only). You can also amend your tax return with the right information. In some instances you could owe more back by filing using incorrect data, so it's worth double-checking. If you didn't file yet, you are advised to call the Marketplace and wait for your form.
IMPORTANT
: If you filed incorrectly and ended up getting the wrong amount back, you can file to waive the excess premium tax credit payment using
form 2210
.
Finding the Information on a 1095-A yourself
Some people still haven't gotten their 1095-A. It could still be sent before April 15th, but the first step to getting the correct form is contacting the Marketplace and IRS. The second step should be double-checking for the form online.
Call the Marketplace Call Center at 1-800-318-2596. TTY users should call 1-855-889-4325.

Call the IRS Tax help Line for Individuals at 1-800-829-1040.
Fee tax advice is also available through Volunteer Income Tax Assistance at 1-800-906-9887, or if you are over 60 years old there is free Tax Counseling for the Elderly at 1-800-906-9887.
When all else fails you can try the method below, it's IRS approved, and it's only four pieces of information per-person who got tax credits.
The 
basic ACA 1095-A IRS page
says to wait for your 1095-A, even though the IRS said you could keep your refund if you filed early by mistake, and other 
IRS
 information shows how to file without a 1095-A. In some cases filing with the wrong information could lead to owing too much. You could choose to 
amend your tax return
 if you filed early for the wrong amount.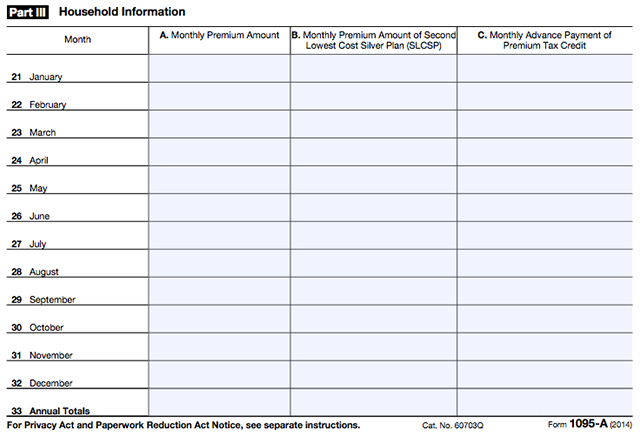 If you are running out of time to file for April 15th deadline. Here is what to do:
Download a blank 1905-A form
Now collect the following pieces of information for PART III – Household Information:

The months you, your spouse, and dependents had coverage. (Call your insurer or look at your bank statements) NOTE: This information should also be added to PART II columns D and E, but simply filling out PART III of the form will give you the same information, since you are filing out PART III columns A, B, and C for each month.
Your total premiums paid for you, your spouse, and dependents. (Call your insurer or look at your bank statements) NOTE: Unless you adjusted cost assistance or switched plans this should be the same each month.
The cost of the Second Lowest Cost Silver Plan in your Marketplace. (https://www.healthcare.gov/taxes/tools/silver/)
The total amount of Advanced Premium Tax Credit that was paid on your behalf. (Your insurer will have this information too) NOTE: You can compare the amount that you paid to the full price of the plan, the difference is your Advance Payment of Premium Tax Credit.
If you are married, then you'll also need "Policy Number (Form 1095-A, line 2)". So it's a smart move to get the policy number from the Marketplace or your insurer. You only need to enter the LAST 15 digits of the policy number (that's all that show on a 1095-A sent to you as well).

Now that you have all of that information add the total amount in for each column.
Should I File My Own 1095-A?
We have been advising people that the Marketplace files 1095-A's to the IRS on behalf of the individual or family. However, we got a comment from a reader about the IRS asking the individual to fax in their 1095-A. So if you still don't have a 1095-A, then it seems smart to fill out and file the form along with your taxes (or at least to hold onto it if it's needed down the road). This is a common sense conclusion and is not backed up by official documentation.
Official sources all say that the Marketplace files, not the individual. This remains true as of April 3rd, 2015 with the IRS and Treasury suggesting one file for an extension using Form 4868 rather than filing a 1095-A one's self. So do keep that in mind if you choose to go this route.
You can see our 1095 instructions page to understand what each field means if you need further direction. There is nothing on there, aside from what we described above that isn't straight forward.
If you want to file a 1095-A yourself, you'll need to make sure you get your "Marketplace assigned policy number" and "policy issuers name" along with information about the cost of your coverage and months you had coverage.
Quote From the IRS on What to Do If You Didn't Get the Form or it Was Incorrect
What do taxpayers do if they lost or never received their Form 1095A or if it is incorrect? If Form 1095-A was lost, never received, or is incorrect, taxpayers should contact their Marketplace directly for a copy. Information regarding how to reach the Marketplace is available on HealthCare.gov as well as IRS.gov/aca.

If taxpayers experience difficulty obtaining the Form 1095-A, Health Insurance Marketplace Statement, from their Marketplace, they should review the monthly billing statements provided by their health coverage provider or contact the provider directly to obtain the coverage information, monthly premium amount, and amount of monthly advance credit payments made on their behalf. – IRS
Generally, the Marketplace can help you find all of the information needed on a 1095-A, and in a perfect world your 1095-A is somewhere between the Marketplace and IRS if not both places but lost in the mail. That being said, this page is meant to provide direction to those who want an alternative to calling the Marketplace or IRS again.
What to Do If You Didn't Get an Electronic Confirmation Number (ECN) For an Exemption
In some cases, those who applied for an exemption are still waiting for an Electronic Confirmation Number (ECN). This is the easiest fix of all. Just enter "PENDING" instead of the ECN and file your 8965 exemptions form.
Other Important Notes
While we are at it, here are some other things of note:
Unless you got a Marketplace plan, 1095 forms aren't needed until next year. Most insurers and employers got transition relief for 2014, so don't expect 1095-B or 1095-C forms.
This is the first year the 1095-A forms went out. How often is version 1.0 the best? Arguably not often and for some, not in this case. Expect less trouble next year.
The IRS can't send you to jail or do much of anything if you file incorrectly by mistake. You'll either get to keep the excess amount, or the IRS will withhold it.
You can file a Tax Extension using form 4868, but you should read the 4868 instructions and read about the implications. There are penalties associated with filing an extension.