Summary of Benefits and Coverage (SBC)




Ads by +HealthNetwork
Your health plan's Summary of Benefits and Coverage (SBC) is a summary of what your plan covers in terms of benefits and cost sharing, and explanations of how everything works.
We suggest opening up a Summary of Benefits and Coverage sheet as you follow along. The Summary of Benefits and Coverage PDF can be found near the bottom of the details section of any plan you are looking at online in your marketplace account. Just view plan info, and then expand the details section. By following along, the information on this page will make more sense.
NOTE: Although this page was written in 2015, not much has changed in terms of understanding what a Summary of Benefits and Coverage is. Under the Affordable Care Act benefits summaries were standardized, that standardization has remained since.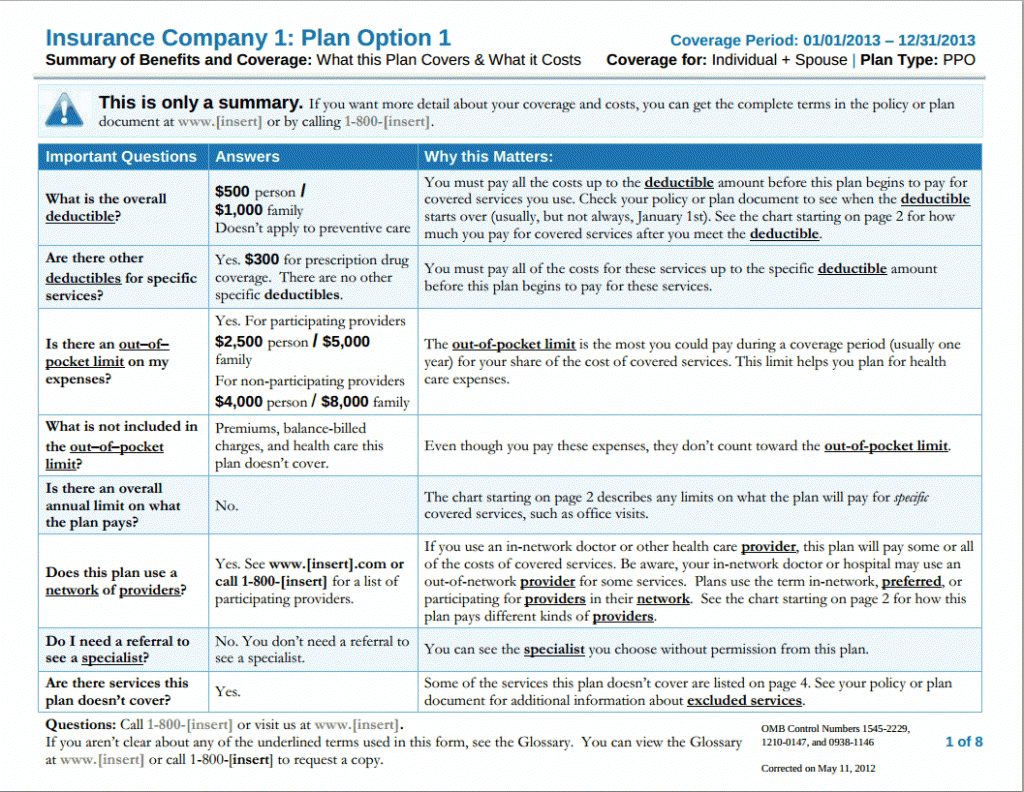 Standardized Benefits Sheets
Under the ACA benefits and coverage sheets are standardized. This makes discussing them easy and makes comparing plans easier too. Most sheets look the same, others change the way information is presented slightly. However, the basics of all information will be the same. Cost sharing reduction is reflected in your summary by your insurer repeating the summary with slight changes for each cost sharing or assistance level.
You can also view basics of benefits and cost sharing online, the actual PDF version of your summary of benefits and coverage can be found near the bottom of the web version of the basics benefits.
What You Won't Find in the Benefits Summary
The benefits summary does not contain networks and other specifics. You can refer to the insurers website for more detailed information about what medical providers are covered under the plan and what drugs are covered. You can also always call the insurer in question for more information.
Plan Brochure
A Health plan brochure is different than a benefits sheet. They are not standardized like benefits sheets, but do include much of the same information (and typically other plans that provider offers). You should check out both before you enroll in a plan, but use benefits summary sheets to compare plans. There is no specific need to read the brochure for basic comparisons of plans.
Comparing Benefits on the Marketplace
Before we get to the benefits sheet, realize that you can compare benefits using the Marketplace website. The website version of the summary will be a shorter more summarized breakdown of cost sharing, benefits, and coverage. This is useful for quick reference, but the PDF summary of benefits and coverage is what should be used for details on how a plan works.
How Benefits Sheets Work With Cost Assistance
If you are getting a marketplace plan, especially on Silver plans due to the sheer amount of options, when you first look at a summary of benefits and coverage for a health insurance plan the 50 plus page document can seem intimidating. The first thing to realize is that Marketplace health benefits summary can include the same summary up to six times in english, one for no cost assistance, one for each of the three Cost Sharing Reduction assistance level (CSR 73, CSR 87, CSR 94), and one or two for AI/AN (American Indians and Alaska Natives) for limited and full coverage. These sheets are then repeated in Spanish. This is because cost sharing amounts change based on what group you are in. The actual part you need to look at will be about seven pages long. CSR levels and AI/AN benefits only change when you switch or renew plans or adjust cost assistance, so you for the most part, won't need to compare one with another. If your income changes, you may change CSR levels, but you can continue your same plan. Only paid expenses are affected by this.
Figuring Out What Part of the Benefits and Coverage Summary Applies to You
If you are an American Indian or Alaska Native you'll use that section (either limited or 100% coverage). If you make more than 250% of the Federal Poverty Level in household income, or if the plan isn't' a marketplace plan, you'll use the standard section. If you make between 100%-250% of the Federal Poverty Level on you'll use one of the CSR sheets. You can check your marketplace account to see what your CSR level is, or you can use the quick chart below. If you are viewing the benefits and coverage sheet online you can click "click the link to view the plan you selected", this is a standard functionality of all benefits sheets post 2014.
NOTE: Exact percentages below are subject to change each year.
100-150% FPL = 94% Actuarial Value (CSR 94)
150-200% FPL = 87% Actuarial Value (CSR 87)
200-250% FPL = 73% Actuarial Value (CSR 73)
More than 250% FPL = Regular Benefits Sheet
What Does the Health Plan Summary Mean?
At the top each summary section you will see the name of your Provider, the coverage period (policy period), a statement that this is a "Summary of Benefits and Coverage: What this Plan Covers & What it Costs, who the plan is for (Individual/Family or other), and the Plan type (HMO or PPO typically).
The Questions and Answers Section
In the summary itself it will have a list of important questions and answers, and then a description of why it matters. Let's review each of the typically QA sections here.
What is the Overall Deductible? This is the amount you have to pay before coinsurance kicks in. It differs based on assistance level.
Are there other deductibles for specific services? Some plans have specific deductibles for specific services. Some plans cover all covered services under one deductible.
Is there an out-of-pocket limit on expenses? This is your out-of-pocket maximum. The most you can pay in covered costs before your plan pays 100%. There is always a limit.
What is not included in the out-of-pocket limit? The answer is typically Premiums, balance-billed charges, and out-of-network service this plan doesn't cover. Some plans have specific out-of-network maximums.
Is there an overall annual limit on what the plan pays? The ACA makes dollar limits on essential care illegal. So the answer will be no on all Major Medical.
Does this plan use a network of providers? Most plans use a network of providers, you must seek coverage in-network for those costs to be covered.  Be aware, your in-network doctor or hospital may use an out of network provider for some services. Plans use the term in-network, preferred, or participating for providers in their networks. Know who is in network, and know cost sharing amounts. Only higher cost plans tend to provide maximum limits out-of-network.
Do I need a referral from a specialist? HMO's typically need referrals while PPO's don't. However you'll always want to check the benefits sheet to understand what referrals are needed. Referrals are directly connected to networks.
Are there services this plan doesn't cover? Almost every plan is going to have excluded services. Know what these are before starting your plan.
Services and Limitations
First this page describes cost sharing and jargon like this:
Copayments are fixed dollar amounts (for example,$15) you pay for covered healthcare, usually when you receive the service.
Coinsurance is your share of the costs of a covered service, calculated as a percent of the allowed amount for the service. For example,if the plan's allowed amount for an overnight hospital stay is $1,000, your coinsurance payment of 20% would be $200. This may change if you haven't met your deductible.
The amount the plan pays for covered services is based on the allowed amount. If an out-of-network provider charges more than the allowed amount, you may have to pay the difference. For example, if an out-of-network hospital charges $1,500 for an overnight stay and the allowed amount is $1,000, you may have to pay the $500 difference. (This is called balance billing.)
A plan may encourage you to use in-network providers by charging you lower deductibles, copayments and coinsurance amounts.
It should also include a description of out-of-pocket maximum. Once you reach your maximum the plan covers 100% of covered in-network services.
Next the page describes common medical events, services you may need, your costs in and out-of-network, and limitations and exceptions.
This will give you an idea of how cost sharing would work in real life, why it's important to get services in-network, and if approval is needed for that plan. Make sure to understand what is subject to deductibles, what isn't, and if approval will be needed in emergencies.
Excluded Services & Other Covered Services
Your plan will list services that your plan doesn't cover and some services that weren't discussed in the above section. Examples can be found below, however some plans will cover any of the commonly excluded services found below:
Services your plan does NOT cover:
Bariatric surgery
Infertility treatment
Private-duty nursing
Cosmetic surgery
Long-term care
Routine eye care (Adult)
Dental care
Non-emergency care when traveling outside the U. S.
Weight loss programs
Other Covered Services:
Abortion services of which Federal funds are prohibited
Hearing aids (Coverage for cochlear implants only)
Acupuncture
Routine foot care (For diabetes treatment)
Chiropractic care
NOTE: If you need a service like dental or non-emergency outside of the US it's important to find a plan that includes this as covered service.
Your Rights to Continue Coverage, Rights to Appeal, Minimum Essential Coverage, Minimum Value, and More
The next section of your summary includes information on your benefits, rights, and protections under the ACA and includes confirmation that it meets minimum value and coverage rules.
Examples of How Your Plan Might Cover Costs
The second to last section includes examples of how coverage of costs might work. This will give an example that includes cost sharing for your plan, what you pay, what your insurer pays, and what is generally owed.
Questions and Answers on How Your Plan Might Cover Costs
The last section will discuss questions and answers on how your plan might cover costs.
Know the Law – Summary of Benefits and Explanation of Coverage
Standardized summaries of benefits are set forth by TITLE I—QUALITY, AFFORDABLE HEALTH CARE FOR ALL AMERICANS. Subtitle A—Immediate Improvements in Health Care Coverage for All Americans. Below is a summary of that section.
Sec. 2715. Development and utilization of uniform explanation of coverage documents and standardized definitions. Requires the Secretary to develop standards for use by health insurers in compiling and providing an accurate summary of benefits and explanation of coverage. The standards must be in a uniform format, using language that is easily understood by the average enrollee, and must include uniform definitions of standard insurance and medical terms. The explanation must also describe any cost-sharing, exceptions, reductions, and limitations on coverage, and examples to illustrate common benefits scenarios.