Being Denied Medicaid or CHIP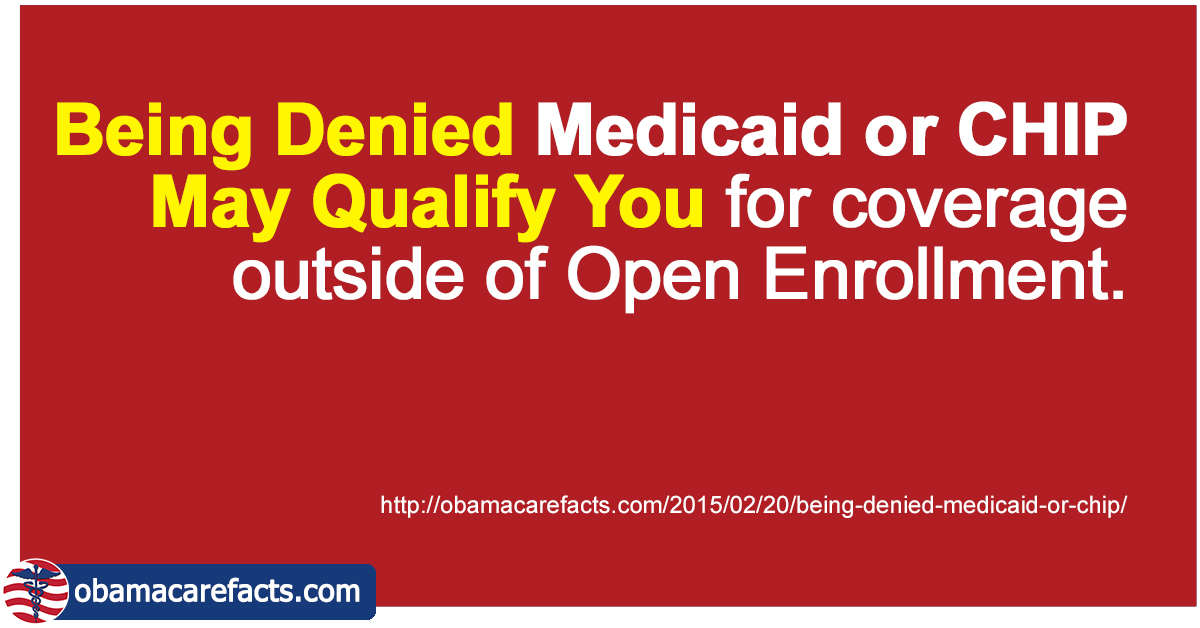 Being denied Medicaid or CHIP may grant you access to a special enrollment period, an exemption, or catastrophic coverage depending upon your situation and your state. Here is what you need to know:
If you applied for Medicaid or CHIP and got a rejection letter, then you may qualify for a special enrollment period.
You can't simply wait until you need coverage outside of open enrollment and then apply knowing you will be rejected.
A rejection from Medicaid or CHIP may also qualify you for an exemption from the fee for not having coverage.
A denial from Medicaid or CHIP may also qualify you for catastrophic coverage.
Rejection can be due to income because the Marketplace sent you to Medicaid and you got rejected, because your state didn't expand Medicaid and you applied during open enrollment, because Medicaid sent you to the Marketplace, or for other reasons.
In most cases, your rejection letter is sent to the Marketplace, but you'll want to make sure you have a copy for proof, in case you need when applying at HealthCare.Gov or if you are filing for an exemption from the IRS.
There are most certainly situations where applying for Medicaid and CHIP nets you nothing more than a rejection letter. For instance, if your income is too high, your state expanded, and you enroll outside of open enrollment.
FACT
: A special enrollment period is a time outside of
open enrollment
when you can get a health plan through the Health Insurance Marketplaces, an exemption is a short or year-long exemption from the fee for not having coverage, and catastrophic coverage is a private plan that only provides essential coverage for emergencies.
Important: When you fill out your Marketplace application, you may be asked if you've been denied Medicaid and CHIP coverage by your state agency since October 1, 2013. Be sure to answer "Yes" to this question. If you answer "yes," you will find out if you get another opportunity to shop for coverage outside of open enrollment.
Complex Situations Due to Rejection From Medicaid
There are many complex situations regarding Medicaid rejections special Enrollment, exemptions, and catastrophic coverage and they are subject to change. We don't have a list of every situation, but our basic advice will help point you in the right direction.
First and foremost, apply to HealthCare.Gov during open enrollment if you can. If HealthCare.Gov sends you to Medicaid and you are rejected you have more flexibility than you do if you are rejected on your own.
If your state didn't expand Medicaid, you'll have fewer Medicaid options, but will be more likely to qualify for an exemption or catastrophic coverage based on rejection.
Medicaid and CHIP can be enrolled in at any time of the year based on income. If you reasonably think you or a family member would qualify it makes sense to apply (even outside of open enrollment).
If you have further questions, please feel free to ask specific questions in the comments below.
Why Does Being Rejected For Medicaid or CHIP Qualify People for Special Enrollment?
The goal of the Affordable Care Act is to make sure people who want coverage can afford it. Those who tried to get affordable coverage from Medicaid or CHIP, but experienced a denial, get an extra opportunity to get private coverage.
This is in part because many state's rejected Medicaid expansion so it was easy for people to be confused about their Medicaid options. Also, this is due in part to the fact that Medicaid and CHIP are offered 365 days a year.
In many cases, a person could apply for Medicaid or CHIP before the deadline, but not be officially rejected before open enrollment ended.
These rules help make sure people in these scenarios get a fair shake but also gives some Americans who missed the deadline an additional opportunity to get coverage.
Apply for Medicaid or CHIP today and make sure to see if you can get a special enrollment in the Marketplace if you have been denied.