How to Sign up For ObamaCare




Ads by +HealthNetwork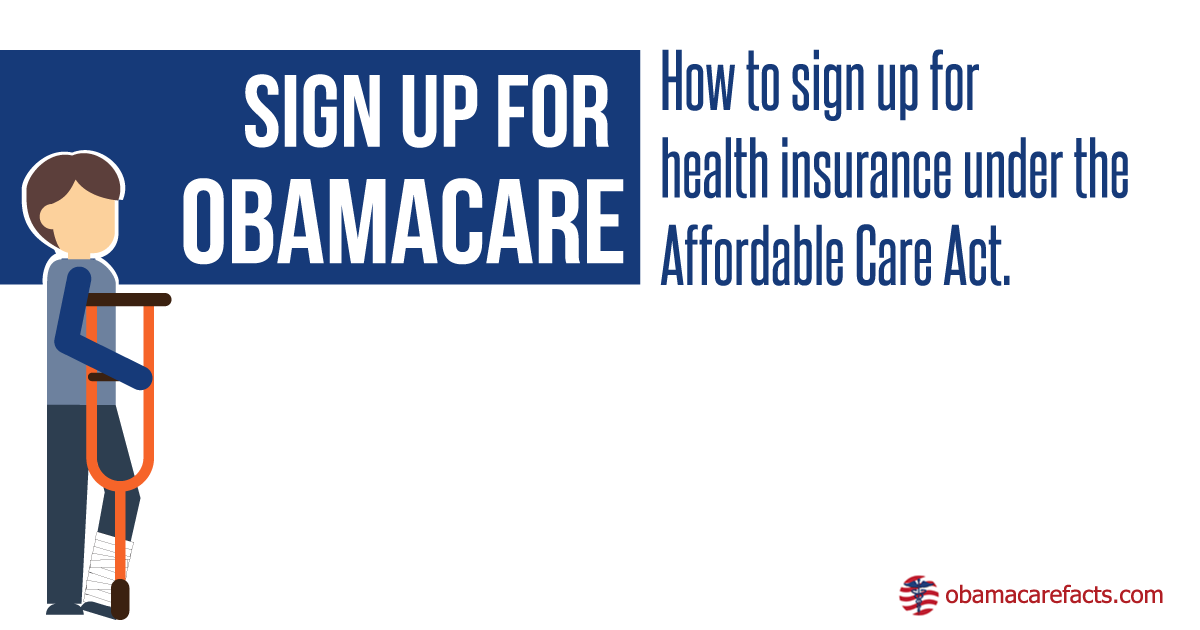 How to Sign up for Health Insurance Under the Affordable Care Act
To sign up for ObamaCare, go to HealthCare.Gov or find your state's health insurance marketplace, create an account, then enroll in a plan. Sign up for ObamaCare during open enrollment.
Directions for signing up, details on cost assistance, fees, enrollment periods, and information on what to do if you miss the ObamaCare deadline can be found below.
TIP: Want to see how much cost assistance you qualify for? Check out our ObamaCare eligibility chart and subsidy calculator.
Open enrollment for 2023 health plans ran from November 1st, 2022 to January 15th, 2023 in most states. Open Enrollment 2024 starts November 1st 2023. Some states have unique deadlines each year, so make sure to check your state-specific deadline if you miss the deadline. If you miss open enrollment and don't qualify for a special enrollment period, make sure to looking into options like Medicaid/CHIP and short term health plans!
TIP: You can also get covered by a marketplace-approved broker.
UPDATE ON THE FEE: From 2019 forward, there is no fee for not having coverage in most states. Despite this, open enrollment is still the only time of year you can get guaranteed issue health coverage and qualify for cost assistance without qualifying for a special enrollment period or another plan type.
Get Covered During Open Enrollment
Despite what you might have read elsewhere, heard on the radio, or seen on TV, Obamacare has continued to be a success for tens of millions of consumers with better access to health insurance under the law.
The reality is, while there have been some repeal and replace attempts in Congress and some changes over the years, the Affordable Care Act (ObamaCare) is still the law of the land.
That means there is still guaranteed coverage for people with pre-existing conditions, and Americans can still qualify for cost assistance based on income.
The only stipulation is to qualify for cost-assisted coverage that meets the standards of the Affordable Care Act. You have to sign up during each year's open enrollment season!
How to get covered under ObamaCare: Sign up for coverage at HealthCare.Gov using this link or get in touch with a HealthCare.Gov-approved broker (you can find an approved broker using the form below) during open enrollment each year to get coverage that qualifies for cost assistance based on income.
Open Enrollment for Obamacare Plans
Open enrollment for 2023 ran from November 1st, 2022, to January 15th, 2023.

If you are between enrollment periods and have lost coverage for reasons other than non-payment or if you have a qualifying life event, like getting married, you may qualify for special enrollment.
If you don't qualify for special enrollment, don't have coverage, and are in-between enrollment periods, then options are generally limited to short-term health insurance, Medicaid, and CHIP. Unlike in previous years, short-term health insurance plans, while inferior to ACA plans, have greatly improved thanks to some of the larger carriers bringing forward plans that make some attempt at being more robust long-term solutions. Short-term plans from United Healthcare and National General are two examples. One piece of advice regarding short-term plans, avoid smaller companies with limited information and track records.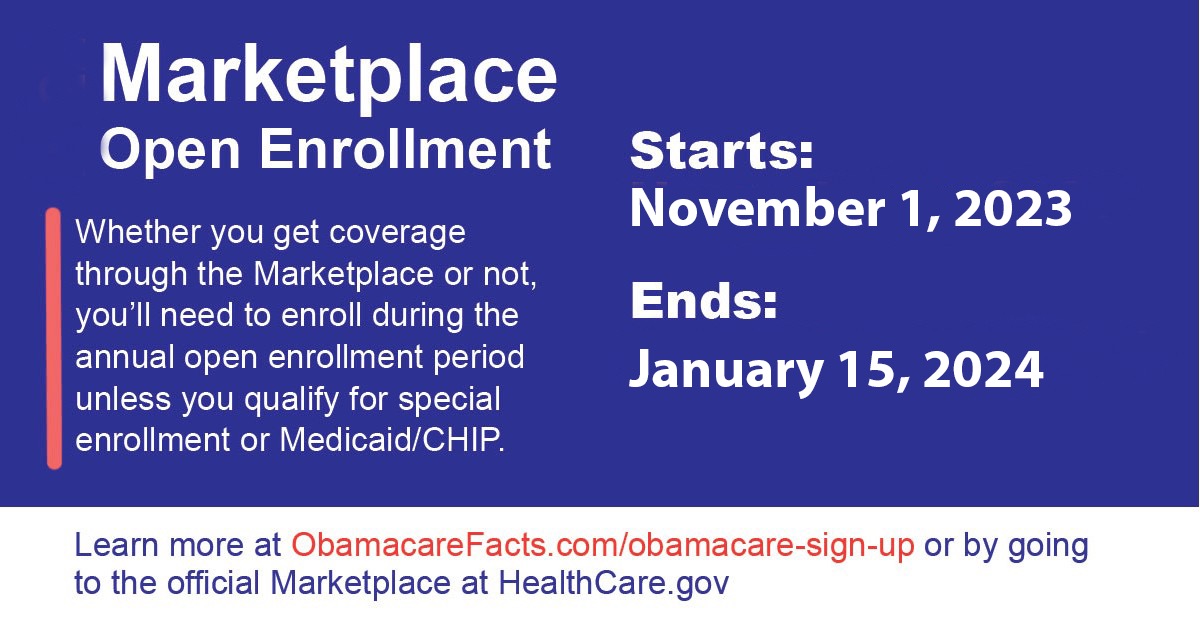 What You Need To Sign Up For ObamaCare During Open Enrollment
Make sure you have the following information ready to go before starting your process for enrollment.
Last year's tax information for you and your family
Projected incomes for this year
Medical history – ObamaCare does away with pre-existing conditions and gender discrimination, so these factors will no longer affect the cost of your insurance. Smoking, weight, and age still affect cost.
Social Security Numbers (or document numbers for legal immigrants)
Employer and income information for every member of your household who needs coverage (for example, from pay stubs or W-2 forms—Wage and Tax Statements)
Policy numbers for any current health insurance plans covering members of your household.
Any other important information that could affect your health insurance premium or coverage options.
How to Sign Up For Obamacare
Many know they can to the federal marketplace healthcare.gov or use their state's health insurance marketplace to sign up for private insurance, get access to subsidies, or apply for Medicaid or CHIP.
However, there are actually five ways different ways to sign up, including the website:
Enroll through a verified and trusted web-broker who works with CMS and Each State Exchange.
Get in-person help. You can find in-person help by going to LocalHelp.Healthcare.gov..
Call the 24/7 marketplace helpline at 1-800-318-2596.
Mail in a paper application.
How to Enroll in a Health Insurance Marketplace Plan
Here are the official directions for enrolling in a marketplace plan through Healthcare.Gov. Remember signing up is only step one – you still need to choose a plan and make your first payment for your coverage to begin officially. State-based marketplaces have very similar sign-up and enrollment processes. The directions below are specifically for States running a federal-based marketplace (i.e. States using Healthcare.Gov as their marketplace).
Set up an account. First, you need to provide some basic information. Then choose a username, password, and security questions for added protection.
Fill out the online application. You must provide information about you and your family, including income, household size, current health coverage information, and more. This will help the Marketplace find options that meet your needs. Important: If your household files more than one tax return, call the Marketplace Call Center at 1-800-318-2596 before you start an application. (TTY: 1-855-889-4325) This is a very important step. Please don't skip it. Representatives can provide directions to make sure your application is processed correctly.
Compare your options. You'll be able to see all the options you qualify for, including private insurance plans and free and low-cost coverage through Medicaid and the Children's Health Insurance Program (CHIP). The Marketplace will tell you if you qualify for lower costs on your monthly premiums and out-of-pocket costs on deductibles, copayments, and coinsurance. You will see details on costs and benefits to help you choose a plan that's right for you.
Enroll. After you choose a plan, you can enroll online and decide how you pay your premiums to your insurance company. If you or members of your family qualify for Medicaid or CHIP, a representative will contact you to enroll. If you have any questions, there's plenty of live and online help along the way.
For more details on signing up, you can check out our health insurance marketplace guide or find your State's health insurance marketplace now to get started.
Who Is Eligible For ObamaCare Enrollment?
Any legal citizen, who does not qualify for Medicare, and who wants to purchase private insurance is eligible for the marketplace. However, not everyone is eligible for subsidies. You can also sign up for Medicaid or CHIP through the marketplace. If you have employer-based coverage, you'll sign up through work. If you qualify for Medicare, you must sign up for Medicare separately.
If You Have Questions, Ask For Help From A Licensed Health Insurance Professional
Open enrollment is the only time of year that individuals and families can obtain health insurance that meets the Minimum Essential Coverage requirements that qualify for cost assistance. These are plans that can not reject an individual if they have a pre-existing condition.
With that said, each health insurance type has its own enrollment period. Coverage options outside of open enrollment include qualifying for a Special Enrollment Period, Medicaid, and CHIP. If you don't have access to these, consider your Short Term Health Insurance options.
Want To Explore All Of Your Options Right Now? 
Try using the link below to get rates from a licensed health insurance professional. This quoting service is provided by
HealthNetwork
, a trusted consumer advocate, and resource for ObamacareFacts.com and tens of millions of our visitors for more than five years.
Renewing, Enrolling, Or Just Avoiding Headaches – Oh My!
Make sure to enroll, switch plans, and verify your cost assistance each year by December 15th for a plan starting Jan 1st Unless there is extensions). Your plan and cost assistance may or may not auto-renew on the 1st of the year. This year is a critical one, to safely, and we stress safely, explore your options. President Trump has unwound some regulations put in place by the Obama administration regarding short-term health plans. One benefit of Trump's deregulation of short-term plans, is that consumers will now have access to plans with lower out-of-pocket expenses (deductibles) for a 12 month period, unlike under the Obama era regulation. Under Obama, short-term plans were limited to 3 months.
Even if you miss the deadline to get covered by Jan 1st, make sure to verify information, change plans, and enroll before the end of open enrollment.
Should I Use the Health Insurance Marketplace?
There are lots of ways to sign up for health insurance this year, including using an approved web broker who can help you avoid the, sometimes clunky government exchange website. While some non-marketplace options can help you find a marketplace plan, we always suggest making your state's marketplace or Healthcare.Gov your first stop.
Options For Getting Covered Under ObamaCare
ObamaCare doesn't eliminate private insurance – it just gives you more options for obtaining it. If you qualify for a subsidy, you can gain access to cheaper coverage through Healthcare.gov, or your state's exchange, or through a trusted private marketplace that has access to Obamacare plans. Our trusted partner HealthNetwork helps you avoid the hassles of the government exchange, while also giving you access to the widest range of plans available. They also operate with a very ethical and transparent model, and this means that you don't have to worry about them reselling your information or harassing you over the phone.
Medicaid / CHIP, Medicare, and Employer Coverage
If you make less than 138% of the Federal Poverty Level (FPL) and your state expanded Medicaid, you may qualify for Medicaid. CHIP has more eligibility options and is offered to children and parents. Medicaid and CHIP are offered 365 days a year.
If you qualify for Medicare you can't sign up for ObamaCare or any other non-Medicare coverage, so you may want to look at supplemental Medicare options during Medicare's open enrollment periods if original Medicare isn't enough.
If you are offered coverage through an employer, you'll most likely want to go that route, as you won't likely be eligible for cost assistance on the Marketplace.
Remember each insurance type has its open enrollment period – don't confuse the enrollment period for private coverage for individuals and families with Medicaid, CHIP, Medicare, or Employer enrollment periods.
Medicaid Enrollment and CHIP Enrollment
You can enroll in Medicaid or CHIP 365 days a year! Medicaid coverage can start retroactively up to three months. If you want to make life easy and sign up for Medicaid or CHIP through the marketplace, you'll have to sign up during open enrollment. If you miss open enrollment in the marketplace, you have other Medicaid sign-up options.
Medicare Enrollment
Medicare isn't part of the health insurance marketplace, if you would like to sign up for Original Medicare or supplemental Medicare, please see our page on Medicare Enrollment to learn how to sign up for Original Medicare, Medicare Advantage, Part D, and Medigap.
Do I Have to Sign Up For ObamaCare?
Unless you qualify for an exemption, you will need to obtain and maintain minimum essential coverage all year.
You are considered covered if you have minimum essential coverage. Minimum essential coverage includes all marketplace coverage, a private major medical insurance plan outside the marketplace (there are limitations), grandfathered health plans, Medicare, Medicaid, CHIP, COBRA, retiree coverage, TRICARE, VA health coverage, or some other kinds of health coverage.
Please see our ObamaCare exemptions page for a list of those who do not have to obtain coverage this year and annual grace periods.
When Can I Sign Up For ObamaCare?
You must sign up for ObamaCare during open enrollment. If you missed open enrollment, you would not be able to get private insurance inside or outside of the marketplace unless you qualify for a special enrollment period.
ObamaCare Special Enrollment Period
A special enrollment period is a time outside of the open enrollment period when you and your family can sign up for health insurance in the health insurance marketplace. You may qualify for a special enrollment period of 60 days following certain life events that involve a change in family status (for example, marriage or birth of a child) or loss of other health coverage.
If you don't have a special enrollment period, you can't buy insurance inside or outside the Marketplace until the next open enrollment period.
Get Help Signing Up For Health Insurance
There are several ways to get help signing up for health insurance. We suggest the following methods unless you qualify for insurance through work, Medicare, TRICARE, or another type of non-private health insurance:
1. You can go directly to your state's marketplace website and sign up. State marketplaces offer free help over the phone and in-person help for signing up. Details will be found below. Plans are limited to those sold on the marketplace in your area. If you think you qualify for Medicaid, please see our Medicaid page for more details. If you know you are eligible for cost assistance or Medicaid, this is a great option.
2. Go directly to a provider. You will see top providers listed on our site. You can sign up directly with a provider. Any provider will be able to sign you up for plans they sell in your state whether the plans are on or off the marketplace. If you know what plan you want or what provider you want to use, this is a great option.
3. Use a health insurance broker or agent. A broker or agent can help you sign up for the marketplaces and help you see if you qualify for cost assistance either online, in-person, or on the phone. Brokers and agents also have access to different plans from different providers – both inside and outside the marketplace. Brokers are paid by the insurance companies, so you won't pay more by using this service. This is a great option if you aren't sure if you qualify for cost assistance, or if you know that you don't.
All providers and brokers listed on our site can help you to see if you qualify for cost assistance subsidies via your state's marketplace. However, if you choose a plan that's not offered on the marketplace, you won't be able to get cost assistance. All plans sold on and off the marketplace are regulated, so you won't pay more or less (barring cost assistance) no matter how you shop.
Why Next Year's Open Enrollment Looks Promising
Open enrollment 2018 and 2019 saw modest overall increases in total enrollments from previous years in many states with just a handful of states experiencing minor declines.
Rising premiums, funding cuts by President Trump for marketing outreach to drive enrollments, and a shorter timeline for enrolling didn't help, this still didn't have the negative drag that we were quite honestly concerned would happen. Overall, the outcome for recent Open Enrollment Periods (OEPs) was not bad.
While there were some issues that did in fact complicate enrollments for some, we feel extremely confident that this next OEP looks like it could be, the best year for consumers regarding their health insurance options, since 2015. That year was a high point in the ACA's history with respect to the number of available plans and carriers participating.
Here are just a handful of reasons why we feel confident about open enrollment moving forward, and why enrolling in an Obamacare plan should be easier than it has been in the past.
More Insurance Carriers Are Expanding Their Footprint – Including Oscar and BrightHealth.
The Enrollment Process Will Now Include A Seamless Enrollment Solution Through Approved Web Brokers
The ACA (Obamacare) Has Never Been More Popular With Americans
Despite Government Funding Cuts, Insurance Carriers Are Reconfiguring Their Plans and Adapting To Make Subsidized Plans Accessible
In The Event You Don't Qualify For A Subsidy And Can't Afford A Plan, There Are Now Some Alternatives, That While Not Up To The ACA's Standards, Are Decent Alternatives If You Have No Other Options
ObamaCare Deadlines
We previously listed all of the deadlines starting way back from the 2013 season on. We're no longer doing that because the most important deadline you need to be aware of, is simply the one for this upcoming season.
Officially, the deadline for Obamacare (non-state exchange) is December 15th of each year. Have questions, contact us via email, or simply call us toll-free to have a trusted licensed professional assist you in answering all of your questions.
How to: ObamaCare Sign Up