What are Medicare Drug Formularies?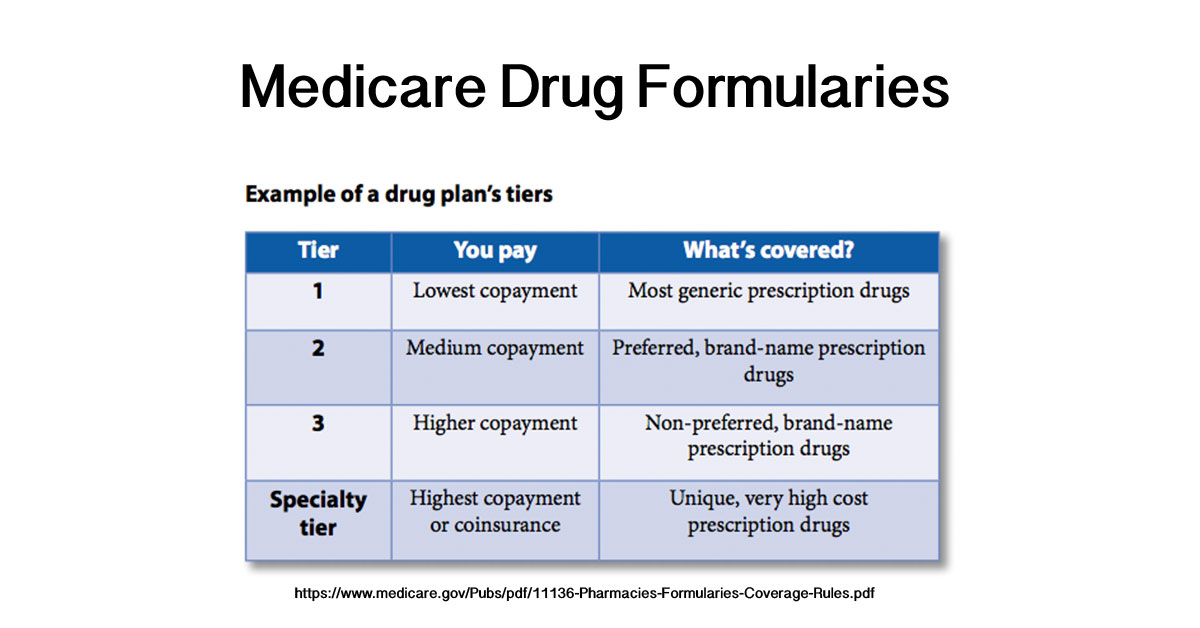 What are Drug Formularies For Medicare Plans?
Medicare Prescription drug lists (formularies) are lists of covered drugs, placed into different tiers, where each tier has different costs.[1][2]
Each Medicare plan that provides drug coverage has its own list of covered drugs and costs that follow a set of common rules.
Below we will explain more about how formularies work with Medicare and why drug formularies are one of the most important considerations when comparing Part D and Part C plans.
How Do Drug Plan Formularies Work?
President Bush added Part D in 2003, and it went into effect in 2006. By then, many medical conditions that had been fatal in the past were being managed by medication; prescriptions were costing an increasingly large percentage of older people's income.
There are still issues with what is known as "the donut hole," the gap between generic and brand name drugs, However, most Medicare-eligible Americans have access to affordable drug coverage (at a premium) via a Part D drug plan (or a Part C plan that includes drug coverage).
Private insurance companies under contract with Medicare administer your Medicare D or Medicare Advantage plans.
That means each private insurer has some flexibility in offering drug plans; you won't buy your drug plan directly from Medicare.Gov.
Each insurance company has a formulary or list of which medicines it will cover and at which prices. This matters because you pay a deductible for your medication. Your deductible will go up if your drugs cost more.
Formularies classify medicines in different tiers or levels of cost.
Common generic drugs are included in most companies' formularies under tier 1 and are the least expensive. However, many people take at least one drug that is a more expensive drug or a specialty drug, so one should consider ALL tiers and their "cost sharing" amounts.
The Specialty Tier is your highest-cost tier. A Specialty Tier drug is a very high cost or unique prescription drug which may require special handling or close monitoring.
Check out the example list below for more insight into how the tiers work or watch the video on Medicare Drug Formularies below.
What is a Drug Formulary?
.
TIP: Make sure you shop for a plan that will cover your prescriptions. For a useful chart of the tiers most formularies use, see the following five tier chart from Blue Cross Blue Shield: How do Drug Tiers Work?[3]
Medicare Drug Formulary Example
As noted above, Medicare drug plan formularies list the drugs it will cover or exclude and separates covered drugs into cost levels of tiers.
Each plan has its own drug list. They are often similar to the following 5 tier drug plan modeled after the SilverScript formulary offered by the SilverScript Insurance company. See an example of a 4 tier list at Medicare.gov or see the 5 tier BCBS example in the link above. You'll notice they are all similar.[4]
Tier 1: Preferred Generic. The lowest-cost tier with the lowest copayment. This includes some preferred generic drugs and some preferred brand drugs.
Tier 2: Generic. The second lowest cost tier. Those generics not covered under Tier 1 and some preferred brand drugs.
Tier 3: Preferred Brand. This the medium cost tier. It includes preferred brand drugs and non-preferred generic drugs.
Tier 4: Non-Preferred Brand. This is a higher-cost tier. It includes non-preferred brand drugs and non-preferred generic drugs.
Tier 5: Specialty Drugs. This is the highest cost tier. This tier can be subject to not just copayment, but also coinsurance (meaning it is only covered after your deductible is met). This list includes unique and very high-cost prescription drugs.
TIP: Customers will also get a list of drugs telling them what tier they are designated as. This is important because it can help a customer understand which drugs are excluded, and which drugs are covered under each tier.
TIP: Drug formularies can change mid-year for a several reasons; some types of drugs are always excluded by federal law. Learn more at SilverScript Medicare Part D.
Choosing Between Part D and Part C For Drugs
Once you have Medicare A covering hospital and hospice services and Medicare B covering outpatient services, you will probably begin thinking about Medicare D or Medicare Advantage (Part C) for insurance coverage for prescriptions.
One of the most important choices you will face is trying to make sure that the prescriptions you take are included in your plan. You do this be looking at the plan's formularies.
In other words, you'll look at one plan's formulary and compare it to another, and then, based on what drugs you need and what tier they are covered under, you'll have a better idea of which plan has the least expensive prescription option for you.
There is no inherent correct answer to whether Part D or Part C is better. It depends on cost sharing like copays and coinsurance and the drug formulary and doctor network.
It isn't always easy to compare those factors, but that is one reason it can help to sit down with an assister when you are ready to sign up. Knowing the basics of formularies and networks will allow you to compare plans online first and then go into a sit down with that research in mind.
Drug costs are one of the biggest costs many will face, so there is a significant difference between a tier 1 and tier 3 designation for a drug you take every day.
TIP: If you don't understand networks and cost-sharing, see our pages on each respectively by clicking on the links. Those are also vital aspects of comparing any health plan. It is important to remember that it isn't just your premium that costs money. For many, the bulk of their costs will be in cost sharing on drugs and other services. That is why comparing formularies, cost sharing on other covered benefits, and networks is so important!
How do I Decide which Insurance Plan is Best for me?
You can buy insurance that will cover prescription medicine two ways. You can buy a separate Prescription Drug Plan (PDP) or buy a Medicare Advantage Prescription Drug Plan (MA-PD). Medicare and Medicare Advantage plans are administered by insurance companies under contract to Medicare. Each insurance company, and sometimes each policy, can have a different formulary.
You will also want to find out if the doctors and services you care most about are in your plan's network. You can look this information up plan by plan online, but the records may not be current since doctors can choose to join or leave networks. The best way to get current information on network affiliation is to ask the doctor's office and try to get a sense of whether they plan on remaining with that network or not.
How Do I Compare Formularies?
If you have multiple medications, one of the most common ways of choosing a Plan D carrier is to go to Medicare.Gov and click on the Plan Finder. You will have to provide some information about your location and list your medications, which will be kept strictly confidential. The site will not give you information about over-the-counter or diabetic supplies, but you can see how much your medications will cost you under different plans. This is where formularies and out-of-pocket spending limits in and out of network become important.
The Medicare.Gov plan finder will generate a list of Medicare plans with will include columns for some or all of the categories below:
Estimated Annual Drug Cost
Monthly Premium
Deductibles and Drug Copay/Coinsurance
Health Benefits
Drug Coverage and Restrictions
Estimated Annual Health and Drug Costs
Overall Star Rating.
The star rating is important because, if a plan has a five-star rating, you can switch to that plan anytime during the year regardless of enrollment periods.
Of course, you can also use an agent, even if you do some fact-finding on Medicare.gov ahead of time.
Drug Use Management
The last thing to consider is how you will use the drug plan once you have made your choice. Here you should keep in mind the following points:
Each insurance plan has some drugs, usually the lower cost generics, on its preferred list. Your insurance company's preferred drugs may not always work well for you, and you may need brand name drugs or other versions of the medication, extended release, for example.
Also, some drugs your doctor considers using to treat you might need individual approval. Your doctor will usually deal with your insurance company on your behalf. Your insurance company will have special rules for some drugs.
You may have to go through extra steps to get your prescriptions covered (step therapy). Your doctor may have to start you a low-cost generic. You may have to try several drugs in steps or stages before your insurance prescribes a more expensive drug. For example, it is common for companies to cover the generic drug levothyroxine sodium, but they can require your doctor to try one or more generic drugs and make sure that no generic isn't effective before the brand name drug, Synthroid will be approved.
Some drugs require prior approval just as some procedures and treatments do. Some drugs may be prescribed for limited times or in limited numbers. The guidelines will vary depending on your insurance program.
Article Citations