What are Health Insurance Networks?




Ads by +HealthNetwork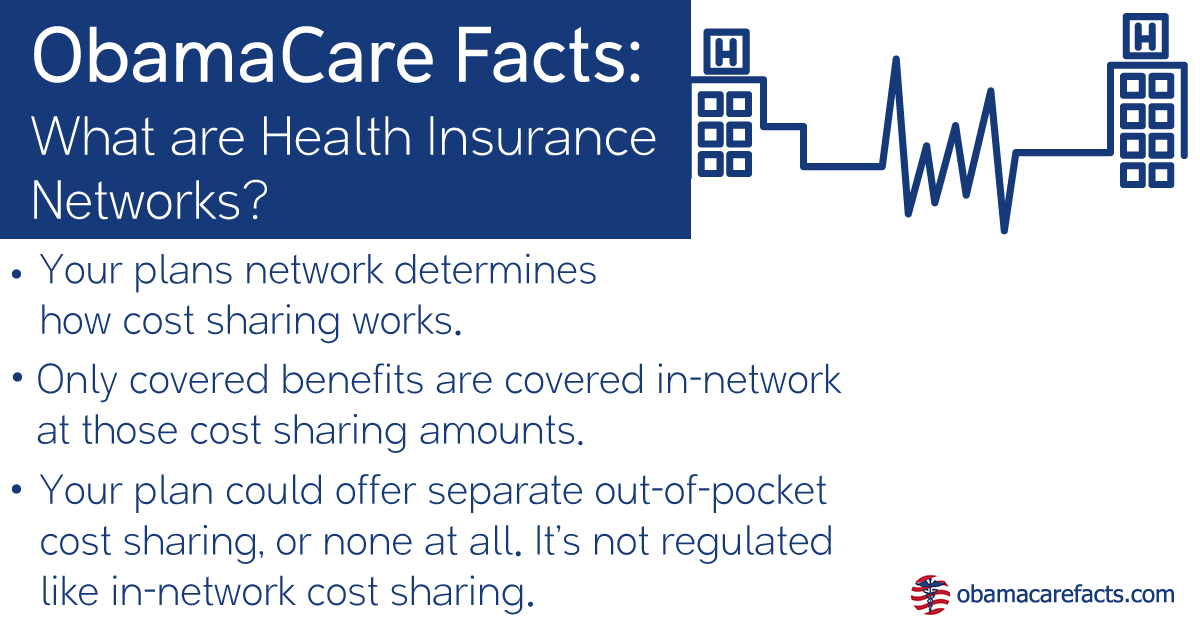 How Health Insurance Networks Work With Health Insurance
The general types of networks are HMOs and PPOs. A given provider will then either be "in-network" or "out-of-network" for a given plan. You and your insurer save money by using "in-network providers." You'll almost always have different cost-sharing when you use a provider "out-of-network," so you'll want to stick to in-network (or preferred) providers as a rule of thumb.
We explain those network types below, discuss narrow networks, and discuss the different types of networks (like drug formularies).
TIP: Medicare has different networks, see Medicare networks.
TIP: Make sure the doctors you like are in your plan's network before choosing a plan!
TIP: There are other network types in health insurance for example, EPOs are becoming more common.
On some plans, shopping out-of-network means paying the full amount. For others, it means paying more. For others, it means your covered no-matter-what. Learn more about FairHealthConsumer.Org.
Quick Health Insurance Network Facts
Your plans network determines how cost-sharing works.
Only covered benefits are covered in-network at those cost-sharing amounts.
Your plan could offer separate out-of-pocket cost-sharing, or none at all. It's not regulated like in-network cost-sharing.
Many plans cover out-of-network care in an emergency (all non-grandfathered individual and family plans must cover emergency care out-of-network in an emergency).
Know what services are covered in-network before you choose a plan to avoid overpaying.
In-Network or Out-of-Network?
Your insurer brokers deals with regional and national health care providers like doctors, specialists, hospitals, labs, radiology facilities and pharmacies. This is your plan's network.
In-network providers participate in your insurer's network and must charge brokered rates. Out-of-network doesn't need to charge you this rate, so your insurer will have a breakdown of cost-sharing amounts for those services.
What Happens if I Shop Out-of-Network?
Shop out-of-network and depending on your plan, one of three things will happen:
The provider can charge more than the rate your insurer set in-network.
Your plan may require higher co-pays, deductibles, and co-insurance for out-of-network care. Often, you'll have to pay normal rates, in addition to any difference between your insurer's allowed amount and what the provider charges.
Your plan may not cover out-of-network care at all, leaving you to pay the full cost yourself. This is very typical on ObamaCare's cheaper plans. If you got the cheap bronze plan, it's probably has a limited network.
How Networks Relate to Cost Sharing
In-network all of your covered benefits are covered at the standard cost-sharing amount. This means no matter what you'll never spend more than your out-of-pocket maximum on covered care. Out-of-network you'll either owe a separate out-of-network maximum and deductible or there won't be one at all. This means that even on plans that have an out-of-network maximum you could end up owing that full amount, plus your in-network. The ACA only limits in-network maximums. So one could easily go bankrupt by going out-of-network.
If you travel often, make sure to consider the benefits of a multi-state plan.
HMO vs. PPO's and Networks
On an HMO you are typically paying a lower premium, due to a more narrow and focused regional network. On a PPO you'll often get more flexibility. On a PPO you can shop for services at any preferred provider at that rate. Learn more about HMOs vs PPOs.
Drug Networks
Covered drugs follow a cost-sharing and coverage list known as a drug formulary. Check your drug formulary, to understand cost-sharing on covered drugs. Make sure your pharmacy is in-network. Also, make sure copays are low on drugs you take often.
What to Know in Emergencies
If you are referred out of network by your Primary Care Provider (PCP), or you are in an emergency there are some things to know.
Many plans cover some portion of emergency care no matter where you are, even out of their network area. Once your condition is stable, you will generally be moved to an in-network provider for follow-up care.
If your PCP refers you out of network ask if there are alternatives. Or know what your coverage limits are.
If you get out-of-network care, and you have a separate out-of-pocket maximum and deductible for this out-of-network, then consider that you could owe that full amount.
Once the emergency is no longer critical, make sure that everyone who is treating you at the hospital is in-network. If the hospital isn't in-network. You should move to one that is.