Top 10 Things to Know About ObamaCare




Ads by +HealthNetwork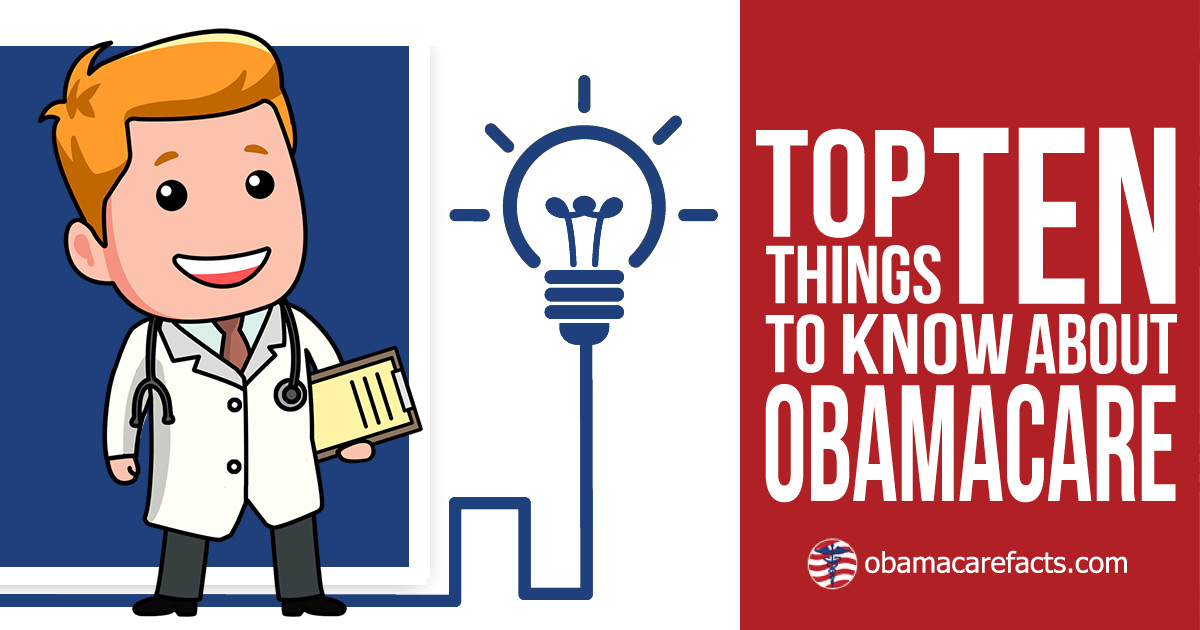 Making the Complex Simple in 10 Easy Pieces
This is our ObamaCare top 10 list of the most important things to know about ObamaCare (the Affordable Care Act).
The law can be overwhelming, but understanding these ten "ObamaCare Facts" will be enough to help you get covered, find out if you qualify for cost assistance, and participate in water-cooler conversation.
Once you are familiar with these facts, check out our ObamaCare Facts master list of facts and statistics on the ACA or check out our pros and cons list for more information on the political and economic side of things.
The ObamaCare Top 10 List
Understand these 10 ObamaCare bullet points, and you'll be well on your way to becoming an Affordable Care Act expert. Please note that you can click on any of the links below to explore each topic in depth.
1. For 2014 – 2018: the Affordable Care Act (ObamaCare) used to require you to get and keep major medical insurance (known as minimum essential coverage) throughout the year, pay a fee for each month you went without coverage, or get an exemption. The requirement to buy insurance was sometimes called the "individual mandate," and the fee was called the "individual shared responsibility payment." There were over 20 exemptions from the fee, including a short coverage gap of fewer than 3 months everyone qualifies for and an exemption based on income. Some exemptions required you to apply for the marketplace in advance, all exemptions were claimed on form 8965. For 2019 forward: The fee for not having coverage has effectively been repealed on a federal level. Specifically, the fee was reduced to zero on a federal level, so in practice there is no federal fee for not having coverage. With that said, some states have implemented their own mandates. It is important to know your state rules before you decide whether or not to go without coverage in 2019 and beyond.
Summary:
Prior to 2019 you needed to get health insurance if you can
afford it
, or you would have to pay a
tax
for every month you went without coverage or an exemption. For 2019 and beyond only residents of certain states are required to obtain and maintain coverage or pay a fee.
2. Minimum essential coverage includes all marketplace coverage, most major medical coverage sold outside of the marketplace, Medicare, Medicaid, employer-based coverage, and more. It does not include short-term health insurance. There might not be a fee anymore, but it is important to know that only major medical insurance is going to offer the full range of benefits offered by the ACA and qualify for cost assistance. If you have coverage that counts as Minimum Essential Coverage, then you have coverage that meets the ACA's standards.
3. Unless you qualify for Medicare, you can use HealthCare.gov or your state's marketplace to sign up and enroll in a plan during each year's open enrollment period (dates change each year, but roughly they are Nov 1 – Jan 15 barring extensions). You can use the marketplace to compare plans, apply for cost assistance, and see if you qualify for Medicaid / CHIP. 24/7 assistance is offered on the phone, in-person, or via chat. If you don't know what your state's marketplace is, or are confused about how to shop for coverage, always start with HealthCare.gov. TIP: Open enrollment is still in effect regardless of the fee being repealed. However, short term coverage has been expanded, so some may find short term options outside of open enrollment to be an alternative to shopping for comprehensive coverage covered under the Affordable Care Act.
Summary:
If you make your first stop
HealthCare.gov
, it will help you to avoid potential headaches. If your state has its own marketplace, HealthCare.gov will redirect you. Only plans purchased through HealthCare.gov or your state marketplace qualify for cost assistance to lower premiums and out-of-pocket costs.
4. You can ONLY purchase qualifying private medical insurance during open enrollment. In simple terms, comprehensive coverage eligible for subsidies and cost assistance is only sold during open enrollment (and only marketplace plans qualify for cost assistance). This is true both inside and outside the marketplace. The only exception is if you've recently had a major life change like moving, getting married, or losing your job. A major life change may qualify you for a special enrollment period in the Health Insurance Marketplace. TIP: A broker outside the marketplace can help you enroll in a marketplace plan, just make sure they know your aim is to sign up for coverage with cost assistance (or at least to explore your cost assistance options).
Summary:
Unless you recently had a major life change, you can't get private coverage outside of open enrollment. If you try to buy private insurance outside of open enrollment, chances are you'll end up with a plan that doesn't protect you from the fee. In most cases, you'll just have to wait until the next open enrollment unless, of course, you qualify for
a special enrollment period
.
5. By using the marketplace, you'll find out if you qualify for cost assistance on your premium or out-of-pocket costs. Cost assistance is based on your income – which must be between 100% and 400% of the Federal Poverty Level (FPL) – and is only available through the marketplace. Out-of-pocket assistance is only offered on Silver plans. If you get cost assistance, you'll need to file form 8962 at tax time. Those with affordable employer coverage can get coverage, but can't get cost assistance. Those with Medicare can't use the marketplace and must go with a Medicare plan. For those looking for the best value, we suggest people look into a Silver plan with a Health Savings Account (HSA) and be aware of where their income falls on the Federal Poverty Level. Keep in mind cost assistance is based on annual household income (head of household and spouse's MAGI plus tax dependents AGI for the year you claim assistance), not monthly income.
Summary:
 In general, 6 in 10 uninsured Americans can get covered for $100 or less a month under the Affordable Care Act. There is a 6 in 10 chance this applies to you. Nearly 9 in 10 (
87%
) of those who enrolled in a marketplace account got assistance during 2014 open enrollment. Similar figures were true each year. Thus, again, there is a 9 in 10 chance this applies to you. With that said, don't forget that cost assistance is based on annual household income. If you make more income than you expected, you could end up
repaying tax credits
. See
our page on comparing health plans
 for more tips and tricks on saving money on health plans.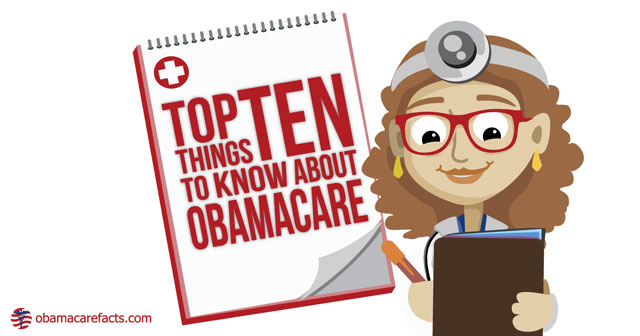 6. You can enroll in Medicaid and CHIP 365 days a year. Eligibility is based on income, which must be at or under 138% of the Federal Poverty Level (FPL) in states that expanded Medicaid. During open enrollment, you can find out if you qualify for Medicaid by going to HealthCare.gov. Outside of open enrollment, you'll need to follow these steps to sign up for Medicaid.
Summary:
You can enroll in Medicaid and CHIP 365 days a year, but if your state rejected Medicaid expansion under the ACA, coverage options might be limited. 
Go here to see if you qualify
.
7. You can buy insurance outside of the marketplace. Many insurers work with HealthCare.gov and can help enroll you in a marketplace plan if you qualify for cost assistance during open enrollment. If you don't qualify for cost assistance, then shopping outside the marketplace could even be your best option as, in many cases, you'll have a wider selection of plans. Private insurance must be purchased during the annual open enrollment period as all insurers have adopted the marketplace's open enrollment period.
Summary:
Want to get covered outside of the marketplace during open enrollment? Depending upon your region, if you make too much for cost assistance, this
may
be your best bet. Thanks in part to the Affordable Care Act, the cost and quality of major medical insurance is highly regulated, so how you shop is up to you. Make sure to compare quotes
outside the Marketplace
to quotes obtained on the Marketplace.
8. When you choose a health plan, in most cases you'll have to keep that specific plan until the next open enrollment period. Make sure to choose a plan that meets all your needs. Things to keep in mind: PPOs tend to have wider networks than HMOs – you'll want to make sure the drugs and services you need are covered under your plan. If you rarely use medical services, a high-deductible low premium plan could be your best option. If you use lots of services, you'll probably want a low-deductible plan with high cost-sharing. Consider getting an HSA-eligible plan to take advantage of the tax benefits of a Health Savings Account on higher-deductible plans. In general, higher-cost plans will save you more the more you use them. You can learn more about comparing plans here.
Summary: Know what services you and your family will need, and then check the benefits sheet to make sure you are getting a plan that works for you. We suggest phoning an agent or meeting one in person for extra help. You can change your plan at any time during open enrollment.
9. No matter what plan you get, most basics – like an annual checkup, immunizations, preventive tests, and more – will be covered with no out-of-pocket costs. Regardless of health status, any major medical plan that you want to pay for must be sold to you. You can't be charged more based on gender or health status, and you can't max out annual or lifetime dollar limits on essential care. Familiarize yourself with your new benefits, rights, and protections.
Summary: All plans must offer basic care; make sure you take advantage of it.
10. As the law stands now, the "employer mandate" says that large employers with over 50 full-time equivalent employees had to cover their full-time workers starting in 2016.
Summary: Your employer has to cover you if you work for a larger business. Some employers stepped up to the plate early. Remember, if you have access to employer-based coverage, you can't get cost assistance.
How to Sign Up For The Health Insurance Marketplace
If you are ready to sign up, you can use your State's health insurance marketplace to enroll in private insurance, get access to subsidies, or apply for Medicaid or CHIP. Below are the ways to access the marketplace during open enrollment.
1) Find your State's marketplace website.
2) Get in-person help. You can find in-person help by going to LocalHelp.Healthcare.gov.
3) Call the 24/7 marketplace helpline 1-800-318-2596.
4) Mail in a paper application. bit.ly/PaperApplication. (read these instructions first)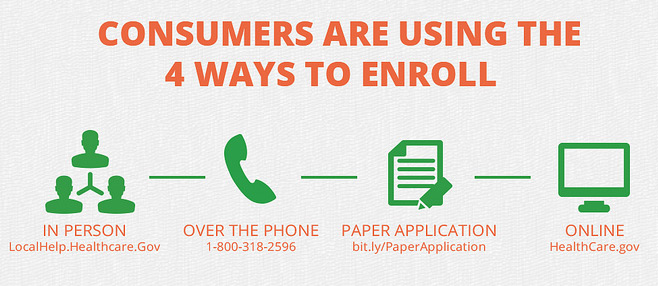 How to Enroll in a Health Insurance Marketplace Plan
Below are the official directions for enrolling in a marketplace plan through healthcare.gov. Remember that signing up is only step one; to officially have coverage, you still need to choose a plan and make sure your first payment is made. The direction below are specifically for states running a federally based marketplace (i.e. State's using healthcare.gov as their marketplace), but state-based marketplaces have very similar sign-up and enrollment processes. Don't forget – you can only sign up and enroll during open enrollment.
Set up an account. First, you'll provide some basic information. Then choose a username, password, and security questions for added protection.
Fill out the online application. You'll provide information about you and your family, like income, household size, current health coverage information, and more. This will help the Marketplace find options that meet your needs. Important: If your household files more than one tax return, call the Marketplace Call Center at 1-800-318-2596 before you start an application.(TTY: 1-855-889-4325) This is a very important step. Please don't skip it. Representatives can provide directions to make sure your application is processed correctly.
Compare your options. You'll be able to see all the options you qualify for, including private insurance plans and free and low-cost coverage through Medicaid and the Children's Health Insurance Program (CHIP). The Marketplace will tell you if you qualify for lower costs on your monthly premiums and out-of-pocket costs on deductibles, copayments, and coinsurance. You'll see details on costs and benefits to help you choose a plan that's right for you.
Enroll. After you choose a plan, you can enroll online and decide how you pay your premiums to your insurance company. If you or a member of your family qualify for Medicaid or CHIP, a representative will contact you to enroll. If you have any questions, there's plenty of live and online help along the way.
For more details on signing up, you can check out our health insurance marketplace guide or find your State's health insurance marketplace now to get started.
Shopping For Coverage Outside of Open Enrollment
If you missed open enrollment, you still have options for coverage including a special enrollment period and options for obtaining Medicaid, CHIP, or health coverage outside of the Marketplace. Check out our breakdown of what to do if you missed the ObamaCare deadline.
Ten Essential ObamaCare Facts