Are Able Bodied Adults Taking Advantage of Medicaid? Will Work Incentive Requirements Help?




Ads by +HealthNetwork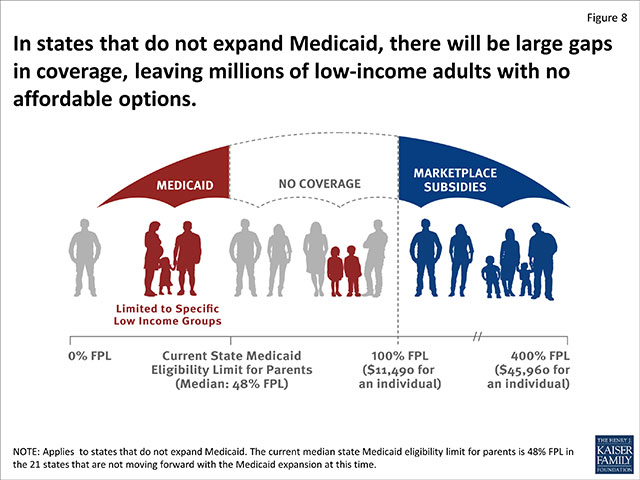 Understand the Debate Over Work Requirements for Medicaid Under the Affordable Care Act (ObamaCare)
We discuss the different demographics on Medicaid, ask if able-bodied adults are taking advantage of Medicaid, and examine if work requirements will help.
The main goal of this page will be to explore:
Thus, the goal will be to answer the question, "did the expansion of Medicaid under the Affordable Care Act incentivize Americans not to work, and would a work requirement help?"
Before we can answer those questions, we need to quickly discuss what Medicaid is and see who is on it.
What is Medicaid?
Medicaid is a free or low cost health insurance program for low-income Americans that provides care and medication at a reduced cost or no cost at all. It is funded partly by the state, and partly by the federal government.
Along with CHIP, the health insurance program for children, Medicaid covers 72.5 million low-income adults, children, parents with dependent children, non-Medicare eligible seniors, and disabled individuals.[3]
Access to providers varies widely from state to state (see Medicaid expansion for current eligibility guidelines).[4] However, generally speaking, in states which have dense populations and expanded Medicaid access is typically better, and in vast areas of sparse population and which did not expand Medicaid (such as Texas, Florida, Oklahoma, and others) access to medical treatment is often limited.
Medicaid Demographics
Historically, children have been the largest group of Medicaid enrollees.
In 2014, according to the CMBS report 2015 ACTUARIAL REPORT ON THE FINANCIAL OUTLOOK FOR MEDICAID, children are estimated to have numbered 27.5 million, representing 43% of overall Medicaid enrollment.[5]
Also in 2014, there were also estimated 15.0 million non-newly eligible adults (23% of enrollment) and an estimated 4.3 million newly eligible adults (7%).
Finally, enrollees with disabilities and aged enrollees are estimated to have numbered 10.2 million and 5.4 million (16% and 8% of Medicaid enrollment, respectively). Another 1.5 million enrollees (2%) were estimated for the five U.S. Territories with Medicaid programs (Puerto Rico, the U.S. Virgin Islands, Guam, American Samoa, and the Northern Mariana Islands).
That means, of the Medicaid population, only about 23% are able-bodied adults.
TIP: Many of the newly insured from medicaid expansion are adults, but not all are able-bodied and not all live in a family that doesn't work.
Can Undocumented People Collect Medicaid? You must be a citizen or able to produce documentation that you are a legal alien to receive money from Social Security programs. The myth of undocumented workers coming to America and collecting benefits is just that – a myth. The truth is that while some states like CA allow undocumented immigrants access to healthcare services (including Medicaid services), the federal government doesn't fund this. The vast majority of those on Medicaid (as noted above), are citizens. In general most of the 11 million undocumented workers in the U.S. statistically pay 8% of their income in state and local taxes without receiving any benefits in most cases.[6]
Do Families on Medicaid Work? What Percentage of Families on Medicaid Don't Work?
According to 2015 data from KFF.org, About 63% of families on Medicaid/CHIP contain at least 1 full-time worker, and 14% contain at least 1 part-time worker.[7]
In other words:
1. Only about 23% of those on Medicaid can work, and 2. only about 23% of families on Medicaid don't have a working member of the family.
Furthermore, according to SNAP (food assistance) data, among households that include someone who is able to work, more than 75% had a job in year before or after receiving SNAP.[8]
In other words, we are seeing this same number again and again (about 23% we'll call it).
So certainly we can look critically at this portion of the Medicaid population, but let us not paint the other 75%-or-so as lazy or abusing the system.
Given all of that data, let's refine our above question to ask, "can Medicaid work incentive programs get the 23% families without income, and some of those able-bodied members of families with lower incomes, back to work?"
SEE: Distribution of the Nonelderly with Medicaid by Family Work Status.
FACT: TrumpCare/AHCA, in the form it was in when it passed the House, reduces eligibility for not only for able-bodied adults with lower incomes, but for children as well.
Is it True That the ACA has Enabled Healthy Adults to be Lazy and Collect Medicaid? Is There an Incentive Not to Work?
This brings us to one of our main questions, "can we get that portion of the Medicaid population who are able-bodied adults back to work?"
Unfortunately, we have yet another problem to address. That is:
Many groups of people can come under the umbrella description of "healthy adults" or "able-bodied adults." However, not everyone in this "able-bodied" group is very able.
Consider the following points:
Parents with dependent children, especially single parents, may be perfectly healthy, need financial and medical help, and face unique challenges in working. Child care can be prohibitively expensive and keep those who are without large support groups from being able to work. Parents with sick or disabled children face particularly troublesome choices.
Homelessness is a huge issue in our country. People without addresses, access to hygiene, regular meals, transportation or phones will find it tough to find regular work, especially full-time work that provides health benefits.
Many people with significant health issues are not deemed disabled under social security regulations. The process of applying for Social Security Disability is long and complicated. It quite reasonably requires a great deal of documentation. You can take a look at the disability application online on the Social Security Website.[9]
Some people want to work but are under-educated and live in a region with a lack of jobs.
This means that, even of that 23%-ish number, only a fraction can actually be expected to get back into the workforce without some serious training (and perhaps relocation), mental health care, child assistance, or assistance for dependent adults.
In other words, without social services like mental healthcare, childcare, care for the disabled, and job training… there is a whole demographic who wills struggle to get back to work.
It is fine to have a work requirement, but if those who we are requiring to work can't work, then aren't we just taking away their healthcare and making them feel bad about themselves in the process?
NOTE: Without Medicaid there would be tens of millions of Americans depending on families and communities for care. One benefit of Medicaid is that costs are shared by America via taxes rather than placed on families.
OPINIONS: The fear here (of liberals at least) is that "work incentive" is just code for "kick the most needy off Medicaid" so we can "reduce spending" so we can justify "cutting taxes on the wealthy." It may sound good to "get people back to work" but if that doesn't come with a really well thought out plan, the grand result could be more sick and poor tossed off Medicaid. That doesn't accomplish much more than saving tax dollars on Medicaid premiums.
Able-Bodied People And Training Programs
One good idea is to address the portion of the Medicaid population that can work but aren't is to offer job training programs (after-all the work requirement says one has to enter job training or get a job).
The problem here is, that while job training programs work, a training program is not a cure-all here.
We have to consider that some people may not be physically able to work or attend training programs although they are considered to be able-bodied.[10]
We also have to consider that in districts without many jobs, the training programs themselves may not lead to employment.
We also have to consider that districts with many low wage jobs may simply, at best, produce Medicaid eligible low-wage workers (and more demand for low wage jobs simply means less incentive to raise wages; so there are also side effects to consider).
Even with training programs, there are not very many opportunities for people whose only training is a short certification program. Most jobs require a particular set of skills.
Many of those covered by Medicaid expansion work several part-time jobs that do not offer benefits, work for themselves at seasonal occupations such as carpentry or landscaping, or work at other jobs without benefits.
Also, the currently proposed changes to the ACA take away employer mandates to provide health insurance to employees. If this becomes law, we can expect many employers to stop offering health insurance.
Older workers who have lost their jobs deal with age discrimination and often have trouble finding jobs that pay well or include benefits. People with mental health issues that interfere with employment but are not significant enough for them to be considered disabled may find it challenging to maintain even part-time work.
People could be left almost entirely without health care options. They might not even be able to get care until their conditions become life-threatening. Even then, they may be bankrupted by the cost of treatment. See our post Is It True That Everyone Has Access to HealthCare in an Emergency?[11]
TIP: To learn more about job training programs from What Works In Job Training: A Synthesis of the Evidence by the DOL, they certainly are effective to some degree, but they aren't always going to be a blanket answer for that portion of the 23%s.[12]
Conclusions
20 million more people in the United States now have health insurance than they did before the ACA.
While there is no doubt that the ACA has decreased the number of uninsured Americans and ensured that health care plans offer essential health benefits, some of the decrease of uninsured was via Medicaid and there has been a cost.
It makes sense to get those on Medicaid back to work, but to do that we need to really understand who is and isn't on Medicaid. There are probably, let's say very roughly, 10% of the Medicaid population who could be pushed a little harder to find work. And there is nothing wrong with pushing them. However, if we just assume everyone on Medicaid is "being lazy" or "illegal" we will be taking coverage away from tens of millions over prejudice sentiment and not fact.
When thinking about healthcare reform we can't focus only on economic principles or the tax breaks we want, and we can't just assume people are poor because they are lazy, we have to take a real look at our real population and design a program that works.
Everyone sees things from their own frame of reference, and everyone's personal experience will be influenced by their personal situation, their income in comparison to the Federal Poverty Level (FPL), and their state of residence.
Some may see people not working and a poorly run Medicaid program, but that doesn't speak for the tens of millions of hard-working low-income families depending on Medicaid or the state Medicaid programs that work.
Look at the data, and/or try stepping for a moment in someone else's shoes by asking yourself:
Was your previous insurance relatively inexpensive, either because you were in a low-risk group (possibly because of being male) or because you had an insurance policy that was junk, didn't cover much, and would cancel you if you used it?
Have you always been able to afford medical care?
Have you ever experienced a medical catastrophe such as organ failure, cancer, or a family member becoming disabled?
Are you in a state that expanded Medicaid?
Are you in a rural area with few healthcare providers?
If we cut Federal support of Medicaid expansion, as is proposed by the AHCA, we will throw the cost of expanded health care back to the states either directly or indirectly.
There is general agreement that this would result in large cuts in services.[13]
Before we take services away from Americans in need, we must think very carefully and weigh our options.
Article Citations