What is Medigap Insurance?
Medigap, or Medicare Supplement Insurance, "covers the gap" between Original Medicare and your medical costs. Supplemental Medigap plans are sold by private companies and make sense for seniors who have costs that aren't covered under traditional Medicare Part A and B.
If Original Medicare isn't covering your medical needs, you'll want to look at supplementing that coverage with a Medigap or Medicare Advantage Plan. Medigap plans can be further supplemented with Part D drug coverage while Advantage Plans often cover drugs.
Is Medigap Minimum Essential Coverage?
Medigap isn't considered minimum essential coverage on its own, but Medicare Part A (Hospital Insurance) is. Since you'll always have Part A if you have a Medigap policy, you won't owe the fee for not having health insurance under ObamaCare (the Affordable Care Act).
Is Medigap Part of ObamaCare?
Medicare isn't part of the ACA, ObamaCare, and that includes supplemental Medigap insurance, Part D, and Medicare Advantage plans. You won't shop for your coverage through the marketplace. Instead, you'll want to follow the instructions under the "how to sign up for Medigap insurance" section below.
Since the signing of the Affordable Care Act, some Medigap policies have been discontinued, even though those already enrolled in those plans may continue to use them. Several new Medigap plans were added, and some have reported price changes in their current Medigap policies.
If you want information on Medicare reform under the Affordable Care Act or how the ACA affects supplemental Medicare, you can find out more information on our ObamaCare and Medicare page.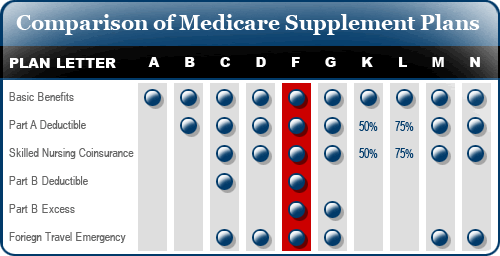 Medigap Facts
We break down Medigap, how it pairs with Medicare Part D, and the way it compares to Medicare Advantage below. These are some facts to help you understand Medigap at a glance.
• Different insurance companies can sell the same Medigap plan for different amounts. Shop around for the best deals before making a choice.
• You must already have Medicare Part A and Part B to be eligible for a Medigap policy.
• Drug coverage hasn't been a part of Medigap insurance since January 1st, 2006. You'll need to get Medicare Part D drug coverage separately.
• ObamaCare's health insurance marketplace doesn't offer Medicare Supplement Insurance (Medigap) policies or Part D drug plans.
• In regards to Medicare, only Medicare Part A (hospital insurance) and Medicare Part C (Medicare Advantage) count as minimum essential coverage. If you have minimum essential coverage, you won't owe the fee for not having health insurance.
• Medigap doesn't count as minimum essential coverage on its own because it will always be paired with Original Medicare Part A health insurance.
• The best time to buy a Medigap policy is during your Medigap Open Enrollment Period (see below). This is the only time a Medigap policy must be sold to you without additional restrictions due to "medical underwriting."
• Outside of Medigap open enrollment, you may have other instances where you have a guaranteed issue right to buy Medigap insurance without restrictions due to medical underwriting such as losing your current Medigap or Medicare Advantage plan.
• During open enrollment, you can buy a plan from any insurance company that's licensed in your state.
• Once you have a Medigap policy, it can't be taken away from you for any reason aside from not paying your premium.
• You can't have Medigap insurance and Medicare Advantage at the same time.
• Plans E, H, I, and J are no longer for sale, but you can usually keep these plans if you already have them.
• Each qualified member of your household needs their own Medigap policy, as they cannot be shared.
• Every Medigap policy must follow federal and state laws designed to protect you, and the policy must be clearly identified as "Medicare Supplement Insurance."
How Does Medigap Work?
Medigap policies supplement (not replace) traditional Medicare insurance. They can help pay your share of costs like coinsurance, copayments, or deductibles of Medicare-covered services that Original Medicare doesn't cover. Some Medigap policies also cover certain benefits Original Medicare doesn't cover like emergency foreign travel expenses. In other words, it fills the "gaps" in your coverage.
When you make a claim, your Original Medicare policy covers its share of the costs since it is primary. The Medigap policy then covers its share since it is secondary. You are responsible for the difference. Medicare doesn't help pay for the cost of your Medigap policy.
What Doesn't Medigap Cover?
Medigap policies don't cover your share of the costs for other types of health coverage, including Medicare Advantage Plans, stand-alone Medicare Prescription Drug Plans, employer or union group health coverage, Medicaid, Department of Veterans Affairs (VA) benefits, or TRICARE. Insurance companies generally can't sell you a Medigap policy if you have coverage through Medicaid or a Medicare Advantage Plan, so if you want insurance beyond traditional Medicare, you'll need to choose between an Advantage Plan and a Medigap policy.
Does Medigap Cover Prescription Drugs?
Medigap doesn't cover perception drugs. If you want prescription drug coverage, you can join a Medicare Prescription Drug Plan (Part D) offered by private companies approved by Medicare.
The Difference Between Medigap and Medicare Advantage
The main difference between Medigap and Medicare Advantage is that Medigap supplements original Medicare while Advantage replaces it. Advantage plans are ways to get Medicare benefits, while a Medigap policy only supplements the costs of your Original Medicare benefits.
Medigap Open Enrollment Period
Your Medigap Open Enrollment Period lasts for 6 months and begins on the first day of the month in which you're both 65 or older and enrolled in Medicare Part B (Medical Insurance). If you choose to buy a Medigap plan outside of your Medigap Open Enrollment Period, there's no guarantee that an insurance company will sell you a Medigap policy if you don't meet the medical underwriting requirements.
See the when can I buy Medigap section on Medicare.gov for more information on medical underwriting requirements.
How to Sign Up For Medigap Insurance
1. First, make sure you qualify for Original Medicare; you'll need to enroll in Parts A and B to be eligible for a Medigap policy. To sign up for Original Medicare go to the Medicare.gov.
2. Make a choice between Medicare Advantage and a Medigap Plan. Medigap plans supplement your original Medicare plan while an Advantage Plan replaces it.
3. Once you decide what direction you want to go with your supplemental Medicare insurance, you'll want to find a broker, agent or provider authorized to sell Medigap policies to help you choose the right plan for you based on your specific needs.
Choosing the Right Medigap Plan
Choosing the right Medigap plan depends upon your medical needs and costs. If Original Medicare doesn't cover your current medical costs or costs, you'll have some options. In most states these options are identified by letters A through N. Each standardized Medigap policy must offer the same basic benefits, no matter which insurance company sells it. Cost is usually the only difference between Medigap policies with the same letter (a type of policy) sold by different insurance companies. Please note Massachusetts, Minnesota, and Wisconsin have slightly different rules for Medigap policies.
Let's take a look at some of the basic standardized Medigap policies from a Medicare.gov PDF on Medigap basics to give you an idea of which one may be right for you. The percentage in each column is the percentage the Medigap plan will pay toward your medical costs after Original Medicare makes its contribution.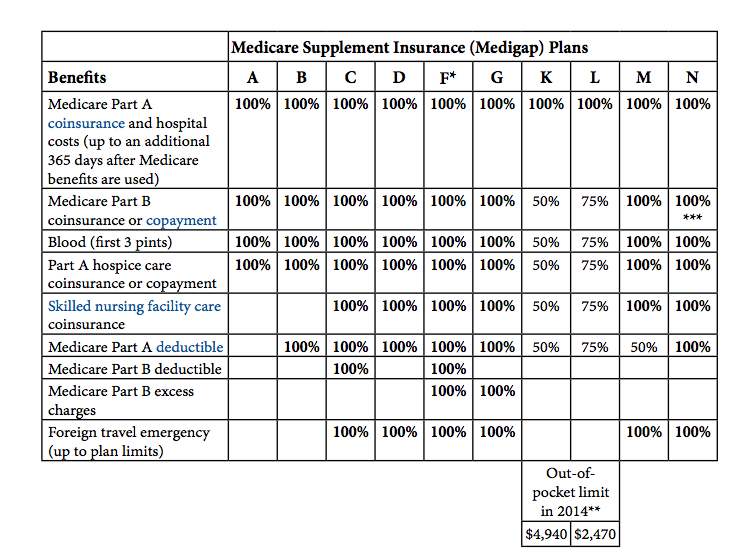 * Plan F also offers a high-deductible plan in some states. If you choose this option, this means you must pay for Medicare-covered costs (coinsurance, copayments, deductibles) up to the deductible amount of $2,140 in 2014 before your policy pays anything.
**For Plans K and L, after you meet your out-of-pocket yearly limit and your yearly Part B deductible ($147 in 2014), the Medigap plan pays 100% of covered services for the rest of the calendar year.
*** Plan N pays 100% of the Part B coinsurance, except for a copayment of up to $20 for some office visits and up to a $50 copayment for emergency room visits that don't result in an inpatient admission.
Medigap Costs
Some argue that supplemental Medicare plans like Medigap increase Medicare spending. This is in part because Medigap can cover a wide range of costs leading to some "over treatment" including expensive and arguably unnecessary treatments which put a burden on Medicare.
What Doesn't Medigap Cover?
Medigap policies don't cover long-term care like care in a nursing home, vision or dental care, hearing aids, eyeglasses, or private-duty nursing.
Should I Get a Medigap Policy?
Whether or not Medigap benefits you depends on your intentions and specific situation. In many cases, Medigap with or without Part D drug coverage or Medicare Advantage will make sense for you. Remember you can always call any broker, agent or provider authorized to sell these plans and have them help you through the process.
Understanding Medigap