Ads by +HealthNetwork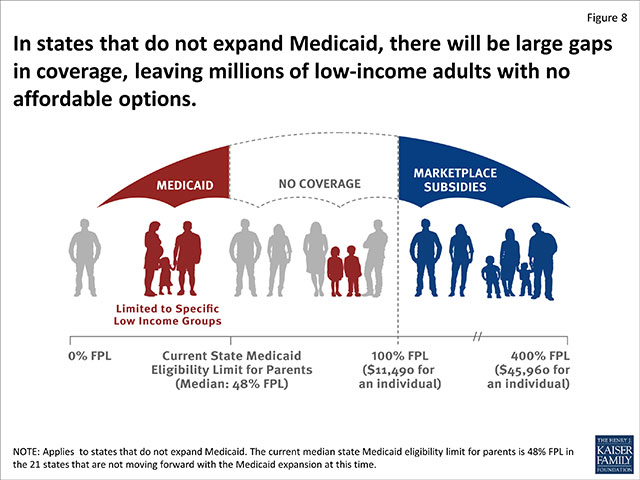 What is the Medicaid Gap?
The "Medicaid gap" describes the gap between state Medicaid eligibility and Marketplace subsidy eligibility in states that didn't expand Medicaid.
How Does the Medicaid Gap Work?
Below are some quick points to illustrate the "gap" between those who qualify for subsidies and those who qualify for affordable health insurance due to Marketplace subsidies.
Marketplace subsidies are only offered to those making 100% – 400% of the Federal Poverty Guideline (see below).
If a person falls below the cut-off, they may fall in the Medicaid Gap if: Their state didn't expand Medicaid to at least 100% of the Federal Poverty Guidelines.
In some state's Medicaid eligibility can be as low as 50% FPL and other factors such as gender and pregnancy can affect eligibility.
In most state's CHIP covers most low-income children, so the Medicaid gap mainly affects adults.
See information on states that expanded Medicaid.
Federal Poverty Guidelines Medicaid Gap
To get an idea of how people end up falling into the Medicaid gap, see the Federal Poverty Guidelines.