Florida Medicaid Expansion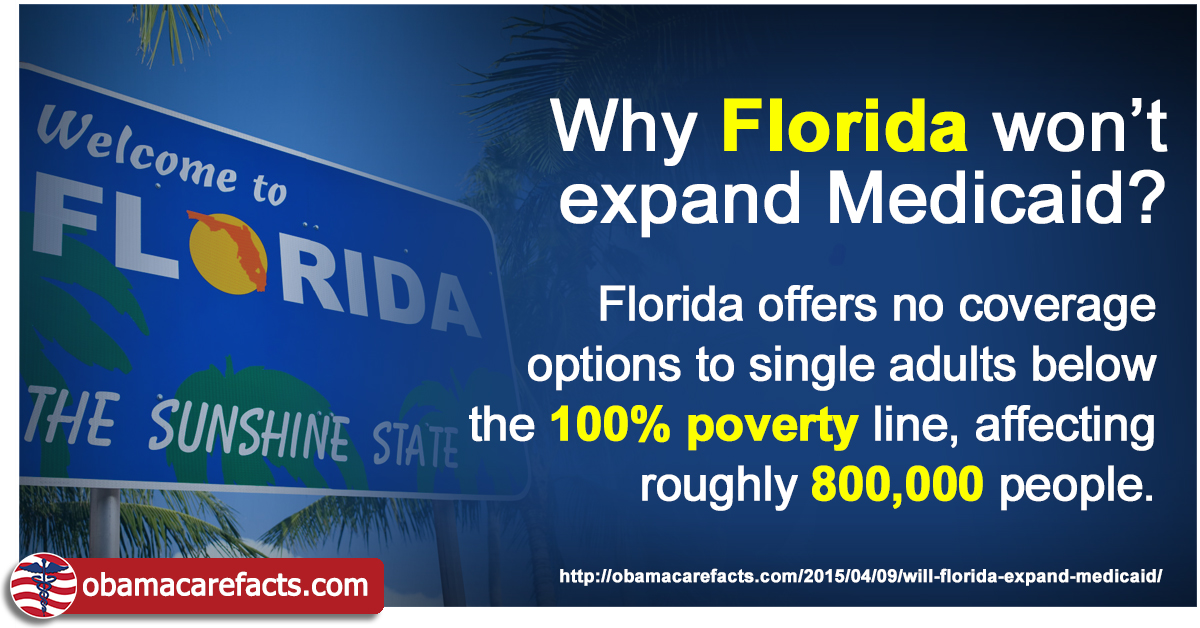 Florida continues it's battle over Medicaid expansion under the ACA. Over 800,000 Floridians could get covered, but GOP opposition remains strong as the Federal Government pushes Florida toward expansion under Governor Rick Scott… and Rick Scott threatens to sue to Federal Government for "coercion tactics" because of it).
We cover all of that below, but first let's do a little review of Medicaid expansion and why the GOP in Florida and elsewhere doesn't like it.
What is Medicaid Expansion and Why Does it Matter?
Under the ACA Medicaid (a public healthcare program to provide free or low-cost coverage to low-income Americans) was supposed to be expanded to all single adults under the 138% Federal Poverty Level starting on Jan 1, 2014. Expansion is covered by the Federal Government at 100% to start and then 90% as time goes on, meaning states don't have to foot the bill (although taxpayers as a whole do).
This mattered because in many states only parents, expecting or pregnant mothers, children, and sometimes the very poor have access to Medicaid. In many states this leaves working poor adults with no healthcare options (or "in the Medicaid gap" between Marketplace coverage and non-expansion eligibility). This in turn leads to billions of dollars of uncompensated care written off by hospitals (ie billions in lost revenue for states) and of course a lack of access to care for millions of low-income adults.
After a supreme court decision in 2012, states were given the opportunity to opt-out… and opt-out they did. When 2014 hit nearly every state with a Republican Governor at the time (and Vermont) opt-ed out.
Why Did they Opt-Out?
The basic claim by the GOP (including Florida) is that expanding Medicaid is too expensive, Medicaid isn't good, and big Government isn't good. It works like this:
They don't trust the Government to pay their 90% – 100%.
They don't trust the Government to do a good job with Medicaid.
They don't trust the Government (please disregard the irony in the fact that this message is literally coming from the Government).
They don't want higher taxes and more government control. So less safety net, more tax cuts.
To sum it up, it's really a matter of ideology and confidence (although we argue it should be a matter of healthcare).
All the claims have truth to them. While some states have shown expanding Medicaid to actually improve state budgets, GOP states (like Tennessee have had a history of Medicaid breaking state budgets). Also depending upon the region and doctor payments in the area, Medicaid can really be a "sub-par" coverage type. The experince and ideology differs a bit from state-to-state, but in general Florida's outlook isn't much different than the other non-expansion states.
Despite all of this many states have stepped up to the plate and expanded Medicaid under their own alternatives. Something that Florida almost started to do, but pulled back on due to a little head-butting with the Federal Government.
The Florida Medicaid Showdown
So now we get to Florida, and their battle with the Federal Government specifically. Essentially Florida democrats, hospitals, and some conservatives want to pass expansion. However, the majority of Florida conservatives wanted tax cuts attached to the expansion.
When Florida started pulling back on expansion the Federal Government said, "we aren't going to pay your other Medicaid bills if you don't expand", so Florida's like, "see we knew we couldn't trust you to pay the bills, and we already covered the fact you can't force us to do this in the supreme court battle, that is coercion, F this we are suing you." From there things unraveled into a heated battle.
The thing is, that Florida is a big state, so next to "non-expansion Texas" it is the most important of the 50 states to get on board with expanding Medicaid. No further headway has been made. But we shall keep you updated. In the meantime check out this great explanation of what is going on from the New York Times.
Who is Rick Scott?
 Rick Scott is an ex-Navy, Florida Governor since 2011, who spent most of his career in the healthcare industry (typically on the venture capitalist side of things). In June 2011, Scott signed a bill requiring those seeking welfare under the federal
Temporary Assistance for Needy Families
program to submit to drug screenings. He is skeptic of climate change (or as they call it in Florida "…"), stood in the way of preventing 
gerrymandering
 (redistricting for the purposes of tampering with elections), and is often tied to
Koch brothers backed groups like Americans for Prosperity
. He has changed his mind on Medicaid expansion continually since he got into office, sometimes at the disapproval of groups like Americans for Prosperity. 
Read more about Rick Scott here
.