ObamaCare: 10 Million Strong and Growing




Ads by +HealthNetwork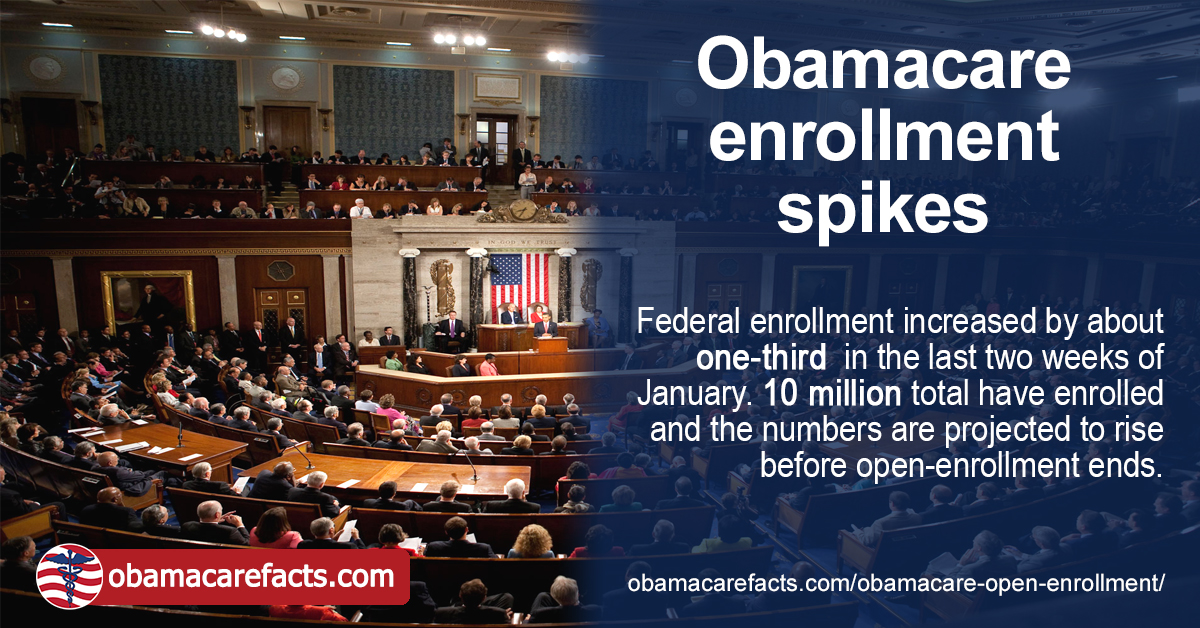 ObamaCare sign up numbers reach 10 million after a surge in Federal Marketplace enrollments.
A February 2015 HHS report shows ObamaCare is working. Enrollment numbers have surpassed 10 million between the state and federal marketplaces.
It also points out some other really cool and groundbreaking facts about the uninsured rate (updated with citations on March 18 2015). Here are the facts from the report:
ACCESS:
There has been an historic decrease in the uninsured. In just one year we've reduced the number of uninsured by about 10 million people. Meanwhile, nearly 11.7 million Americans nationwide selected Marketplace plans or were automatically re-enrolled as of Feb. 22, 2015.
More Americans have access to Medicaid coverage. Twenty-eight states plus DC have expanded Medicaid under the Affordable Care Act. As another indicator of progress: Since October 2013, more than 10 million more Americans are enrolled in Medicaid and CHIP.
Millions of Americans who already had insurance have seen their coverage improve because they now have access to preventive services like vaccines, cancer screenings, and yearly wellness visits at no out-of-pocket cost. In addition, Americans cannot be denied or dropped from coverage because of a pre-existing condition or because they hit an annual or lifetime cap in benefits.
AFFORDABILITY (CONSUMERS):
AFFORDABILITY (HEALTH CARE COSTS)
Taxpayers are benefitting as costs and spending are held down. Last year, health care spending grew at the slowest rate on record (since 1960). Meanwhile, health care price inflation is at its lowest rate in 50 years.
And as we build a better, smarter, healthier delivery system, we have seen a historic slowdown in the growth of health care costs that is generating savings for workers, business, and taxpayers. Slow growth in the cost of health care has continued, with health care price inflation remaining at low levels not seen in decades, employer premium growth tying record lows, and Medicare spending per beneficiary essentially unchanged in fiscal year 2014.
QUALITY
Americans say they like their Marketplace coverage. A Gallup study found that 7 in 10 who signed up for Marketplace insurance during last Open Enrollment say the quality is excellent or good.
At the same time, fewer Americans are losing their lives or falling ill due to hospital-acquired conditions, like pressure ulcers, central line associated infections, and falls and traumas – which are down 17 percent since 2010. Preliminary data show that between 2010 and 2013, there was a decrease in these conditions by more than 1.3 million events. As a result, 50,000 fewer people lost their lives, and there were $12 billion in cost savings.
And, fewer of our parents and grandparents are being unnecessarily readmitted to the hospital: Between 2012 and 2013, readmissions among Medicare beneficiaries were driven down by 150,000.
Content created by Assist. Sec./Public Affairs – Digital Communications Division