ObamaCare Guaranteed Issue
You Can't Be Denied Coverage For Any Reason
ObamaCare makes health insurance guaranteed issue meaning you can't be denied health status, age, gender, or other factors. Just because insurance is guaranteed issue doesn't mean you can't be charged more for certain factors, although the ACA limits this as well. Below we will list the factors you can be charged more for and their ratios as well.
Since the 2010 passing of the Affordable Care Act it has been illegal for insurance companies to deny any eligible US citizen health coverage for any reason.
ObamaCare means you have a right to health insurance, even if you have a preexisting condition.
What is Guaranteed Issue?
Guaranteed issue, in terms of health insurance, means that you can't be denied coverage for any reason as long as you are a qualifying US citizen. This prevents insurers from cherry picking customers based on factors that might predict the use of health services.
Not only must insurance be available it must be renewable too. Below are the two aspects of guaranteed issue coverage:
Guaranteed Availability of Coverage: You cannot be denied coverage for any reason other than the ability to pay.
Guaranteed Renewability of  Coverage: You must be able to renew the policy regardless of health status.
Please note this doesn't mean you can buy insurance at anytime, it simple means that you must be offered coverage during open enrollment (or if you qualify for a special enrollment period). Each type of coverage has it's own open enrollment period.
Is All Health Insurance Guaranteed Issue?
No. Some types of supplemental coverage, such as short term health insurance, is not guaranteed issue. However, all major medical insurance (private insurance that counts as minimum essential coverage ) is guaranteed issue since January 1st, 2014.
When Did Insurance Become Guaranteed Issue?
The provisions that offer guaranteed issue health insurance and related protections started kicking upon the signing of the Affordable Care Act and continued to roll out until the last provision took affect which was the exclusion of preexisting conditions on January 1st, 2014.
What Can I Be Charged More For?
While you can't be denied coverage due to any factor there are still factors you can get charged more for:
Health insurance issuers in the individual and small group markets are only be allowed to vary premiums based on age (within a 3:1 ratio for adults), tobacco use (within a 1.5:1 ratio and subject to wellness program requirements in the small group market), family size, and geography.
What Can't I Be Charged More For?
Aside those listed above, all other factors – such as pre-existing conditions, health status, claims history, duration of coverage, gender, occupation, and small employer size and industry are no longer able to be used by insurance companies to increase the premiums for those seeking insurance.
Guaranteed Issue and the Mandate
The fact that no one can be denied coverage and the new limits on what a person can be charged more for is probably the leading reason why we have the individual mandate and enrollment periods. The mandate ensures that all Americans have health insurance and thus limits risks insurers take which could lead to higher premiums, while open enrollment periods ensure that folks don't wait until they are sick to get covered.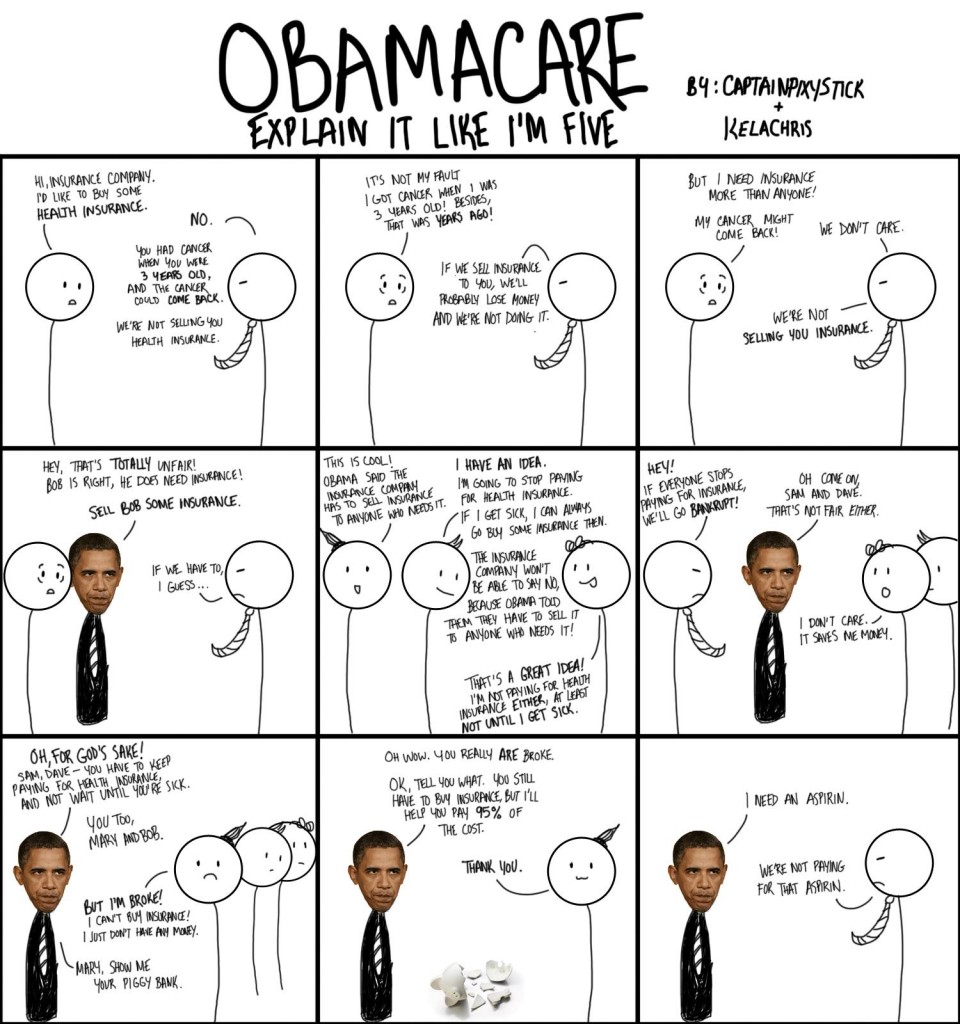 Know the Law
Part I of Title I of the Affordable Care Act contains the sections that pertain to Guaranteed issue of health insurance. This section also references the elimination of preexisting conditions and lists what can and can't be factors in determining health insurance premiums. Below are the relevant sections of the ACA that went into affect upon it's signing.
Title I. Part I – Health Insurance Market Reforms
Sec. 1201. Amendment to the Public Health Service Act. The part of subtitle C contains amendments to the Public Health Service Act of 1944.
Sec. 2701. Fair health insurance premiums. Establishes that premiums in the individual and small group markets may vary only by family structure, geography, the actuarial value of the benefit, age (limited to a ratio of 3 to 1), and tobacco use (limited to a ratio of 1.5 to 1).
Sec. 2702. Guaranteed availability of coverage. Each health insurance issuer must accept every employer and individual in the State that applies for coverage, permitting annual and special open enrollment periods for those with qualifying lifetime events.
Sec. 2703. Guaranteed renewability of coverage. Requires guaranteed renewability of coverage regardless of health status, utilization of health services or any other related factor.
Sec. 2704. Prohibition of preexisting condition exclusions or other discrimination based on health status. No group health plan or insurer offering group or individual coverage may impose any pre-existing condition exclusion or discriminate against those who have been sick in the past.
Sec. 2705. Prohibiting discrimination against individual participants and beneficiaries based on health status. No group health plan or insurer offering group or individual coverage may set eligibility rules based on health status, medical condition, claims experience, receipt of health care, medical history, genetic information, evidence of insurability – including acts of domestic violence or disability. Permits employers to vary insurance premiums by as much as 30 percent for employee participation in certain health promotion and disease prevention programs. Authorizes a 10-State demonstration to apply such a program in the individual market.
Sec. 2706. Non-discrimination in health care. Prohibits discrimination against health care providers acting within the scope of their professional license and applicable State laws.
Sec. 2707. Comprehensive health insurance coverage. Requires health insurance issuers in the small group and individual markets to include coverage which incorporates defined essential benefits, provides a specified actuarial value, and requires all health plans to comply with limitations on allowable cost-sharing.
Sec. 2708. Prohibition on excessive waiting periods. Prohibits any waiting periods for group or individual coverage which exceed 90 days.
Check out our Summary of Provisions of the Patient Protection and Affordable Care Act for a plain English summary of each provision pertaining to the "benefits of ObamaCare".
Guaranteed Issue is Your Right to Health Insurance