5 Years of the Affordable Care Act In Retrospect




Ads by +HealthNetwork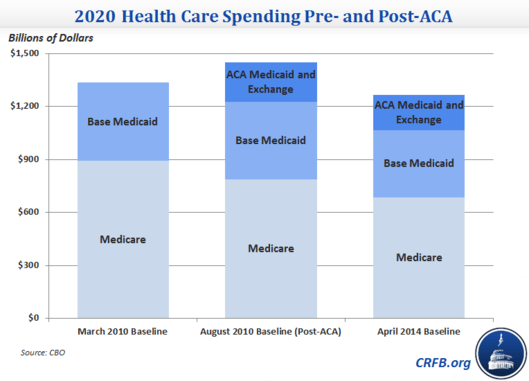 The Affordable Care Act (ObamaCare) was signed into law 5 years ago on March 23rd, 2010. We look at the successes, sticking points, and politics of the law.
Here are a few facts about the ACA, ObamaCare and how it's working:
First and foremost the ACA or ObamaCare is seen as "BIG Government" by Many Conservatives: This is probably the most important thing for the average American to understand. Facts aside, no matter what Medicaid, Medicare, Social Security, the Affordable Care Act and other federal "social safety net programs" accomplish (or don't accomplish) they will always be "BIG government." That means they will always be seen a matter for the state and not Uncle Sam.
To the modern Conservative (not the traditional Washington Republican) government spending, taxation, and regulation are not American and therefore Federal social safety programs can never be accepted ideologically. The argument is emotional and ideological, there is little room to debate the facts (of course, to be fair, this can often be true of modern Liberals too).
Social Safety net programs and other social reforms taken on a federal level, whether it is the New Deal, the Great Society Programs, or "President Obama's change-o-rama" (do we have a name for this?) are the red-headed-step-children of America. Each was passed by a Liberal with a massive push-back from the right.
The modern tea-party-Reagan-Goldwater Conservative will never say, "hey guys, it turns out those programs are working." They will always find counterpoints to prove, "big government is wrong, we should let states decide." Even if they were to admit a program was working or protection was needed (like segregation for example) ideology would still force their hand to declare it was a matter of state's rights and not the job of big government. We know this, because we had video cameras in the 60's.
Lastly this author would like to note that while Congress may be fighting an ideological battle, for most of the other 320,000 million Americans, THIS IS ABOUT HEALTHCARE. Politics aside, people just want to be able to take care of their families. Don't lose sight of the fact that individual liberty depends upon a person's ability to contribute to society. And a person's ability to contribute to society depends upon things like health, education, food, and housing.
Anyway, all that aside, the facts we have say the PPACA is workin and they also say the PPACA includes some spending, more bureaucracy, and a few missteps. Here is the breakdown.
ObamaCare is working for the middle class: 16.4 million enrolled in the Marketplace or have stayed on their parents private health plan.
The safety net is stronger: Medicare's solvency is increased and 10.8 million have enrolled in Medicaid or CHIP since October 2013. In-part due to Medicaid expansion.
Consumer's are protected: No more pre-existing conditions, no more lifetime limits, better access to wellness and prevention.
Costs are being curbed: Despite a massive, but lower $1.207 net price-tag, In 2014 health care spending grew at the slowest rate on record (since 1960). Meanwhile, health care price inflation is at its lowest rate in 50 years. Unpaid medical bills are even down by about 20%. Higher out-of-pocket costs, while not very attractive on the surface, have helped to keep premium costs affordable and have the ancillary effect of bringing consumer healthcare prices and long term premiums down by incentivizing people to shop around for healthcare.
Some people are paying more or have a bad taste in their mouths: Whether it was a healthy person's health insurance premium going up, a MIA 1095-A, or no-one explaining that "if you like your plan you can keep it" applied more to the ban on rescission then to a mandate to force insurers to offer plans, not everyone had an "everything is awesome" experience.
The other 750 pages: All of the above is contained within a few specific sections of the law. Mainly the first two titles. The other 8 titles tend to go un-talked about. You can read them for yourself using our PPACA provision summary. Go ahead and skip to title III. Tell me with a straight face that you knew any of this was actually in the law. Next time you hear about cost curbing measures and healthcare reform, remember some of us are referring to the whole law not just the concept of "big government spending".
Title I Quality, affordable health care for all Americans <—–Everything you hear about on the Media
Title II The role of public programs <——Medicare and Medicaid reform
…. Everything else you rarely hear about from value based quality over quantity, other Medicare reforms, tons of hospital reforms, a focus on transparency and technology, spending, other revenue measures, and generally reforms that have been a long time coming. Do a quick skim through of our PPACA provision summary for yourself it takes less than 5 minutes.
Title III Improving the quality and efficiency of health care
Title IV Preventing chronic disease and improving public health
Title V Health care workforce
Title VI Transparency and program integrity
Title VII Improving access to innovative medical therapies
Title VIII Community living assistance services and supports
Title VIIII Revenue provisions
Title X Reauthorization of the Indian Health Care Improvement Act
Just remember, repealing the Affordable Care Act means repealing ten titles. It goes beyond political ideology and starts really affecting peoples lives. The next hurdle is King V. Burwell, but it won't be the last. Careful what you wish for America.
Find out more about how the Affordable Care Act is working.