ObamaCare and Australia's HealthCare Systems Compared




Ads by +HealthNetwork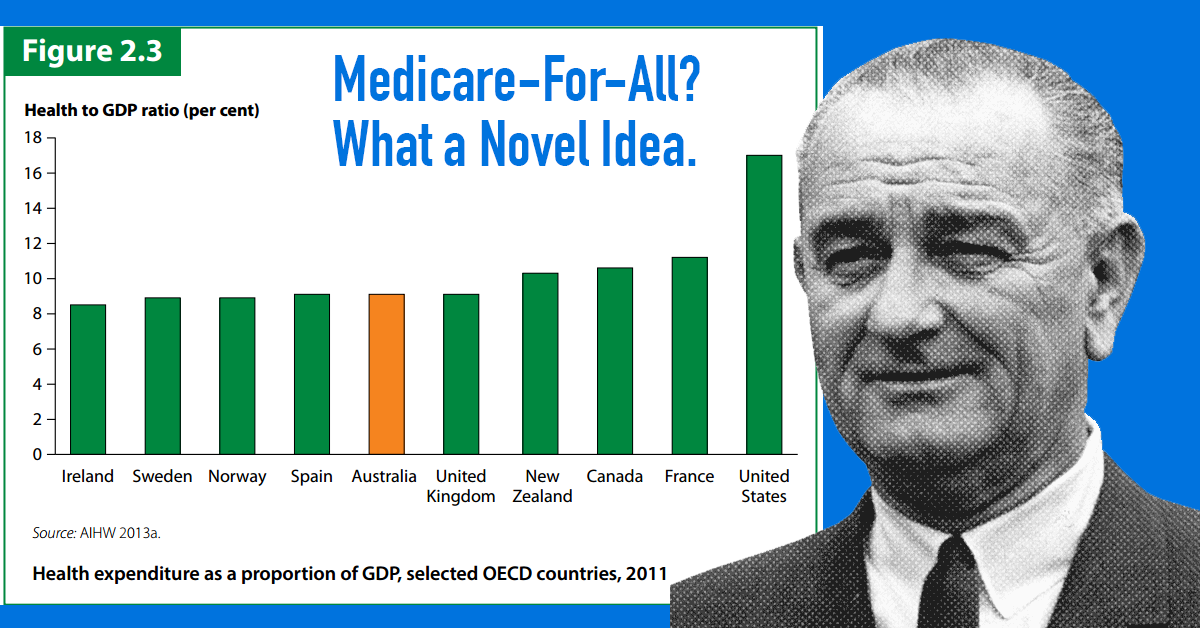 Who Has a Better HealthCare Plan: Obamacare, TrumpCare, or Australia?
Trump said, "Australia… you have better health care than we do." We compare American Healthcare to Australian healthcare to see if that is true.
Australia has a Medicare-for-All system, a public insurance and public hospitals paired with private insurance and private hospitals, where Medicare covers 75% of a general practitioner, 85% of specialist, and 100% of public in-hospital costs.
Medicare is funded partly by a 2% Medicare levy, (with exceptions for low-income earners), with the balance being provided by the government from general revenue. An additional levy of 1% is imposed on high-income earners without private health insurance.
In America, we pay Payroll taxes for Medicare and Medicaid, plus a substantial portion of our taxes goes to healthcare, plus we all pay most of our costs unless we are on Medicaid.
Our system costs more in so many different ways. It is hard to quantify. Consider all of these taxes plus all the health-related spending most Americans do.
Consider, Tax-funded expenditures accounted for 64.3 percent of U.S. health spending – about $1.9 trillion – in 2013.
In Australia, everyone is covered, but those who want better care can buy supplemental insurance just as we do with Medicare.
Australia's system isn't perfect. In fact, their healthcare is ranked slightly lower than ours on some metrics (and higher on others). However, this sort of system could make sense. We could retain some of our positive qualities by coming up with a better version of Australia's model.
This is a good point to note. Some will argue that Australia (and other like countries) are smaller than the United States. It is true that we are bigger. Australia has about 23 million people; we have about 320 million.
However, we have 50 states. That means if we had a federal solution that allowed the state flexibility it could work 50 times over.
One great universal solution, applied at a state level could suit the tastes and needs of each of our 50 unique Republics.
Maybe one state does what Canada does; maybe one does what Singapore does; maybe one does what Kuwait does; maybe one goes the direction of New Zealand; maybe one in the direction of the United Kingdom.
Essentially, according to the data, we can see that universal health care systems work. The problem of size is little more than a talking point.
The biggest gripe people will have with TrumpCare is that it is not a universal healthcare system. A universal healthcare system is not a government run system; it is any system that doesn't exclude citizens from care.
Instead, TrumpCare results in more uninsured people than we had before the Affordable Care Act. That will be hard to spin.
Trump recently said [paraphrasing] "Australia's healthcare system is better than ours." I think many Americans would agree with that. Australia has universal healthcare. It doesn't leave 15% of its citizens without coverage due to preexisting conditions and prohibitive costs.
Progressives desperately want a system like Australia's. This idea is one of Bernie Sanders most popular ones.
It is also why many supported Obama's healthcare plan (as it was a step closer).
Trump at one point promised "health care for everybody." The Senate could potentially re-write the recent House bill to create a system like Australia's (thereby fulfilling Trump's promise).
With that said, below is a video on Australia's healthcare system and a comparison of our system and theirs.
NOTE: To be clear, Australia has a mix of private and public insurance, like Medicare. Australia does not have a "government-run" system. It is a system with a mix of Private and Public Hospitals, Private and Public Health Insurance and Drug assistance. There are countless market-based approaches to universal health care we could be implementing.
MYTH: It is a myth that universal healthcare systems like single payer insurance don't work in general. The data shows otherwise, but that isn't the point of this page. The point is that it is a myth that America is "too big" to have universal coverage. People who make this argument forget that America is comprised of 50 different states. A one-size-fits-all solution might not work, but 50 different versions of universal healthcare, each designed by states for states with a general federal framework, could work wonders. This would allow for all sorts of market-based solutions to be tailored to each state's needs and would ensure America was #1 again in healthcare. Today we aren't even close by most measures.
TIP: See facts at a glance, Australian healthcare.
Trump spoke of Australia and the new bill. "It's going to be fantastic health care," Trump said, referring to his new health care plan. "I shouldn't say this to our great gentleman and my friend from Australia because you have better health care than we do."
America's HealthCare System and Australia's System Compared:
| | | |
| --- | --- | --- |
| America's System | The Difference  | Australia's System |
| 17% of GDP or more. | Cost | About 9% of GDP. |
| Mostly private (barring VA, but including non-profits). | Hospitals | A Mix of public and private. |
| Currently around 8.6% total for citizens. TrumpCare increases this. | Uninsured Rate | About ZERO, they have universal healthcare for citizens. |
| Public programs are paid for by taxes, Medicare has supplemental, all employer and private insurance is paid directly to private companies (who are subsidized by the taxpayer). Our taxpayers pay a number of taxes that amount to much more than 3% of their income (especially with premium costs, the fee, and out-of-pocket spending). | How it is Paid For. | There is a single public fund that takes care of basic coverage. Private insurers handle the supplemental. Australians pay a 2% Medicare tax, and those without private insurance and high incomes pay an additional 1%. There are out-of-pocket costs on top of this, but insurance pays a bulk of costs. |
| Tax credits are based on age for 100% -400% of the Poverty Level plus out-of-pocket assistance, plus Medicaid, plus Medicare, etc. TrumpCare freezes Medicaid and Cuts assistance. | Costs and Cost Assistance | Those who make money pay in, and there is a tax, but a safety net there for every person, regardless of their ability to pay. |
| American struggle with out-of-pocket costs. | Out-of-Pocket Costs | Australians also struggle with out-of-pocket costs. |
| Tens of millions of Americans are barred from care due to cost. Rationing is based on costs (unless one is in a public program) | Rationing | Australians on the public system are subject to wait times. You can buy your way out of rationing. |
| The Affordable Care Act reduced the numbers of uninsured and bankruptcies and helped keep hospitals full, but people struggled with costs. For those with assistance, however, the ACA meant tens of millions had access to affordable coverage for the first time. Currently, the uninsured rates are at an all-time low but we don't have universal healthcare. Instead, we have a very expensive system that rations care based on cost. | Bottomline | Australia's Medicare-for-all system took our ideas, and our healthcare's name (Medicare), and made a better system than we have while we were busy fighting over whether or not healthcare was a right. That is embarrassing. It isn't perfect, but we can't do better unless we step up to the plate to join the rest of the developed world in offering universal coverage. |