State-by-State ObamaCare Extensions for 2015




Ads by +HealthNetwork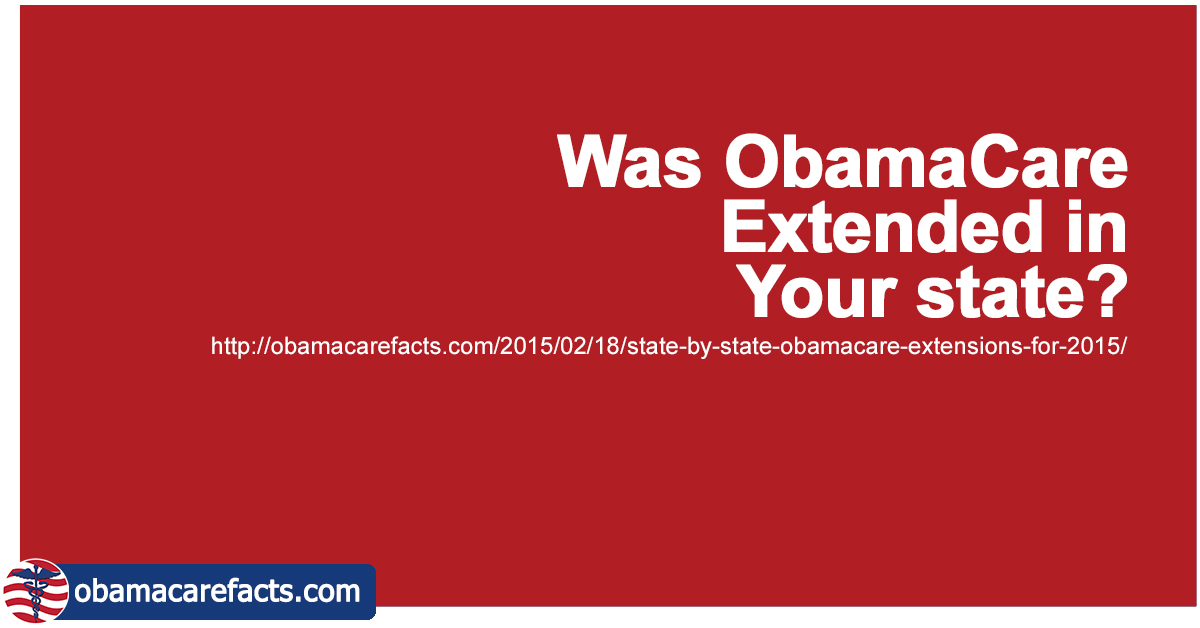 HealthCare.Gov is allowing those who signed-up, but didn't complete enrollment until Feb 22nd to enroll. Other state's have unique extensions as seen below.
UPDATE: For 2016 most states have declined to issue an extension. Some states have special rules, when in doubt check with your state's marketplace. Get more information here.
Many State run Marketplaces are also offering enrollment period extensions:
New Mexico– Does not list a specific end date yet, but notes that those who started the process before the February 15th deadline, can complete the process.
New York– If you started the process before February 15th, you have until February 28th to finish enrollment.
Rhode Island– Severe Weather extension because call centers were closed on February 15th due to weather conditions. You now have until February 23rd to enroll in their Marketplace plans.
Washington– Due to the sheer number of last minute enrollees on February 15th, as well as the expectation that many who discover they will owe the Shared Responsibility Fee during this years tax season, Washington has granted an additional enrollment period starting February 15th and ending April 17th, 2015.
Idaho– If you started the process, but were unable to complete your enrollment, you now have until February 21st.
Kentucky– No enrollment extension has been given at this time.
Maryland– If you started the enrollment process, but were unable to finish, you now have until February 28th.
Minnesota– If you at least created an account by February 15th, than you have until February 20th to enroll in a plan.
Nevada– In Nevada you'll have to apply for special enrollment to get cost assistance, but insurers in Nevada have to offer major medical plans year round. So anyone who elects to purchase a plan can still get covered in Nevada.
Washington D.C.– No extension is specifically noted, however, the website states that those who have had difficulty due to weather conditions can email [email protected] to get help enrolling by March 1st.
California– If you started the enrollment process, but were unable to complete it, than you have until February 22nd (essentially extended to April 30th). If you make he first premium payment on the day you enroll, your plan will still begin on March 1st. From Feb. 23 until April 30, 2015, consumers are eligible to apply for health coverage during special enrollment by attesting that they did not realize there was a tax penalty. To attest to this fact, they can select "Informed of Tax Penalty Risk" when filling out an application at CoveredCA.com.
HealthCare.Gov– Just so it's clear, the majority of state's that use HealthCare.Gov had until February 22nd to complete enrollment. There will be another extra enrollment period from March 15th – April 30th. This is true for all state's.
What to Do If You Missed the Deadline Above
If you have missed your state's extension of February 22nd or later, depending upon your state, you still have options. Many state's will be having another "extra enrollment period due to taxes" (technically a special enrollment period) from at least March 15th to April 30th. This is true for HealthCare.Gov, other state's have unique deadlines. We will update the state-by-state extension list as we learn more, but don't assume you are out of options.
Apply for specail enrollment in your state's Marketplace or HealthCare.Gov and attest that you had one of the many qualifying life events that trigger a special enrollment period including being "Informed of Tax Penalty Risk" (ie you now know you'll have to pay a penalty for not having coverage and were confused about this before).
Learn more about other special enrollment opportunities for those who missed the ObamaCare deadline.