Ads by +HealthNetwork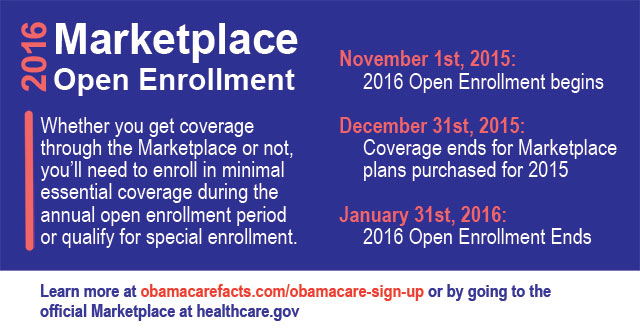 A quick overview of everything you need to know about getting coverage, switching plans, and cost assistance during ObamaCare's 2016 open enrollment period.
Open enrollment 2016 starts on Nov 1, 2015 and ends Jan 31, 2016.
Starting Nov 1, 2015 individuals and families can begin to enroll in health coverage that starts as early as Jan 1, 2016.
In the private individual and family market: open enrollment is the only time of year you can obtain minimum essential health coverage, switch plans, adjust cost assistance, or enroll in a plan with or without cost assistance outside of special enrollment each year.
If you don't get coverage during open enrollment, or an exemption, you could owe the monthly fee for not having coverage in 2016.
Plans purchased before the 15th of the month start on the 1st of the next. Plans purchased after the 15th start on the 1st of the next month.
As long as you enroll during open enrollment, and/or maintain coverage for at least 10 full months in the calendar year, you'll automatically qualify for a short coverage gap exemption for the months you miss.
The fee for having coverage increased this year and so did cost assistance amounts for many families (as they adjust with the poverty level), so even if you went without coverage last year due to financial reasons you may want to find out your options this year.
Even if you have a plan from last year you'll want to make sure you take part in the renewal process to avoid auto-renewal in states that offer auto-renewal and non-renewal in states that don't. Don't assume you are covered, take action before Dec 15, 2015 to avoid headaches in 2016.
1 in 6 Americans got a Marketplace plan for $100 or less in 2015. 87% of people who selected marketplace plans for 2015 got financial assistance. Apply to HealthCare.Gov today and see what kind of cost assistance you qualify for.
Learn more from ObamaCareFacts.com: