Kaiser Uninsured Poll November 2014




Ads by +HealthNetwork
A November 2014 Kaiser Poll shows the majority of uninsured are unaware of open enrollment date, despite saying health insurance was important and needed.  Let's take a look at what the Kaiser Health Tracking Poll shows about the uninsured going into open enrollment 2015.
Kaiser Health Tracking Poll 2014 Summary
Despite the fact that the majority of uninsured polled planned to get covered in the next six months and that about 70% of uninsured polled said they thought health insurance was something they needed, only 11% were actually aware of when open enrollment started.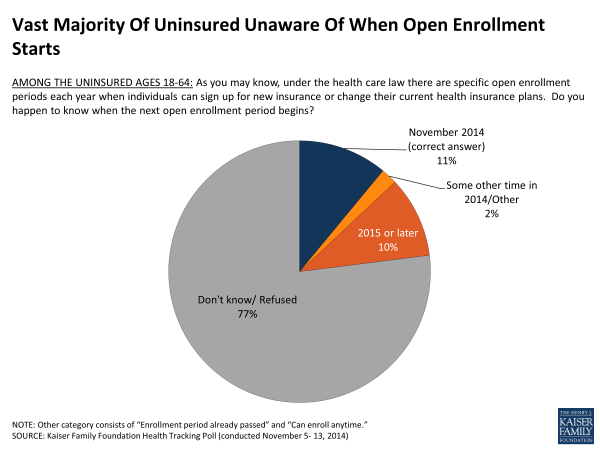 Open Enrollment started November 15th, 2014 and ends February 15th, 2015.  Open enrollment is the only time you can enroll in a plan, switch plans, or apply for cost assistance.  If you already have coverage you'll need to verify your plan and information before December 15th, 2014.
Despite the fact that the uninsured plan to get covered, opinions on the ACA haven't changed much.  While 29% of folks polled said they supported a full repeal of the law and 17% thought the law should be scaled back, 20% thought the law should move forward as is and 22% felt the law should be expanded.  In other words the popularity of the program remains split and confusion over the law's specifics are still a factor.
One thing is clear, there is not strong support for total repeal or for simply leaving the law the way it is.   Polls instead show that Americans want to continue reforming our healthcare system.
Read the November 2015 Kaiser poll on the uninsured here.