How to Enroll in a Plan at the Last Minute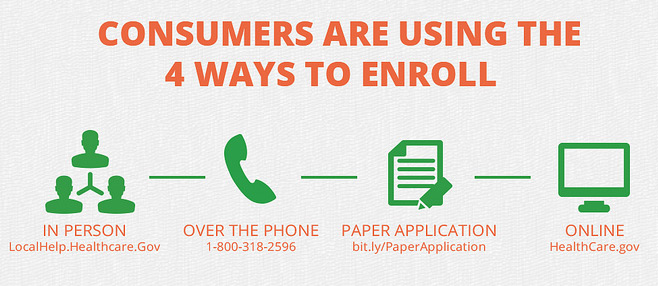 Here is a quick guide for enrolling in Healthcare.Gov coverage at the last moment.
You don't have to use the Marketplace, but you do have to sign up for coverage and enroll in a plan before open enrollment ends. In general open enrollment will end on December 15th each year in states that use HealthCare.Gov (the federal marketplace). However, the deadline can be extended for HealthCare.Gov and deadlines may vary by state in states that use their own marketplace.
You can see more detailed information about enrolling in health insurance here.
What You Need To Sign Up For ObamaCare
Ideally you want all these things, but if you don't have everything still try getting as far as you can through the process.
Last year's tax information for you and your family
Projected incomes for this year
Social Security Numbers (or document numbers for legal immigrants)
Employer and income information for every member of your household who needs coverage (for example, from pay stubs or W-2 forms—Wage and Tax Statements)
A completed Employer Coverage Tool for every job-based plan you or someone in your household is eligible for. (You'll need to fill out this form even for coverage you're eligible for, even if you didn't enroll, in it.)
Policy numbers for any current health insurance plans covering members of your household.
How to Sign Up For The Health Insurance Marketplace
You can use your State's health insurance marketplace to sign up for private insurance, get access to subsidies, or apply for Medicaid or CHIP.
There are four ways to sign up including the website but, at the last minute, you wouldn't want to use any other method aside from the website.
Find your State's marketplace website or go to Healthcare.Gov.
Get in-person help. You can find in-person help by going to LocalHelp.Healthcare.gov.
Call the 24/7-marketplace helpline 1-800-318-2596.
Mail in a paper application. bit.ly/PaperApplication. (read these instructions first)
How to Enroll in a Health Insurance Marketplace Plan
Here are the official directions for enrolling in a marketplace plan through Healthcare.Gov. Remember signing up is only step one. You still need to choose a plan and make your first payment for your coverage to begin officially. State-based marketplaces have very similar sign-up and enrollment processes. The directions below are specifically for States running a federal-based marketplace (i.e., States using Healthcare.Gov as their marketplace).
Set up an account. First, you need to provide some basic information. Then choose a username, password, and security questions for added protection.
Fill out the online application. You must provide information about you and your family including income, household size, current health coverage information, and more. This will help the Marketplace find options that meet your needs. Important: If your household files more than one tax return, call the Marketplace Call Center at 1-800-318-2596 before you start an application. (TTY: 1-855-889-4325) This is a very important step. Please don't skip it. Representatives can provide directions to make sure your application is processed correctly.
Compare your options. You'll be able to see all the options you qualify for, including private insurance plans and free and low-cost coverage through Medicaid and the Children's Health Insurance Program (CHIP). The Marketplace will tell you if you qualify for lower costs on your monthly premiums and out-of-pocket costs on deductibles, copayments, and coinsurance. You will see details on costs and benefits to help you choose a plan that's right for you.
Enroll. After you choose a plan, you can enroll online and decide how you pay your premiums to your insurance company. If you or members of your family qualify for Medicaid or CHIP, a representative will contact you to enroll. If you have any questions, there's plenty of live and online help along the way.
For more details on signing up, you can check out our health insurance marketplace guide or find your State's health insurance marketplace now to get started.