Advanced Care Planning (ACP)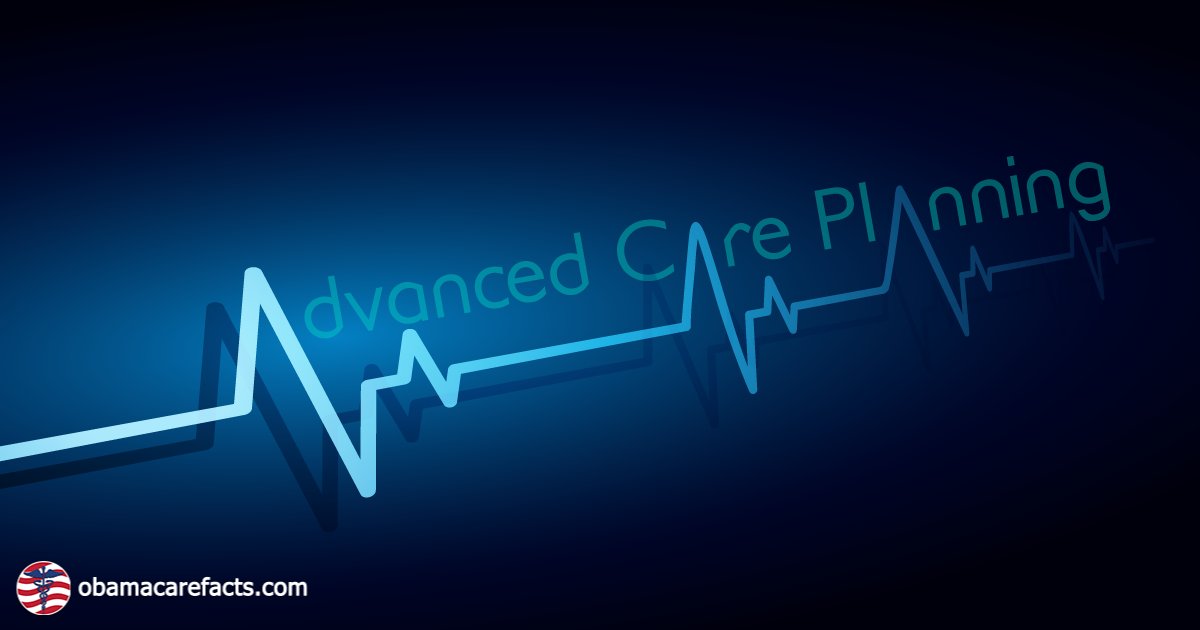 What is Advanced Care Planning?
Advanced Care Planning (ACP) is planning of end-of-life treatments with the assistance of doctors in order to give patients control.
Advanced Care Planning and the Affordable Care Act (ObamaCare)
As of July 2015 doctors aren't paid to provide end of life counseling to Medicare and Medicaid patients, nor is their funding to train them to provide this service. This is because the provision was stripped out of the Affordable Care Act due to the death panel myth. This resulted in end-of-life choices being taken away from patients and wasteful spending on treatments those patients wouldn't have wanted.
Why is Advanced Care Planning Important?
Advanced care planning is important for the same reason your will is important. A person should have the liberty to make their own choices in life, end-of-life, and after their life. If a person doesn't make decisions on what type of care and how much care they will get at end of life by-the-book rules, doctors, and family members will. These decisions can end up being different from what the person would have chosen for themselves.
The Economics of Advanced Care Planning
Public programs like Medicaid and Medicare a funded by tax dollars. End of life is the biggest expense in regard to healthcare to the tax payer. Lots of that care is spent on treatments a person would not have chosen themselves. End-of-life planning puts choice in the hands of patients, potentially saving a ton of tax payer dollars in the process.
The Death Panel Myth
As a way to drum up fear and support for anti-ObamaCare campaigns a damaging myth was spread in 2008 -2009. The myth was that ObamaCare created death panels that would result in  our grandparents dying. This led to the removal of a provision that funded end of life planning for Medicaid and Medicare beneficiaries.
This myth ironically hurt seniors and the economy (which were the exact two fears used to dissuade people from supporting ObamaCare).
New CMS Proposal for Advanced Care Planning July 2015
In July 2015 CMS (Centers of Medicaid and Medicare services) proposed paying doctors for end of life counseling.Currently there is no structure in place to pay doctors for providing end of life counseling. This leads to people not being able to make their own life choices and overspending of tax dollars by Medicaid and Medicare.
This is essentially the part of the Affordable Care Act that was stripped away out of fear of death panels.
When Does the New Proposal Take Effect?
The proposed rule to fund advanced care planning will take effect January 1st, 2016 and was included as part of regulation passed for doctor payments. See Federal register for more details. or see our write up of the proposal here.
Advanced Care Planning Facts
According to the CDC: Most people say they would prefer to die at home, yet only about one-third of adults have an advance directive expressing their wishes for end-of-life care (Pew 2006, AARP 2008). Among those 60 and older, that number rises to about half of older adults completing a directive.
Only 28 percent of home health care patients, 65 percent of nursing home residents and 88 percent of hospice care patients have an advance directive on record (Jones 2011).
Even among severely or terminally ill patients, fewer than 50 percent had an advancedirective in their medical record (Kass-Bartelmes 2003).
Between 65 and 76 percent of physicians whose patients had an advance directive werenot aware that it existed (Kass-Bartelmes 2003).