Oregon Health Insurance Exchange
How the Official Oregon Website for Health Insurance Works
The Oregon Health Insurance Exchange, Cover Oregon, was replaced by Healthcare.Oregon.gov and HealthCare.gov. See those sites for coverage and cost assistance.
Today you can use HealthCare.gov to apply for cost-assistance, compare prices of plans, change plans, and enroll in a plan that best suits you, your family or your small business in Oregon.
Meanwhile you can use healthcare.oregon.gov to get additional assistance, apply for the Oregon Health Plan​ (Medicaid), or learn more about assistance and coverage options in Oregon.
In other words, healthcare.oregon.gov is the assister site and the place to sign up for Medicaid/CHIP, and HealthCare.gov is where individuals and families will sign up for health insurance under the Affordable Care Act and get cost assistance.
Update: As of 2015 Oregon's health insurance marketplace coveroregon.com is no longer in use. Customers should now HealthCare.Gov and healthcare.oregon.gov to get assistance and enroll in coverage.
Cover Oregon Updates for 2015 and Beyond
Here are the changes to the way you'll get covered in Oregon according to Healthcare.gov and healthcare.oregon.gov.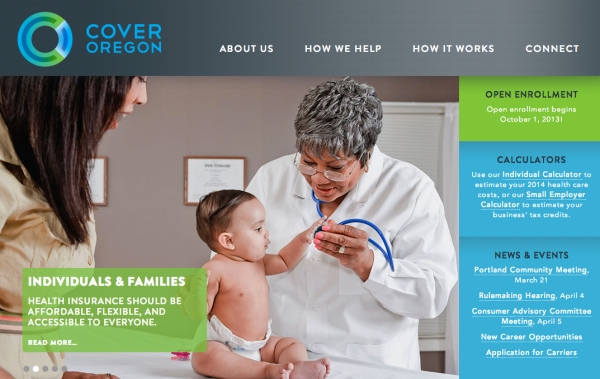 • Coverage purchased before the 15th starts on the first of the month following the next month.
• You can obtain coverage, apply for cost assistance, or switch plans at anytime during open enrollment each year.
• Open enrollment is the only time you can use the marketplace without qualifying for a special enrollment period.
• Not everyone who doesn't have insurance will be charged a fee or will get cost assistance. How much you pay depends on what you make.
• All health insurance sold on official ObamaCare websites must offer all the new benefits, rights and protections of the Affordable Care Act.
Oregon Marketplace Changes
As noted, Cover Oregon, the Oregon health insurance marketplace closed down in 2015. From 2015 forward Oregonians will use healthcare.gov to get health insurance and their state site for assistance. This change will only affect individuals and families seeking private insurance, as Medicaid enrollees can still use the state website (now no longer called "Cover Oregon").
The switch was recommended by an advisory panel after months of deliberation as fixing the website could cost up to $78 million, while a switch to healthcare.gov would only cost about $7 million.
Despite it's unique difficulties Cover Oregon was able to help about 69,000 Oregonians get enrolled in private plans and due to it's choice to expand Medicaid was able to get 171,000 more of their working poor health insurance under the ACA. Sadly this is a case where good intentions didn't have optimal results, but a stumble at the starting line won't stop Oregon from reducing it's uninsured rate over the next few years and that of course is the bottom line.
The Bottomline: Oregon will continue using its current technology for Medicaid enrollments, but not for people who are buying private policies.
Oregon's effort to help cover Oregonians is still beautiful, despite it's imperfections.
Oregon Insurance Exchange Subsides and Tax Credits
You can use the HealthCare.gov website to apply for coverage, compare plans, and enroll. When applying for a plan on the marketplace you'll find out if you are eligible for subsidies which can lower what you pay for premiums and lower the out-of-pocket costs you are responsible for.
ObamaCare subsidizes those with incomes ranging from 139% to 400% of the FLP (federal poverty level) and helps to make Medicaid and CHIP available for those below the 139% mark.
In 2018 100% FPL was $12,140 for single person, the amount increases for each family member, and each year the federal poverty level is adjusted upwards.
Subsidies are given as refundable tax credits. Subsidies are given as refundable tax credits.
Learn more about ObamaCare Subsidies.
Applying for Subsidies, Tax Credits and Cost Assistance on the Oregon Health Insurance Exchange
In order to get subsidies all you need to do is sign up with the insurance exchange. Once you input your families information and your tax information the system will automatically calculate your subsidies. Since subsidies are reflected as tax credits your cost assistance will not be set in stone until the end of the year. Keep this in mind as you may lose or gain cost assistance as your income fluctuates throughout the year.
Applying for ObamaCare in Oregon
Make sure you have the following information about your and your family before visiting HealthCare.Gov or the state website.
• Last years tax information for you and your family.
• Projected incomes for this year.
• Medical history – ObamaCare does away with pre-existing conditions and gender discrimination so these factors will no longer affect the cost of your insurance. Smoking, family size and age may still affect your affect cost.
• Social Security Numbers (or document numbers for legal immigrants).
• Employer and income information for every member of your household who needs coverage (for example, from pay stubs or W-2 forms—Wage and Tax Statements).
• Policy numbers for any current health insurance plans covering members of your household.
• A completed Employer Coverage Tool for every job-based plan you or someone in your household is eligible for. (You'll need to fill out this form even for coverage you're eligible for but don't enroll in.)
• Any other important information that could affect your health insurance premium or coverage options. Better safe than sorry!
Here is an example of the health insurance exchange application form for individuals.
Here is an example of the health insurance exchange application form for families.
Qualifying for Medicaid Expansion
If you make under 139% of the Federal Poverty Level you may qualify for Medicaid under Oregon's Medicaid expansion under ObamaCare. You can apply for Medicaid using the Oregon state website found in the links above.

Choosing the Right Health Insurance Plan
Choosing the right plan means understanding your medical needs, including what healthcare providers and treatments you'll use, and then figuring out your budget and if you are eligible for cost assistance.  That will narrow down which tier of metal plan to get, then you'll compare benefits of those plans.
As a rule of thumb we suggest a Silver HMO if you qualify for cost assistance.  The more cost assistance you qualify for the more we suggest it as only Silver plans are eligible for Cost Sharing Reduction subsidies.
Actuarial value
Before you read this section it is very important that you understand actuarial value.  Actuarial value is the average amount a plan will pay for covered services for everyone using the plan, it is not what the plan will pay you specifically.  Premiums and costs not covered by your plan don't factor into determining actuarial value, only costs insurers pay count.
Types of Metal Plans
Each metal plan has a minimum average actuarial value which can be used to tell how good a plan is, what type of subsidies it qualifies you for based on income, and if it provides minimum value.
NOTE: All marketplace plans have a maximum out-of-pocket cost and must provide at least ten essential benefits as part of their covered benefits.
1. Bronze plans split covered expenses 60-40 on average.
Bronze plans are the cheapest plans.  All employer plans and non-catastrophic marketplace plans must provide at least the value of a bronze plan.
For a Bronze plan with 60% actuarial the insurer will, on average, pay 60 % of covered health expenses while the policy holder must come up with the other 40%. In other words a plan with 60% actuarial value covers 60% of out-of-pocket costs on average for all policy holders, not just you.
Bronze plans have the most basic benefits and most limited networks of doctors and hospitals.  The actuarial value reflects this since that percentage is determined by the average expenses your insurer will have.
A Bronze plan is a good choice for those who don't plan on using many medical services.  Many low-income Americans may qualify for free or very low-cost Bronze plans.  That being said in many cases a Silver plan will provide better value as Bronze plans won't qualify for Cost Sharing Reduction subsidies (CSR).  You will be getting a low premium in exchange for the fact that you will pay more out-of-pocket and have a more narrow network.
More than 50% of all medical costs are incurred by a very few unfortunate people.  Since your deductible will be high and all plans have the same maximum limits on the amount you can pay in a year, most of the costs you pay for a Bronze plan will go to the unfortunate people who get cancer or have a bad accident and reach their cost sharing limit.
2. Silver plans split covered expenses 70-30 on average.
Silver plans are "the marketplace standard" meaning that premium caps are based on the cost of Silver plans. A Silver plan on the marketplace can't cost more than 9.5% of your income if you make less than 400% of the Federal Poverty Level (FPL) due to Advanced Premium Tax Credits. The less you make, the lower your premium cap is.
Like Bronze Plans, the actual value of Silver plans can range.  They simply must have at least a 70% actuarial value.
Silver plans are the only plans eligible for Cost Sharing Reduction subsidies (CSR)
A Silver level plan is a good choice for individuals and families who have access to marketplace subsidies, especially CSR subsidies.  If you make below 250% FPL the chances you won't find your best plan to be a marketplace Silver plan is slim.  Go with an HMO when in doubt, you'll need referrals, but this will be your cheapest option.  Like with any other plan, make sure your medical needs are covered in-network.
3. Gold plans split covered expenses 80-20 on average.
Gold plans cost a little more, but the lower deductibles and better out-of-pocket cost sharing coverage means that families won't have to worry about health care costs stopping them from their families getting the care they need. Even if your premium is capped you'll have to pay more to make up the difference if you want a gold plan.
Gold plans are smart for those who don't get CSR subsidies and need the low deductible and robust networks some gold plans provide.
4. Platinum plans split covered expenses 90-10 on average.
Platinum plans have the lowest out-of-pocket costs and the highest monthly premiums. This is the right choice for anyone who wants "the best coverage" for them and their family and is a smart buy for those who are sick or who have dependents who are likely to use costly health services. Even if your premium is capped you'll have to pay more to make up the difference if you want a Platinum plan.
Platinum plans only make sense if your total medical spending will exceed the amount you will pay in premiums or if you need very specific treatments.
5. Catastrophic Coverage
Catastrophic coverage is available to some people under 30 and those with hardship exemptions. Catastrophic plans only cover the bare minimum health benefits and has a very limited network. You'll have high out-of-pocket costs and a high deductible but this type of plan will protect you in a worst case scenario and will ensure that you avoid paying the shared responsibly fee for not having health coverage. If you get a catastrophic plan you should assume most of your medical costs will be out-of-pocket.
NOTE: You can also get covered through Medicaid on the marketplace.  As a rule of thumb if you make less than 250% FPL a Silver plan is the way to go, if you make less than 138% and your state expanded Medicaid then you'll go with Medicaid.
Oregon health insurers don't have to offer every tier of plan, but within the Oregon health insurance Exchanges, all health insurance companies must offer at least one silver plan and one gold plan to consumers.
Learn more about Health Plan Types.
Oregon Insurance: Factors that Affect Rates
ObamaCare does away with pre-existing conditions and gender discrimination so these factors will no longer affect the cost of your insurance. Please be aware location, income, smoking status, family size and age all affect the cost of your health insurance premium. So the cost of any their of plan will fluctuate from person to person and from family to family. Please keep this in mind when shopping for insurance at HealthCare.gov.
Choosing a Health Care Plan: How to Calculate the Cost of Health Insurance
To get started you'll want to figure out what your budget is for health care this year. Affordable health insurance is defined as 8% of your income (subject to adjustment each year). Take your income for last year and find out if you can afford to pay 8%, if not find a number that you feel you can pay. Now that you have an idea of what you can afford, it's time to take a look at the cost calculator from the Kaiser Family Foundation to get an idea of what you will pay on the Oregon health insurance exchange. This will give you an estimate of what you and your family will pay. Keep in mind that health, age and other factors can increase or decrease the cost of your insurance.
How to Get Started Using the Insurance Exchanges
If you live in Oregon, you'll use HealthCare. gov to apply for coverage, compare plans, and enroll. Visit Oregon's official healthcare website now to learn more about getting covered (or to enroll in Medicaid/CHIP).
The health insurance marketplace is only open during open enrollment. Make sure to sign up for our newsletter for updates. As we learn more about the exchanges we are updating our site with the latest information on how to use ObamaCare's official State Marketplaces.
Oregon Health Insurance Guide