ObamaCare Facts: Facts on the Affordable Care Act
ObamaCare Facts 2017 – We Tell you the Facts, Not The Talking Points
Get the facts on ObamaCare (the Patient Protection and Affordable Care Act). Understand how the Affordable Care Act affects health insurance and healthcare.
Find out everything you need to know about ObamaCare below including: what ObamaCare is, what ObamaCare does, how to get coverage during open enrollment, what happens if you miss the deadline, how to maximize cost assistance, how to claim exemptions, how to ensure you and your family get the best health plan, how to file ACA related taxes, how to advocate for better state-based programs under the ACA, how ObamaCare is working, how repeal efforts are going, and more.
Below we cover the basics of the Affordable Care Act (sometimes called "ObamaCare"), and the basics of the Republican repeal and replace efforts under President Trump (sometimes called "TrumpCare").
Keeping in mind that ObamaCare is still in effect until further notice, and that there is no official "TrumpCare" yet (just an executive order, a set of new rules, and a proposed plan), we'll start by explaining the basics of what ObamaCare does, and then cover what changes could be on the way in 2017 and beyond.
What is ObamaCare?
• The official name for "ObamaCare" is the Patient Protection and Affordable Care Act (PPACA), or Affordable Care Act (ACA) for short.
• The ACA was signed into law to reform the health care industry by President Barack Obama on March 23, 2010 the and upheld by the Supreme Court on June 28, 2012.
• ObamaCare's goal is to give more Americans access to affordable, quality health insurance and to reduce the growth in U.S. health care spending.
• The Affordable Care Act expands the affordability, quality, and availability of private and public health insurance through consumer protections, regulations, subsidies, taxes, insurance exchanges, and other reforms.
ObamaCare's 2018 Open Enrollment period will start November 1, 2017 and end December 15, 2017. Don't forget to get covered at HealthCare.Gov so you can take advantage of cost assistance options!
The video below will tell you Everything You Need to Know About ObamaCare in under 7 minutes. The video below was made in 2014, but everything outside of a few dates is still applicable.

TIP: ObamaCare was enacted to address the "healthcare crisis" (a term that describes the fact that premiums were rising faster than inflation, that healthcare spending was raising in relation to the GDP, and that the uninsured rate was increasing because of this). The ACA was a first step to solving our problems, but it wasn't the final step (there are still "sticking points" that need to be "fixed"). So far, the biggest gains have been made in states that embraced ObamaCare. The states that rejected key provisions like Medicaid Expansion and the exchanges bring down the national average (as their costs are higher, their choice of insurers are fewer, and their uninsured rates are higher). The conscious effort to obstruct ObamaCare at a state and federal level has been actively contributing to the ability of critics of the law to spin the "death spiral" talking point (see facts on how the ACA is working and more facts on the healthcare crisis before the ACA and why we needed reform).
Getting Covered in 2017: The Basics of Getting Covered Under ObamaCare
Above we covered the basics, below is everything you need to know about getting covered in 2017.
Open Enrollment 2017 started November 1, 2016, and ended on January 31, 2017.
That means January 31st, 2017 was your last chance to get 2017 coverage at Healthcare.Gov (the official health insurance marketplace) without qualifying for Special Enrollment. Learn more about your options and the law below.
This year, open enrollment for 2018 is scheduled to run from November 1, 2017 – December 15, 2017 (it was shortened by Trump Administration regulations).
FACT: ObamaCare does not replace Private Insurance, Medicare, or Medicaid.
FACT: ObamaCare doesn't regulate your health care; it regulates health insurance along with some of the worst practices of the For-profit Healthcare Industry.

Tips on Taking Advantage of ObamaCare in 2017
As noted above, we are currently outside of open enrollment and a repeal and replace plan is still possible.
This means options are limited until open enrollment 2018 (which starts November 1st, 2017) and beyond that the future of healthcare reform is still uncertain.
Given that, if you have a plan, it is highly advised that you maintain that plan until we reach more certain times.
TIP: Find out what to do if you miss the open enrollment deadline, or keep reading to find out what else you need to know for 2017.
Find Out What the Affordable Care Act Means for You in 2017:

• For those looking for coverage outside of open enrollment, there are still options like short term, medicaid, CHIP, and special enrollment. For any time of the year, we suggest learning more about how health insurance works and how cost assistance works to make sure you get the best health plan for you and your family.
• If you had a marketplace plan from last year, you needed to change plans and verify your information by December 15th 2016 (extended in some states) to ensure your cost assistance was correct and the plan of your choice started by January 1st, 2017. This is generally true each year.
• Even if you missed the deadline, you should still verify your plan and info. If your income changes or you have a life change (like getting married or having a baby), then you may be eligible for different cost assistance amounts. There is no wrong time to update your Marketplace information, this will ensure you avoid owing back excess tax credits.
• The best way to make sure you avoid the fee is to make sure you maintain coverage. Don't forget to pay your premium every month, consider putting your premium payment on auto-pay. If you miss a premium payment you could get dropped from coverage and be left without options beyond filing an appeal.
Updates on ObamaCare and TrumpCare in 2017
Now that you have the basic essentials covered (the benefits, rights, and protections, tax credits, open enrollment, the exchanges, changes to Medicare, and the expanding of Medicaid / CHIP), lets take a look at what is happening with "ObamaCare" and "TrumpCare" here in 2017:
True to their word, shortly after Trump was elected Republicans in Congress began the process of defunding and repealing the Patient Protection and Affordable Care Act (ObamaCare or the ACA).
However, they were not able to pass a key repeal bill in the House, and thus the ACA is still the law of the land… for now.
That means Special Enrollment is still on at HealthCare.Gov, cost assistance is available to many families making between 100% – 400% of the federal poverty level via the marketplace, Medicaid is expanded to those making less than 138% of the poverty level in states that didn't opt-out, insurers can't deny you, drop you, or charge you more for having a preexisting condition, there is a ban on lifetime limits, and the mandates are in effect (so employers must still offer coverage to full-time employees and there is still a fee for not having coverage).
Although we could see changes to all of the above provisions in future legislation, only small changes should be expected this year (such as those in-line with Trump's executive order on the ACA and the April regulations).
With that said, we could see another repeal and replace effort in the future that may include Republican favored provisions like: tax credits based on age, expanded HSAs, privatized "block-grants" for Medicaid, sick pools, the defunding of Planned Parenthood, the elimination of the individual and employer mandates, the elimination of out-of-pocket cost assistance, and the elimination of lots of taxes on industry.
Those provisions generally mean more "choice" for consumers, but higher rates for the sick, poor, and seniors.
Consider, the CBO had projected "the American Health Care Act" (sometimes called TrumpCare) would have reduced the deficit by $337 billion over the decade and increased the uninsured by 24 million by 2026 (from 26 million under the ACA to 52 million uninsured under the AHCA/TrumpCare).
Learn more about what the Republican "repeal and replace" plan means for America and our suggestions for what TrumpCare could look like. There are many important points we can't cover here, we'll keep you updated as we learn more. Keep checking back or learn more about everything ObamaCare below.
WE SAVED OBAMACARE… FOR NOW: There are 20 million newly insured under the ACA and the uninsured rate is at an all time low. ObamaCare is saved for now, but key provisions of ObamaCare, Medicaid, and Medicare may still be in jeopardy in 2017 and beyond. Other programs on the line include Planned Parenthood, Social Security, and more.
Is ObamaCare Working?
As of the end of open enrollment 2016 there was estimated to be as many as 12.7 million in the marketplace, and very roughly 20 million total covered between the Marketplace, Medicaid expansion, young adults staying on their parents plan, and other coverage provisions. That number had been creeping up during open enrollment 2017, and fluctuates each year, but it is still generally correct taking into account all coverage provisions of the ACA.
If you ask Obama himself about the ACA and the Future of US Health Care, he'd tell you that most of the program is working better than expected, but there is still more work to be done (this message is mirrored even by some of his biggest critics).
Generally we can summarize the pros and cons as, great coverage expansion for the sick and poor, a struggle for some middle class, generally OK for most, lots of cost curbing and benefits in the healthcare sector, and some frustrating sticking points like the family glitch that require immediate attention (and which Democrats are currently campaigning on addressing).
In all, the latest news is good news in regards to total costs and coverage. A new June 2016 study by the Urban Institute shows the latest long term spending projections are $2.6 trillion lower than the original post-ACA baseline forecast through 2020 — a reduction in projected spending of almost 13%. Read more. Meanwhile, the uninsured rate was estimated to hit an all-time low fell to 9.1% in 2015 according to a 2016 report. Another report demonstrated a steady falling trend under the ACA, but estimated it at an all time low of 11%.
Comparing this to 2014 and 2015: By the end of 2014, about 6.5 million people enrolled in a health plan on ObamaCare's Health Insurance Marketplace HealthCare.Gov. This included 4.5 million renewals and auto-renewals in addition to the 2 million new enrollments. By the end of open enrollment 2015, an estimated 11.7 million people were enrolled in state and federal marketplaces. 10.8 million more were covered through Medicaid and CHIP and 5.7 million young people were able to stay on their parents' plan. Many more were covered through employers who expanded coverage under the ACA and on private plans outside of the marketplace. Generally, marketplace enrollments have been on a steady incline as the total uninsured rate has dropped over the years.
See the current marketplace sign up numbers here, they are growing all the time.
• A January 2015 report by the Commonwealth Fund showed a reduction in the number of uninsured Americans and an increase in affordability and access to care under the Affordable Care Act. In some cases, numbers of uninsured people are the lowest they've been since 2001, especially for those who are young or have a low-income. This means that fewer Americans are putting off care or struggling with medical debt.
• Due to the ACA's cost curbing provisions, health care spending in 2014 grew at the slowest rate on record (since 1960).  Meanwhile, health care price inflation is at its lowest rate in 50 years.
• 8.2 million seniors have saved more than $11.5 billion on their prescription drugs since 2010 – an average of $1,407 per beneficiary.
• The ACA's provisions have helped save $19.2 billion in fraud – about a $10 million increase from the five years before that.
• Preliminary data shows that between 2010 and 2013, due to new ACA provisions, about 1.3 million fewer events occurred that could cause hospital-acquired conditions such as pressure ulcers, central line associated infections, and falls and traumas. As a result it is likely that 50,000 fewer people lost their lives, and there was a $12 billion in cost savings.
• Due to ObamaCare's focus on quality over quantity, re-admissions among Medicare beneficiaries were driven down by 150,000.
• Medicaid expansion and increased coverage has combined to reduced unpaid medical bills, resulting in less medical debt for consumers and fewer unpaid hospital bills, which hurt hospitals and state tax payers. Hospitals' uncompensated care costs are estimated to be $7.4 billion (21%) lower in 2014 than they would have been in the absence of coverage expansions.
Free Preventive Services and Ten Essential Benefits
ObamaCare's new benefits, rights and protections include the requirement that most non-grandfathered (or grandmothered) health insurance plans cover preventive services and services from at least ten categories of essential health benefits with no annual or lifetime dollar limits. Learn more about grandfathered health plans.
• A minimum amount of services from the Ten Essential Benefit categories must be included on all non-grandfathered plans as "covered services". Covered services are services your plan covers in-network at the plan's cost sharing amount.
• Free preventive services including a yearly check-up, immunizations, counseling, and screenings must be included on all non-grandfathered plans at no out-of-pocket costs.
• Many of ObamaCare's numerous provisions have already been enacted. The rest of the program continues to roll out until 2022. See our Affordable Care Act timeline for more information.
• The Affordable Care Act contains ten titles that span over 1000 pages, but most of its key provisions are in the first title. The first title is about 140 pages long. These pages are mostly white space with about 450 characters per page. If you would like to read the whole title, would like a summary of the title, and/or would like a summary of the provisions within, check out our summary of the Patient Protection and Affordable Care Act.
• Over 100 million Americans have already benefited from the new health care law. This includes more than 105 million people who accessed critical preventive services for free that had previously been subject to out-of-pocket costs. Seniors saved billions of dollars from the gradual closing of the Medicare Part D "Donut Hole". Billions more were saved from new accountability measures for insurance companies, and that isn't even the end of the savings from the ACA.
ObamaCare, Taxes, Shared Responsibility, and Exemptions
The Affordable Care Act also includes new taxes. Most new taxes are on high-earners, large businesses, and the healthcare industry. However, there are some tax related provisions every American should be aware of: tax credits to subsidize costs for low-to-middle income Americans and small businesses, starting 2014; an Employer Mandate for large employers to provide health insurance to full-time employees by 2015/2016; an Individual Mandate for individuals and families obtain health insurance by 2014; and lastly, new limits to medical deductions. Learn how to file your ObamaCare taxes for 2014 and beyond.
• The CBO estimates that in 2016, after the major provisions of health care reform are implemented, 24 million people will be exempted from the Individual Mandate. In many cases, if you don't think you can afford health insurance, you may be exempt and eligible for cost assistance.
• You can qualify for additional exemptions that extend coverage gaps past the three or less month period covered by the rule. For instance, as long as you got covered during open enrollment 2014, you didn't owe the fee. Also, if you qualified for certain hardship exemptions, you could have gone even longer than "less than three months". The exemptions IRS form clearly lays out all exemptions and how they work together.
• Hardship Exemption Update December 20th, 2013: If you had your plan canceled in 2014 due to the Affordable Care Act, you qualified for a hardship exemption in 2014. That means you didn't have to pay the fee if you decided to go without insurance and qualified for a low premium, high out-of-pocket catastrophic plan on your State's health insurance marketplace. This change did not affect your ability to get subsidies or purchase other marketplace plans.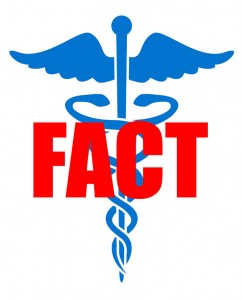 ObamaCare creates state-specific and federal health insurance marketplaces (also known as exchanges) where individuals and families can shop for subsidized health insurance based on income.
• When you fill out a Marketplace application, you'll also find out if you qualify for lower costs on coverage, Medicaid, CHIP, or Medicare.
• If you or a dependent has coverage through your employer, you can't get subsidies on the marketplace.
• ObamaCare's official health insurance marketplace is HealthCare.Gov. However, many states set up their own marketplaces. Find your state's marketplace here.
•
Apply for the health insurance marketplace early
. Applying and enrolling are not the same thing. Although for many of us the application process will only take a few minutes,
the verification process can take time
. Once your application is verified, you have until the last day of open enrollment each year to enroll in a plan. Learn more about how to
sign up for health insurance
 – ensure you don't miss the annual deadlines!
• Insurance purchased by the 15th of each month starts on the 1st of the next month after you pay your premium. If you sign up during the second half of the month, your coverage won't start until the second month. Please check with your insurer for specific start dates.
Open Enrollment
Health insurance must be obtained during open enrollment. You won't be able to buy private coverage for individuals and families outside of open enrollment without qualifying for a special enrollment period.
• The first Open enrollment in the health insurance marketplace for 2014 started October 1st, 2013 and ended on March 31st, 2014. Open enrollment 2015 started on November 15th, 2014 and ended February 15th, 2015.
• Most people who created a Marketplace account during open enrollment 2015, but didn't finish enrolling, qualified for a short extension. See state-by-state extensions. Extensions were also granted in 2014 hinting that this may be true in 2016 as well.
• Moving forward open enrollment is scheduled take place every year between October 1st and December 15th.
• If you want to ensure that you have the plan of your choice and are getting the any cost assistance you are entitled to, you will want to have logged into the marketplace and verified your plan and information by December 15th, 2014. If you didn't, do so as soon as possible. Your plan and cost assistance may auto-renew or you may be auto-enrolled in a similar plan. Not all states offered auto-renewals.
• If you miss the annual open enrollment period, you may still have options. Individuals may qualify for special enrollment periods outside of open enrollment if they experience certain qualifying life events. Learn what to do if you missed the ObamaCare deadline.
• All private health insurance plans for individuals and families, bought inside or outside of the marketplace, share the same open enrollment period. Medicaid and CHIP don't have open enrollment periods. Medicare, employer based insurance, and other types, each have unique open enrollment periods. This means you won't be able to get minimum essential coverage (major medical coverage that protects you from the fee) unless you sign up during open enrollment.
• If you like your plan, you can keep it… In states that approved, Americans who like their health insurance can keep it until 2017. The last renewal date will be October 2016. This is because plans that renew in 2016 will last the calendar year and end in 2017. In 2017, all non-grandfathered health plans must meet the requirements of the ACA or be switched to a new plan.
• On November 14th, 2013 the President announced a "fix" that let insurance companies renew plans and extend coverage of existing plans that don't comply with the ACA until the start of 2015. In March 2014 another extension was made, moving the new deadline for renewal to October 2016. Some States have rejected the fix as it creates two risk pools, which could potentially drive up the cost of new plans. All of that being said, it is your insurer's choice as to what plans they offer, so long as the plans meet the cost sharing and benefit requirements of a bronze plan. Learn more about keeping your insurance under ObamaCare.
ObamaCare and Minimum Essential Coverage
Only certain types of major medical health insurance will protect you from the Individual Mandate's shared responsibility fee (the fee for not having coverage). This type of coverage is called minimum essential coverage.
• Most private individual and family health insurance sold outside of open enrollment (like short term health insurance) is not considered minimum essential coverage, and won't protect you from the fee.
ObamaCare Cost Assistance
• There are three ways to save money on your health insurance through ObamaCare's marketplaces: first, Advanced premium tax credits, which lower your monthly premium costs; second, Cost Sharing Reduction subsidies, which lower your out-of-pocket costs for copays, coinsurance, deductibles, and out-of-pocket maximums; and lastly, Medicaid, which does both. Learn more about ObamaCare cost assistance.

• Cost Sharing Reduction subsidies (CSR) are only available on Silver plans.
• Tax Credits can be applied in advance (in part or in full) to lower your premiums or can be adjusted on your federal income taxes.
• If your income changes, report it so the marketplace can adjust your subsidies. You may qualify for bigger credits if your income decreases and you will save yourself from potentially having to repay advanced tax credits.
• Make sure cost assistance is right, but, when in doubt, aim low. You don't have to pay back Cost Sharing Reduction subsidies or Medicaid, but you could end up owing Advanced Premium Tax Credits back up to the limit for your income level when you file taxes. See Tax Credit form used to pay back Tax Credits for details on filing and limits.
• KFF.org estimated that 3.5 million people qualified for an estimated average premium subsidy of $2,890 per person in 2014. The CBO estimates that the average subsidy in 2015 will be $3,900.
MAGI and FPL
Cost assistance is based on Modified Adjusted Gross Income (MAGI). That means cost is based on your income after most deductions. Once you know your MAGI you can use the Federal Poverty Level (FPL) Guidelines to determine your assistance amount.
• As long as you have the right documents, you can simply fill out a marketplace application and it will calculate cost assistance for you. However, knowing how MAGI and the Federal Poverty Guidelines work will allow you to make smart choices about how much advanced tax credits to get up front.
• The 2013 Federal Poverty Guidelines were used to determine cost assistance for marketplace coverage for 2014. 2014 guidelines were used for 2015. For coverage purchased for 2016, you' will use the 2015 guidelines.
• If you don't have access to cost assistance or want to see other private plan options available, you can shop for Health Insurance Quotes outside of the marketplace too.
Medicaid and CHIP
ObamaCare Expanded Medicaid and CHIP to millions of Americans. You can apply for Medicaid or CHIP at any time of the year. If you miss open enrollment, you can still sign up for Medicaid and CHIP, but you won't be able to use the marketplace to do so. Medicaid / CHIP eligibility differs in each state due to the fact that many states did not expand Medicaid.
• There are millions of Americans eligible for Medicaid who simply haven't signed up yet. Keep spreading awareness and educate yourself about which states have expanded Medicaid eligibility under Medicaid Expansion.
• Over 15 million men, women, and children will be eligible for Medicaid in states that participated in Medicaid Expansion.
• More states are expanding Medicaid every year. Find out if your state expanded Medicaid.
• 5.7 million people were uninsured in 2016 because 24 states have not expanded Medicaid. This number is expected to decrease as more states expand Medicaid.
ObamaCare and Employers
ObamaCare helps to cover working families who don't have access to health insurance. In 2015, large employers with 100 full-time equivalent employees or more will have to insure full-time workers. Starting 2016, employers with 50-99 full-time equivalent employees have to insure their full-time workforce as well. This new rule is unofficially called the employer mandate.
• Since 2010, small businesses with 25 or less employees have been able to get tax breaks for offering coverage (tax credits have been retroactive since 2010). ObamaCare and small business.
• The opening of the SHOP "Small Business Health Options Program" (the part of the marketplace small businesses use to buy employee health plans) began on November 15th, 2014. Small businesses can buy a SHOP plan through an agent and claim tax breaks of up to 50% of their share of employee premiums (this was true in 2014, even though they couldn't officially use the marketplace).
• Small businesses can use a paper application or apply online for employee health coverage through the SHOP marketplace at anytime.
• The small business health care tax credit may be carried back and applied retroactively to previous tax years. It can also be carried forward to future tax years. Learn more about the ObamaCare SHOP Small Business Health Options Program.
• The greater availability of health insurance and the employer mandate have contributed to a net reduction in full-time equivalent hours, a boost in part-time hours, lower uninsured rates, and have helped to eliminate "job-lock".
• As of August 2015 we have seen 58 consecutive months of net job growth since October of 2010 under the Affordable Care Act. Learn more about ObamaCare and jobs.
• According to a January 15, 2015 report by the Commonwealth Fund: growth of costs related to employer-sponsored health plans, including premiums and deductibles, have risen faster than the average income since 2003. However, in 31 states, that growth has slowed since the ACA was signed into law.
• A Republican backed bill, called the"Save American Workers Act of 2015", was introduced in 2015. The goal of the bill was to change the definition of full-time employees from 30 hours to 40 hours. The bill could have increased the full-time work force, but would have likely left millions uninsured. Learn more about the pros and cons of changing the definition of full-time hours.
ObamaCare and Medicare
ObamaCare gives seniors access to cheaper drugs and free preventive care, reforms Medicare Advantage, and closes the Medicare Part D 'donut' hole. The fact is, the Affordable Care Act focuses heavily on ensuring better care for seniors and keeping Medicare strong for years to come. Learn about how the Affordable Care Act affects Medicare.
• Medicare isn't part of the Health Insurance Marketplace. If you have Medicare, keep it.
• Do you want to get a better idea of how the Affordable Care Act affects Medicare, Medicare Advantage, Part D, or Medigap policies? Or perhaps you have questions about how Medicare works or how Medicare enrollment works. Look at our section on ObamaCare and Medicare for the Facts on ObamaCare and Medicare reform.
• Aside from the "key provisions" of the Affordable Care Act (ObamaCare), there are hundreds of provisions that are very effective, but rarely talked about. For example, section 3022 of the PPACA includes guidelines for the establishment of Accountable Care Organizations (ACOs) under the Medicare Shared Savings Program (MSSP). ACOs are doctors who band together and get paid based on their patients' medical outcomes rather than on how many tests and procedures they perform.
Qualified Health Plans
• There are 4 types of Qualified Health Plans, sometimes called metal plans, available on the marketplace. Each one has the same benefits, rights, and protections, but each has different networks and cost-sharing. As a rule of thumb, the more "valuable" the metal, the higher the premium and lower the out-of-pocket costs. Don't buy health insurance without understanding actuarial value and deductibles. The cheapest up front cost option won't always be the best, or least expensive overall, one for you and your family. Learn about the Types of health plans sold on the marketplace.
• Aside from the 4 basic "metal" health plan types, a "catastrophic" health plan is available through the health insurance marketplace for people under 30 and people with hardship exemptions. Catastrophic health plans tend to have a low premium, but very high out-of-pocket costs.
How Health Insurance Works
Have you been wondering how health insurance works? You pay a premium for every month you have coverage. Generally, the higher your premium, the less out-of-pocket expenses (copays, coinsurance, deductibles, out-of-pocket maximums) you are responsible for and the larger network of doctors and providers you can utilize.
• Since 2014 all plans sold have had to offer the benefits, rights and protections in regard to cost and coverage, but each plan can offer unique cost sharing, networks, and benefits within those limits. Learn more about how health insurance works and how to buy health insurance for 2016.
Getting covered is only half the battle; find out how your health insurance works by watching this video from The Kaiser Family Foundation:
• Each metal plan or private health plan has another plan type. These are HMO, PPO, and EPO plan types. If you are traveling out-of-state, go with a multi-state plan. If you want to limit upfront costs and know that the doctor you want is in the HMO network, consider an HMO. If you want flexibility, go with a PPO.
• It's very important to understand the difference between in-network and out-of-network. Typically, your plan only pays full cost sharing amounts for covered benefits in-network. Check your plan summary to see what services are covered and how.
• If you are considering getting a high deductible plan, try pairing it with a Health Savings Account (HSA).
• You don't have coverage officially until your premium is paid! Remember to follow up with your insurance company if you don't receive your welcome packet and make sure all premiums are paid on time.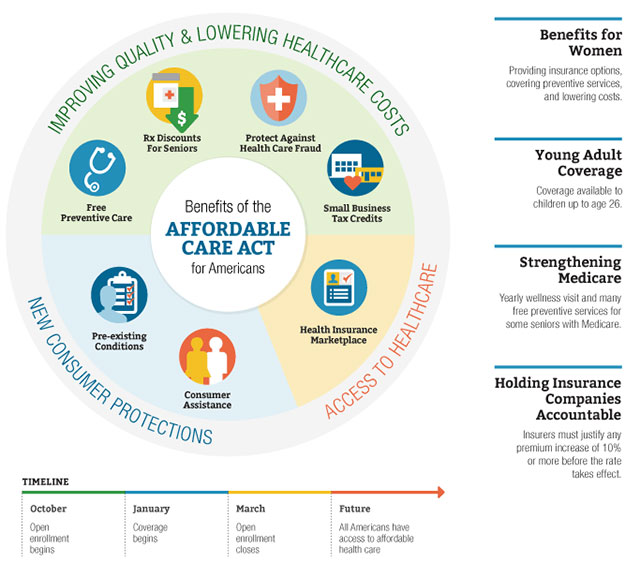 The Sign-up and Enrollment Numbers
Not counting special enrollment, 11.4 million Americans enrolled in the state or federal marketplaces during open enrollment 2015, which ended February 15th, 2015. Those numbers continued to increase under extended enrollment deadlines for those who couldn't complete the enrollment process. Numbers were expected to rise further due to the tax related extra enrollment periods, which went from March 15th to April 30th 2015.
• 10 million people were enrolled in the state and federal marketplaces by February, 2015 . You can get up-to-date enrollment numbers from our ObamaCare enrollment numbers page to see how the ACA is helping to lower the uninsured rate.
• Health and Human Services (HHS), the department in charge of implementing and overseeing the Affordable Care Act, reported that over 8 million Americans enrolled in a marketplace plan during 2014's open enrollment, along with over 6 million in Medicaid and CHIP.
• A May 1, 2014 HHS report showed that 85% of those 8 million plus people who enrolled in private coverage using the ObamaCare marketplaces received premium subsidies.
• About 2.6 million young people under 26 were able to enroll on their parents' plan.
• According to an April Gallup study, about 15 million folks who didn't have health insurance before the ACA was signed into law in 2010, are now covered. This brings the total uninsured adults in the US down from 18% to 13.4%.
• According to a July study by the Commonwealth Fund, the uninsured rate for people ages 19 to 64 declined from 20% in the July-to-September 2013 period to 15% in the April-to-June 2014 period.
• The same Commonwealth Fund study showed that the uninsured rate for 19-to-34-year-olds declined from 28% to 18% during the same period, with an estimated 5.7 million fewer young adults uninsured.
• By June 2014, 60 percent of adults with new coverage through the marketplaces or Medicaid reported having visited a doctor or hospital or filled a prescription; of these, 62 percent said they could not have accessed or afforded this care previously.
According to a Kaiser Health Tracking Poll from March 2014, 61% of the uninsured were unaware of the March 31 deadline, yet…
…6 in 10 Americans who went without coverage could have gotten covered for $100 a month or less if they had signed up before March 31st. Millions went without assistance (and thus proper healthcare) in 2014 because they were unaware of how the Affordable Care Act worked.
• Remember, the official ObamaCare website, healthcare.gov, is the place you can sign up for subsidized health insurance. As of December 1st, 2013, the ObamaCare website has been working well with many of its initial technical issues ironed out.
• By December 24th, 2013, over a million people had enrolled in marketplace insurance, and over 800,000 had enrolled in Medicaid. By January 24th, 2014, more than 3 million Americans had enrolled. By February 26th, 2014, 4 million Americans were enrolled in private health plans through the State and Federal marketplaces and by March 17th, 2014, it rose to 5 million. By March 28th, 2014, 6 million had enrolled in a plan. As of April 1st, 2014, 7.1 million had enrolled, but by April 17th, 2014, the number had risen to 8 million. These figures don't include sign ups outside of the marketplace or Medicaid, Medicare, etc. The CBO had projected 7 million sign-ups through the marketplace by the end of open enrollment March 31st, 2014. Get the latest ObamaCare website updates.
More ObamaCare Facts
• The Fact is, ObamaCare gives 47 million women access to preventive health services and makes it illegal to charge women different rates than men. Get more ObamaCare women's health services facts.
• Up to 82% of nearly 16 million uninsured young U.S. adults will qualify for cost assistance or Medicaid through ObamaCare's marketplaces.
• The number of young people who sign up for insurance will greatly impact the effectiveness of the program, as healthy young adults are the least likely to use costly health care services. Find out how ObamaCare affects young people.
• 1 in 2 Americans have a "pre-existing" condition that they could have been denied health insurance for. ObamaCare chipped away at pre-existing conditions until 2014, so pre-existing conditions are no longer a barrier to insurance coverage for anyone, including high-risk customers. This means you can no longer be denied coverage or treatment or be charged more due to your health status. Find out more about pre-existing conditions.
• 54 million Americans with private health insurance now have access to preventive services with no cost sharing because of the new minimum standards of ObamaCare.
• ObamaCare doesn't ration health care. It protects consumers from the health care coverage and cost-based rationing that insurance companies have been doing for decades.
• ObamaCare reduces the growth in healthcare spending. The current $2.8 trillion U.S. healthcare system costs almost $9k a year for every man, woman, and child.
• The new law affects everyone differently. Find out: how will the Affordable Care Act affect me?
After you get done reading the ObamaCare facts, check out our detailed summary of ObamaCare to get the facts on how Obama's health care reform really works: health care reform summary
• You may have heard about the ObamaCare website glitches. The official healthcare.gov website had some technical issues at its launch, but those have been dealt with and it is up and running well. Aside from the website, you can also sign up for the marketplace by mailing in an online application (read these instructions first), get in person help, or call the 24/7 helpline (800) 318-2596. Learn more about other ways to sign up for health insurance.
UPDATE: as of December 20th, 2014 the health insurance marketplaces have been running smoothly; today over 8 million Americans had enrolled in marketplace plans.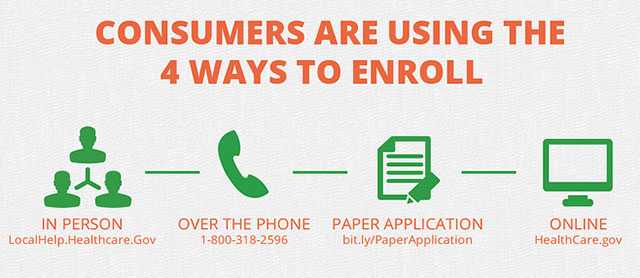 • Some people in some states who bought insurance outside of the marketplace, due to technical issues with their states' websites, despite qualifying for subsidies, could have retroactively signed up for a marketplace plan and received federal subsidies in 2014. Contact your insurance company for further details. ObamaCare subsidies.
• The Defund ObamaCare movement led to a Government Shutdown on October 1st, 2013 because the House Republicans refused to pass a budget unless it included repealing, removing, delaying, or defunding parts of the Affordable Care Act (such as the medical device tax and employer mandate). The shutdown lasted until October 18th. Get the facts on the Government shutdown and the repeal ObamaCare Movement.
• We've created a detailed ObamaCare Facts Health care reform timeline of every protection, benefit, and tax laid out by the Affordable Care Act from 2010 to 2022.
• ObamaCare is a hot-button political issue, and both sides of the aisle will try to persuade you to be for or against it. Get THE FACTS on ObamaCare and American Health Care Reform.
• Before ObamaCare's first open enrollment period, 15% of Americans were uninsured – this is a little less than 50 million men, women, and children.
• Before the ACA, about 38 million Americans had inadequate health insurance.
• Studies have shown that anywhere from 20,000 to 44,000 Americans died each year from lack of health insurance.
• Given the above, before the Affordable Care Act, nearly one-third of Americans faced each day without the security of knowing that affordable medical care was available to them and their families.
• An April, 2014 Gallup poll showed the uninsured rate dropped to 13.4%, the lowest in decades, during the open enrollment in the health insurance marketplaces.
• The primary reasons for Americans being uninsured are cost and job loss.
• Both the individual mandate and the health insurance marketplace only affect uninsured Americans.
• For the 85% of Americans with health coverage, almost all of ObamaCare's changes are already in place.
• 7 million Americans were projected to purchase private insurance on the marketplace in 2014; in the end, more than 8 million people enrolled in a marketplace plan in 2014.
• 9 million Americans were projected to enroll in Medicaid or CHIP in 2014.
According to the Center for Medicaid and CHIP Services (CMS), by August, 2014: in the 43 states that reported relevant data for the month of August, almost 28 million individuals were enrolled in CHIP or were children enrolled in the Medicaid program in those states.
Based on the August, 2014 data, children enrolled in the Medicaid program and CHIP make up nearly 55% of total Medicaid and CHIP program enrollment. you can apply for Medicaid and CHIP through the marketplace.
• The number of uninsured people has dropped since the Affordable Care Act was signed into law.
• The Congressional Budget Office projected that 12 million more non-elderly people would become insured due the ACA.
• The 101.5 million already enrolled in government health programs like Medicaid, Medicare, and CHIP won't need to use the marketplace.
• The 170.9 million are already covered by employer insurance and won't need to use the marketplace.
• In 2010, 19.5% percent of uninsured were employed and 14.7% maintained full-time employment for the entire year.
• In 2010, only 53.8% of private sector firms offered health insurance.
• Poor working families are the most likely to be uninsured.
• In 2013, the average annual total cost of employer-sponsored family coverage was $16,351, and the share of the premium paid by workers was 29%. Between 2003 and 2013, premiums have increased by 80%.
• The "employer mandate" means larger employers have until 2016 to insure their full-time employees and their families or pay a per-employee fee. Learn more about the Employer Mandate.
• Today, all small businesses with less than 25 full-time equivalent employees get better benefits, big tax breaks, and better buying power if they provide employee health insurance via the SHOP (part of their state's Health Insurance Marketplace). Learn more about ObamaCare and small business.
• Under the Affordable Care Act tens of millions of people got health coverage through the marketplaces, through Medicaid and CHIP, and outside of the marketplace through private providers.
• A May, 2014 Gallup poll shows, under ObamaCare (the Affordable Care Act), the uninsured rate is the lowest it's been since 2008 when Gallup started polling the uninsured rate. Data from HHS on the uninsured in 2007 shows that this could actually the lowest uninsured rate since before 1998. The uninsured rate for U.S. adults in April was 13.4%, down from 15.0% in March.
• States that moved forward with Medicaid expansion and established their own marketplaces saw the biggest reduction in the number of uninsured under the ACA; states that rejected both saw the smallest reduction. Learn more about how ObamaCare affects uninsured rates.
• Do you want more facts about uninsured Americans? Learn more about uninsured Americans from the Kaiser Family Foundation (one of the best resources on health care reform) and how ObamaCare helps.
• Most Americans had to obtain qualifying health insurance that started by May 1st, 2014, get an exemption, or pay a fee for every month they were without insurance. The fee is paid on your federal income tax return. This fee is commonly referred to as an Individual Mandate and is part of the Shared Responsibility Provision. Learn more about the ObamaCare Individual Mandate.
• According to the CBO: mostly due to exemptions, almost 90% of the 30 plus million Americans without insurance will not pay the penalty for not having insurance in 2016.
• Most Americans will have the option of staying on their current healthcare plans. No one who is currently unable to afford health insurance,or who has access to a subsidized plan (including seniors), will be forced to go without healthcare. That's an ObamaCare fact.
• If you like your doctor, and your health insurance provider includes your doctor in your network, you can keep your doctor. Nothing in the ACA prevents you from keeping your doctor, although you may have to pick a network that your doctor participates in. Learn more about ObamaCare and doctors.
• If you don't have coverage, you can use your state's Health Insurance Marketplace to buy a private insurance plan. Many Americans will qualify for lower costs on monthly premiums and out-of-pocket costs through the marketplace. Please note that if you have access to employer based insurance, you cannot get cost assistance through the marketplace.
• Your State's Health Insurance Marketplace Opened Oct 1st, 2013. Insurance companies compete to be your healthcare provider via your State's Health Insurance Marketplace, which is sometimes called a Health Insurance Exchange.
• Americans earning below 400% of the Federal Poverty Level may be eligible for cost assistance on the marketplace.
• Read our complete guide to the health insurance exchange marketplaces and find out how you can get reduced premiums and lowered out-of-pocket costs for copays, coinsurance, and deductibles.
• According to a 2013 HHS report, 6 in 10 Americans without health insurance could have gotten health insurance for under $100 through their State's Health Insurance Marketplace.
According to the June, 2014 report, 69% of individuals who selected Marketplace plans with tax credits in the Federally Facilitated Marketplace (FFM), HealthCare.gov, had premiums of $100 or less after tax credits. Another 46% had premiums of $50 or less after tax credits.
Many low-income Americans will have an option for free health insurance when applying through the marketplace.
• Should I buy insurance through the health insurance marketplace? Your options for obtaining coverage are changing. For some of us, buying private insurance through the health insurance marketplace will be our best option; for others, buying health insurance through a private broker will be the smarter move. Find out which option is right for you and your family. ObamaCare and health insurance plans.
• HealthCare.gov is the official site on the Affordable Care Act and the Health Insurance Marketplace. Ready to sign up for health insurance? Find your state's health insurance marketplace now.
• Any insurance plan that starts after 2014 must follow new health insurance rules and include Ten Essential Benefits. All health plans sold through the health insurance marketplace adhere to these rules.
• Policies issued before 2010 ("grandfathered" health plans) don't have to adhere to all the new rights and protections offered by the Affordable Care Act.
• ObamaCare takes measures to prevent all types of discrimination in regards to your right to health care. Insurance companies can no longer use factors such as pre-existing conditions, health status, claims history, duration of coverage, gender, occupation, and small employer size org industry to increase health insurance premiums.
• The only factors that can affect premiums of new insurance plans starting in 2014 are your income, age, tobacco use, family size, geography and the type of plan you buy. This applies to all plans sold through your State's health insurance marketplace.
• The amount of out-of-pocket costs your health plan covers can affect your rates. Plans that cover more out-of-pocket costs like deductibles, coinsurance, and copayments also have higher premiums.
• Starting in 2015 in some States, smokers can expect to pay up to 50% more than non-smokers for the same health plans. Subsidies are given before being charged a "tobacco surcharge", meaning that smokers could find affordable insurance to be unaffordable. Get the facts on ObamaCare and smokers.
• According to the CDC, 75% of all healthcare expenditures go toward treating chronic diseases, many of which are preventable.
• Chronic diseases cause 7 in 10 deaths each year in the United States.
• The Affordable Care Act includes a major focus on wellness; this includes funding for programs that educate the public on health and wellness and new rules for employer wellness programs.
• Employers can use the SHOP marketplace or Small Business Health Options Program, a part of the health insurance exchange, to purchase affordable coverage for their workers. This saves employers up to 50% of low to moderate earning workers' premiums in the form of tax credits.
• Did your health insurance premium go up? The fact is, ObamaCare enacted a number of consumer protections, including a rate review provision. Under this review insurance companies have to justify rate hikes above 10% to your State and post details online immediately. Nonetheless, many Americans are still seeing their premiums rise at alarming rates. Learn more about ObamaCare insurance premiums.
• ObamaCare is the first step toward true health care reform in the US. The fact is, about 60 percent of all personal bankruptcies in the US are related to medical bills. The health care law helps protect you from medical bankruptcy by ending annual & lifetime limits. Find out more health care facts.
• Other insurance reforms to curb the cost of premiums are already in effect as well. These include a Medical Loss Ratio policy and other accountability measures. Many more protections went into effect in 2014. So far, the average insurance premium has gone down, primarily due to subsidies and the 80/20. Americans saved $1.9 billion due to the new ObamaCare consumer protection provisions in 2013 alone.
• ObamaCare means 21 new taxes. Get the facts on how they will affect you, your family and your business. Get the ObamaCare taxes facts.
• ObamaCare states that "affordable insurance" means paying either no more than 8% of your annual household income for the cheapest health plan offered to you or no more than 9.5% of household income for employee-only coverage if insurance is obtained through an employer. Please note that ObamaCare does not guarantee "affordable insurance".
• ObamaCare provides lower prescription drug costs for people on Medicare.
• ObamaCare provides free preventive women's services, including mammograms, as one of the 10 essential benefits covered under every new insurance plan.
• Young, healthy Americans and those making above 400% of the FPL are projected to pay more for insurance, while many others are projected to pay significantly less.
• ObamaCare ensures that there are no out-of-pocket costs to patients receiving mammograms and colonoscopies, which are two of the most widely used forms of preventive health care.
• ObamaCare reforms Medicaid and expands it to over 15 million of our nation's poorest. That's 6.1 million less than the last estimate due to States opting-out out of providing coverage, despite 100% federal funding for the first 3 years and 90% thereafter. Learn more about ObamaCare's Medicaid expansion.
• States will have to spend millions on Medicaid over the next ten years regardless of whether they implement Medicaid Expansion. However, states that do implement ObamaCare's Medicaid Expansion will reap billions in additional federal dollars.
• As a direct result of Texas opting-out of Medicaid expansion, over a million Texans went without health insurance in 2014. In 2010, 25% of Texans didn't have access to health insurance. This includes 1,247,300 children. Many of the States who opted out have the highest uninsured rates in America.
• ObamaCare's new Medicare Value-Based Purchasing Program means hospitals can lose or gain up to 1% of Medicare funding based on a quality vs. quantity system. Hospitals are graded on a number of quality measures related to treatment of patients with heart attacks, heart failures, pneumonia, certain surgical issues, re-admittance rate, as well as patient satisfaction. Learn more about ObamaCare and Medicare.
• ObamaCare's insurance reform helps to insure millions of Americans each year. 48.6 million Americans went without insurance during all of 2011, compared to 49.9 million in 2010. The rate of uninsured decreased from 16.3% to 15.7%, the biggest percentage drop since 1999, due to the Affordable Care Act.
• ObamaCare mandates that Medicaid payments be raised to the same level Medicare pays doctors. While it varies from state to state, primary care physicians will see an average 73% pay increase. This will make it easier for new Medicaid recipients to find doctors willing to take on Medicaid patients.
• 25 States have opted out of setting up a State Run Health Insurance Exchange. This leaves the federal tax payer responsible for providing care for their constituents. 19 are running State Exchanges, while 7 have set up Joint State / Federal Exchanges. Find out more about ObamaCare's state run Exchanges.
• ObamaCare makes it illegal for health insurance companies to terminate coverage for any reason other than customer fraud or failure to pay premiums.
• ObamaCare provides $20 billion in tax credits for as many as 4 million small businesses to offset the cost of purchasing insurance on the Health Insurance Exchanges.
• Medicare and Medicaid both help to prevent "price gouging" by hospitals. ObamaCare's reforms strengthen these protections.
• Only the top 3% of small businesses will have to pay the additional 0.9% ObamaCare Medicare tax increase.
• Only 0.2% of businesses have over 50 full-time equivalent employees and don't already offer insurance to their full-time workers. Providing these folks with insurance is the only "employer mandate" in ObamaCare.
• Over half of all uninsured Americans are small business owners, employees or their dependents. Learn the truth behind the ObamaCare small business taxes and how they affect America's biggest job creators.
• Want single payer? By 2017, states will be able to get a waiver to set up their own approved health care solution, as long as it meets the standards of ObamaCare.
• The April, 2014 CBO projections expected 5 million Americans to receive Tax Credits to purchase insurance on the Exchanges.
• Due to Tax Credits and up-front assistance, Americans making less than 400% of the Federal Poverty Level (roughly $88k for a family of 4) could see up to a 60% reduction in the cost of health insurance premiums.
• Uninsured Americans cost the American healthcare system an additional $49 billion each year. Only 12% of uninsured families pay their hospital bills in full. This includes families making over $88k a year. These costs affect the rising cost of insurance premiums; ObamaCare helps to reduce this spending drastically by eliminating dollar limits.
• When insurance goes on sale via the health insurance exchanges in 2016, the cost of insurance premiums must be 8% or less of your modified adjusted gross income to be considered affordable.
• ObamaCare allows newly insured Americans to choose any available participating primary care provider, OB-GYN, or pediatrician in their health plan's network or emergency care outside of the plan's network without a referral.
• ObamaCare prevents insurance companies from limiting the number of benefits a customer can receive in their lifetime.
• Members of Congress will purchase their health care through the health exchange like the rest of us. Get more facts about the ObamaCare insurance exchange.
• In 2011, ObamaCare helped around 86 million Americans who had previously been subject to co-pays or deductibles to use free preventive services .
• ObamaCare aims to improve community health care centers in an effort improve health care for those who cannot afford private health care.
• ObamaCare doesn't increase the deficit. It is projected to cut the deficit by over a trillion dollars over the next two decades.
• ObamaCare offers countless benefits and protections that have been rolling out since 2010 and continue into 2022. Find out more about the benefits of ObamaCare.
• In 2013, American employers with 25 or less full-time employees could receive tax breaks of up to 35% (25% for non-profits) of the cost of their employees' insurance premiums. In 2014, it increased to 50% (35% for non-profits).
• Employers with more than 50 full-time equivalent employees must insure their full-time workers or pay a tax (like the current state run unemployment and worker's compensation programs).
• ObamaCare won't cause 650,000 jobs to be lost as some of its detractors claim (this number isn't even in the CBO report on The Affordable Care Act). The often misrepresented quote stated that part of the job loss ObamaCare might have created is from employees who cut back their hours since they no longer had to rely solely on their jobs for their family's health care. This has not been documented. In fact, ObamaCare's projected effect on job growth in Government jobs and Health Care rivals its projected job loss in other markets.
• Although ObamaCare hasn't resulted in job loss, the "employer mandate" has resulted in a number of full-time workers at large firms having their hours cut back to part-time in order for employers to avoid providing their full-timers with health insurance. On the same note, many larger firms have moved workers from part-time to full-time to provide them with benefits.
• If you or your family chooses not to purchase healthcare through the Online Health Insurance Exchange, you can still buy private insurance, get insurance through your employer, or through Medicare or Medicaid. Those who chose not to purchase insurance will pay an income "penalty" tax to help cover the rest of us. In other words, it is a tax, not a mandate; no one is actually forcing you to have health insurance.
• ObamaCare cuts $716 billion of waste from Medicare and reimbursements to private Medicare Advantage plans and reinvests it into Obama's health care reform. In other words, $716 billion is saved and then $716 billion is reinvested back into ObamaCare and Medicare. Doctors and hospitals almost universally agree on this reform.
• 19 million Americans making under 400% of the Federal Poverty Level are estimated to receive tax credits to help pay for the cost of health insurance premiums.
• ObamaCare reduces costs of premiums for millions of families and small businesses and provides billions of dollars in tax relief.
• The healthcare industry, specifically doctors, will be rewarded for quality over quantity.
• The Affordable Care Act allows religious institutions to choose to be exempt from providing controversial contraception and reproductive health services to women. Multiple businesses have also received an exemption after taking the ruling to court.
• The Affordable Health Care Act doesn't just focus on insurance; it also reforms the parts of the healthcare system that aren't working or are costing the tax payer money. For example, by focusing on preventive measures instead of just treatment, ObamaCare will save tens of billions of dollars and tens of thousands of lives and dollars.
• The ObamaCare fact is, the average American will save money under ObamaCare. In fact, many Americans are already paying less for health care services.
• ObamaCare cuts the national deficit by over two hundred billion dollars during its first 10 years.
• ObamaCare tries to make it easier for small businesses to provide coverage to workers by offering Tax Credits to employers who enroll their workers in private healthcare plans.
• The Affordable Care Act (ObamaCare) is more than just a website. The ACA contains over a thousand pages of provisions that increase the affordability, quality, and availability of health insurance through consumer protections, regulations, subsidies, taxes, exchanges, reforms, and the expansion of Government programs.
MOST IMPORTANTLY: ObamaCare is "the law of the land". There are many people who would like to see ObamaCare repealed. If ObamaCare is repealed, tens of millions of Americans will be without good health coverage, and insurance companies will continue to be able to deny coverage for pre-existing conditions. Without healthcare reform, America will continue to suffer the consequences of a health care system controlled by private, for-profit companies whose bottom line is money and not health. Help ObamaCare Facts to spread the truth about President Obama's health care reform under the Affordable Care Act.
ObamaCare Facts 2017: It Actually Helps Your Grandmother