Get Covered During Open Enrollment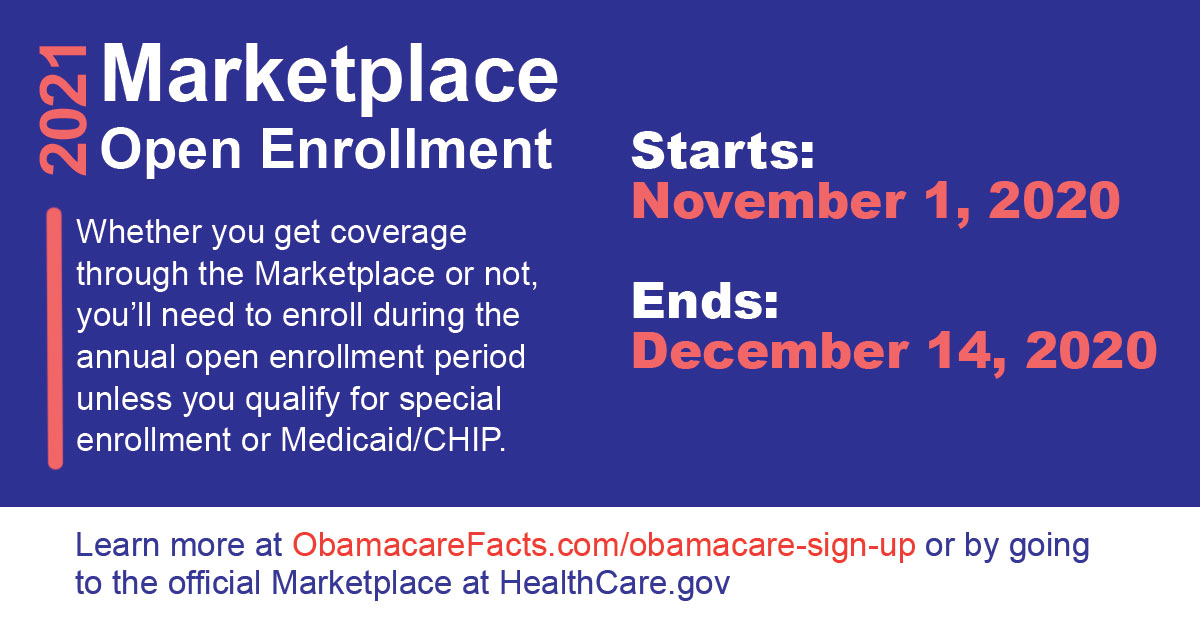 Everything You Need to Know About Open Enrollment
Get covered during open enrollment under the Affordable Care Act. Open enrollment starts Nov 1st and ends Dec 15th in most states.
Unless you have access to coverage through work, Medicare, or another source, open enrollment is the only time of year you and your family can sign up for health coverage that qualifies for cost assistance on premiums and out-of-pocket costs based on income. Only coverage sold on HealthCare.Gov or the state marketplaces qualifies for cost assistance.
TIP: Each year some states issue extensions for open enrollment and sometimes the federal government extends enrollment in all states. Please check your state's website for state-specific deadlines.
The Basics of the ACA and Open Enrollment
What is the Affordable Care Act (ACA or ObamaCare)? The Affordable Care Act (ACA) is a health care reform law enacted in March 2010. The law provides consumers with subsidies that lower health insurance costs for households with incomes between 100% and 400% of the federal poverty level, expands Medicaid, expands employer coverage, and reforms the healthcare industry.
What is open enrollment? Open enrollment is the time when individuals and families can enroll in a health plan that qualifies for cost assistance (for example, by shopping at the official Health Insurance Marketplace HealthCare.Gov). Open enrollment happens at the end of each year, allowing individuals and families to purchase health plans that will cover them for the upcoming year. So for open enrollment, individuals and families can enroll in health plans from Nov 1st until Dec 15th. Then, assuming they make the deadline, their plan will start Jan. 1st. Those who miss the deadline will find their options limited.
Get Covered!
Make sure to take advantage of the parts of ObamaCare you are eligible for. That means signing up for coverage:
through your employer or the marketplace
getting cost assistance if you are eligible
TIP: Open Enrollment for Marketplace insurance ends on December 15th each year (unless your state extended the deadline). After midnight on December 14th, you'll need to qualify for a Special Enrollment Period to enroll in a Marketplace plan (some states have extended their open enrollment). You'll need to provide documentation proving eligibility for Special Enrollment to purchase Marketplace coverage after December 15th.
Who Should Sign Up?
Every citizen should at least check out their coverage options, and any citizen not eligible for Medicare or employer coverage should at least create a marketplace account (on HealthCare.Gov or their state marketplace).
Aside for those on Medicare, everyone is eligible to use the Marketplaces to shop for and purchase health insurance even if they are not eligible for cost assistance. Thus, it is appropriate for any tax filer not on Medicare to create a marketplace account, use it to compare plans/insurers, and enroll in the health insurance plan that is best for your family!
When you sign up for an account, you will find out if you are eligible for cost assistance or qualify for Medicaid/CHIP.
With that in mind, even without cost assistance, many will find marketplace plans to be the most affordable option in their region.
FACT: Open Enrollment is the best time to consider your options and make the best health insurance decisions you can to be covered, as it is the only time in which individuals and families can enroll in coverage without qualifying for a Special Enrollment Period.
Signing Up For Medicare and Employer Coverage
Everyone should enroll in health insurance during their insurer's annual enrollment period if they want to support the Affordable Care Act and they are entitled to enroll; this includes those eligible for Medicare and employer coverage.
The Affordable Care Act improved Medicare and expanded employer coverage, so sign-ups in those markets will help too.
It is important to note that not all insurance types have the same Open Enrollment Period or Special Enrollment eligibility rules, so make sure to familiarize yourself with the specific rules of your type (for example with Medicare and employer coverage).
FACT: If you are offered another form of insurance (like Medicare or  "Affordable" Employer Coverage) you are not typically qualified for Marketplace cost assistance, but you still might qualify for Medicaid, CHIP, or an exemption from owing the fee for not having minimum essential coverage (note: the fee is reduced to $0 in most states for 2019 forward).
Show Support for the Affordable Care Act
One of the ways you can show support for the ACA or specific provisions of the ACA is using the ones for which you are eligible and it often surprises people what assistance they are eligible for.
Enrolling in coverage with cost assistance is the obvious one, but there are more provisions of the law than that you may be eligible for and should consider utilizing.
Here are some of the things you might be eligible for:
Premium Tax Credits – If you are eligible for assistance through the Marketplace and earn under 400% of the federal poverty level, you will find that Premium Tax Credits (PTC) will offset the increases in premiums created by the President's Executive Order ending Cost-Sharing Reduction subsidies payments TO insurers because the amount of PTC a person is eligible for is based on the price of the Silver Plans and your income. Find out whether you are eligible PTCs through Healthcare.gov or your State's Marketplace.
Cost-Sharing Reductions – Despite not receiving Cost-Sharing Reduction subsidy payments, insurers must still provide reduced out-of-pocket costs and deductibles on Silver Plans to those earning under 250% of the federal poverty level and eligible for cost assistance through the Marketplaces. Find out whether you are eligible CSR through Healthcare.gov or your State's Marketplace.
Medicaid Expansion – If you live in a state that expanded Medicaid to income levels up to 138% for non-disabled adults and you are eligible, sign up. Expanded Medicaid includes state alternatives to traditional Medicaid Expansion programs like Healthy Indiana Plan 2.0 too.
FACT: Being offered employer-sponsored coverage doesn't in any way affect Medicaid eligibility, but income eligibility guidelines vary in non-expansion states. Apply for Medicaid in your State to find out if you qualify.
Medicaid in the Non-Expansion States – If you live in a state that hasn't expanded Medicaid and you would have been eligible if they had, you can still sign up. It's one way to show support for Medicaid expansion in your state. Those who are denied Medicaid because their state didn't expand may also qualify for low-cost catastrophic coverage. You are also exempt from the fee in cases where the fee would apply.
FACT: There is no enrollment period for Medicaid or CHIP. You can apply for Medicaid or CHIP anytime during the year.
Families With Children – Even if your income is too high for Medicaid in your state, your children may still qualify for CHIP coverage depending on your state and your families income level. This is true even if they are offered employer-sponsored coverage. If you think your children might be eligible, please apply for your state's CHIP program.
FACT: Being offered employer-sponsored coverage doesn't in any way affect CHIP eligibility. You can apply for CHIP anytime during the year.
Non-custodial Parents – If you are not the custodial parent of your child you may still want to or be required to purchase health insurance for your children. Unfortunately, there is only one way for you to be eligible for Marketplace cost assistance based on your income. The custodial parent can elect to divide up the tax credits and deductions related to the children so that the non-custodial parent be eligible for cost assistance to cover them. Having a non-custodial parent insure the children requires a tax form signed by the custodial parent and does not always create the best tax situations for families as a whole. You need to make sure you talk it over with the other parent (and maybe an accountant) before open enrollment ends.
Those who are eligible for Medicare – If you qualify for Medicare (receive SSI or SSDI), you may still qualify for assistance through Medicaid in your state. If your income is below 138% FPL in a state that expanded Medicaid, you are considered "Dual Eligible." How states assist dual eligible individuals and how potentially eligible individuals apply for that assistance varies widely from state to state, so you'll need to check with your state's Health Care Authority to find out how to apply in your state.
Those who qualify for Indian Health Coverage Exemption – If you qualify for Tribal health benefits, you are exempt from the fee for not having minimum essential coverage (in cases where the fee applies). Signing up for Marketplace insurance or Medicaid if you are eligible results in your Tribal Health providers getting reimbursed for the care they provide in addition to normal federal funding. As an added perk, tribal members can enroll in a marketplace plan with no cost-sharing and are never subject to cost-sharing when receiving care at tribal health facilities.
Those who qualify for a Hardship Exemption – There have been no proposed changes to the previous administration's HHS guidance on what constitutes a "Hardship" of eligibility for this exemption. If you are experiencing a financial hardship, you may be eligible, but you must apply and be approved to avoid owing the fee (in cases where the fee would apply).
FACT: The best time to have a hardship is never. The best time to apply for a hardship exemption is ASAP after experiencing financial hardship. The best time to learn what qualifies as a hardship is now.
NOTE: If you do qualify for an exemption, you should still try to get health insurance coverage for you and your family. You'll be eligible to purchase a catastrophic coverage through the marketplaces.
Those who Qualify for Catastrophic Health Coverage – Those under the age of 30 and those with a hardship exemption are eligible to purchase Catastrophic coverage on the Marketplaces. While the out-of-pocket costs are high with these types of plans, they do provide preventative coverage at no cost, generally have much more reasonable premiums, can sometimes be paired with HSAs to maximize tax benefits, and it will provide good coverage if you have catastrophic health costs. If you are not able to afford more comprehensive coverage, catastrophic plans will provide a stopgap to protect you and your family in the event of a health crisis.
Those who Still Can't Find Affordable Coverage! – If you still having difficulty finding the coverage you can afford, there are a few more places you can look.
Consider health insurance options available off-marketplace. Many insurers offer the same plans on and off the Marketplaces. Those who aren't eligible for cost assistance may find these plans are more affordable.
Consider having the most limited gap in coverage as possible. You can only sign up for health insurance plans during their open enrollment period (unless you qualify for Special Enrollment).
How Can I Help Spread the Word About Obamacare Open Enrollment?
Share this with your friends and family who might be eligible and encourage them to sign up.