A Simple Summary of the American HealthCare Act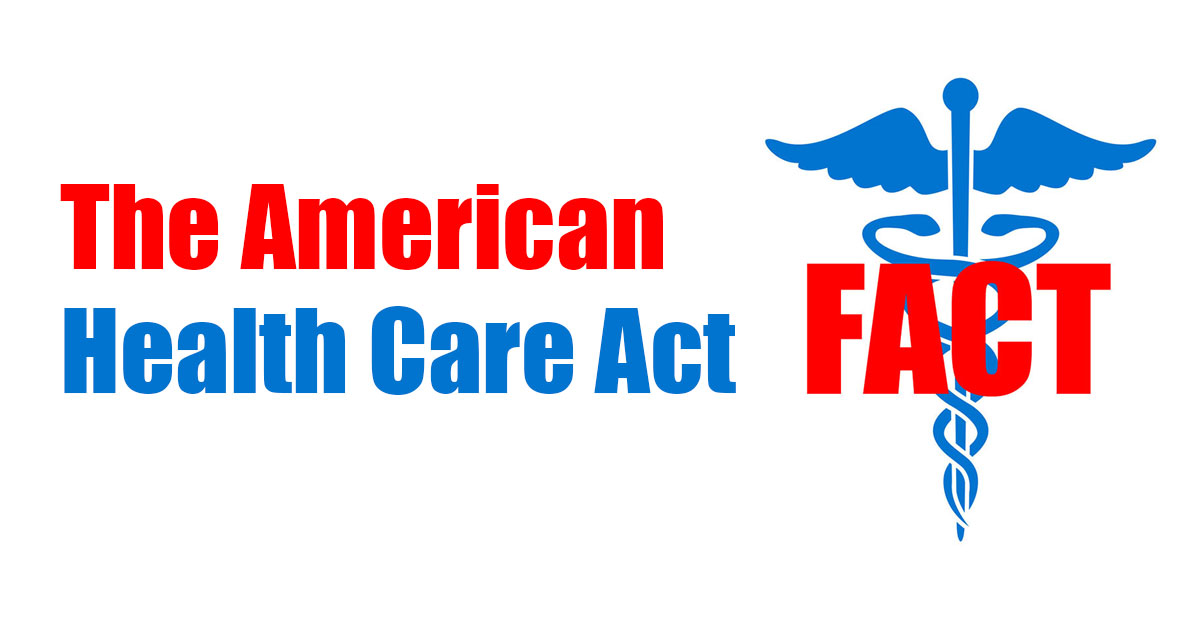 Everything You Need to Know About the American Health Care Act (TrumpCare) in One Place
We present a simple summary of the American HealthCare Act (AHCA), sometimes known as TrumpCare, the plan to repeal and replace aspects of the Affordable Care Act (ACA) via the 2017 budget reconciliation process.
See Summary of the American Health Care Act by the Kaiser Family Foundation for a more robust overview. This version is short and readable while remaining complete.
UPDATE 2019: This plan never passed, and thus some specifics here are of historical interest only.
An Overview of the Key Provisions of the AHCA and How it is Different From the ACA
Below are key provisions of H.R. 1628, the American Health Care Act, as passed by the House of Representatives on May 4, 2017. This act changes the Affordable Care Act. Please note that these provisions are not scheduled to go into effect until after the 2020 election.
This bill:
Repeals the mandates (2016). This means there is no fee for not getting coverage although the plan adds a new fee, a 30% fee if you want to reenter the market after not having coverage for more than 63 days. The new fee means employers won't have to provide coverage to full-time employees anymore.
Repeal standards for actuarial values (2020). This opens the door for junk plans that are inexpensive but have very limited coverage.
Repeals out-of-pocket cost assistance (2020). This means a reduction in assistance.
Changes premium cost assistance based on income (2018). Those making between 100% – 600% of the poverty level get assistance, but assistance is based on age, not income. This will mean a reduction in assistance for many.
Retains guarantee issue on pre-existing conditions. However, some essential health benefits can be waived at the state level. This subject is complex. We can sum it up by saying the bill's provisions considered together "weaken" pre-existing conditions protections.
Retains the requirement to cover young adults under 26.
Modifies age rating limit to a 5:1 ratio in 2018 unless states adopt different ratios. Seniors can pay up to five times more than young adults. ObamaCare, the ACA, allowed seniors to be charged only a 3:1 ration. That means seniors not yet on Medicaid, but needing assistance, could see much higher premiums.
Retains rating limits on sex and health status in general. However, it allows states to charge more for certain conditions via a waiver.
Open enrollment remains, as does special enrollment. However, HHS rules narrow open enrollment and made special enrollment harder.
It establishes a high-risk pool called the State Patient and State Stability Fund. There is some concern that it is going to be funded well enough to be effective.
Changes funding for very specific health centers. In essence, it prevents Planned Parenthood from taking Medicaid and shifts funding to Community health centers which may or may not currently exist.
Adds state options for work requirements for Medicaid.
Freezes Medicaid expansion funding at a per-capita rate and creates new rules (2018-2020). This will decrease state funding for Medicaid by over $880 billion.
Eliminates most of the Affordable Care Act's taxes, this includes the Medicare tax on high earners, all taxes on industry, and all taxes large employers face.
The last CBO projection, which was scored before a few final changes were made, said the following.
The plan (before the Amendments) had a price tag that came in under the ACA,  saving $337 billion over the decade. However, it did this by leaving 52 million without coverage by 2026. It increases the number of uninsured Americans by 24 million by 2026 for a total of 52 million. The costs and uninsured rates are subject to change based on changes to the bill.