Indiana Expands Medicaid Under Healthy Indiana Plan (or "HIP 2.0")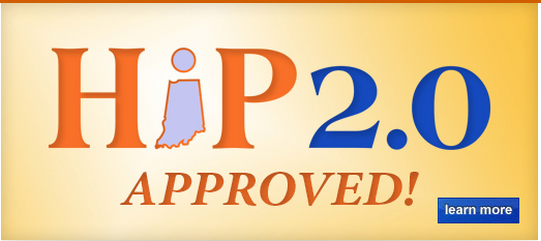 Indiana has expanded Medicaid to 350,000 people under the Healthy Indiana Plan (or "HIP 2.0") proving it isn't too late for state's to expand Medicaid to their poorest.
NOTE: HIP Is a market driven expansion of Medicaid under ObamaCare that doesn't replace the basic program, but expands it with a unique market-based Medicaid solution for those who would otherwise be in "the Medicaid Gap". The plan offers a HSA-like account called a "POWER account". Contact HIP to enroll.
IDEA FOR REFORM: HIP is a really smart Indiana GOP written, but Obama approved, market-driven Medicaid program. Since Pence is VP and this is his plan, I'd like to suggest we use this program as the basis of a national public option. All you need to do is offer a buy-in that replaces the POWER account with the ability to use a self-funded HSA (giving us the POWER account plan and a HSA compatible buy-in alternative). The shopper pays the deductible, the plan takes care of the network and the maximum. Boom, single payer lite, everyone is happy, and Medicaid is paid for (in-part) via the market system. Now pair this with a national public network. Double boom. See our fix for the preexisting conditions exclusion Ryan and Price put in their plans.  This idea fixes it (because HIP doesn't have an 18 month exclusion period), gives us a public option, and I think will make everyone happy.
The new Healthy Indiana Plan (or "HIP 2.0") is an affordable health insurance program from the State of Indiana for uninsured adult Hoosiers. The Healthy Indiana Plan pays for medical expenses and provides incentives for members to be more health conscious. The Healthy Indiana Plan provides coverage for qualified low-income Hoosiers ages 19 to 64, who are interested in participating in a low-cost, consumer-driven health care program. Hoosiers with incomes of up to $16,297 annually for an individual, $21,967 for a couple or $33,307 for a family of four are generally eligible to participate in the Healthy Indiana Plan.

The Healthy Indiana Plan uses a proven, consumer-driven approach that was pioneered in Indiana. HIP 2.0 builds upon the framework and successes of the original Healthy Indiana Plan.

If you have any questions, or to find out if you may be eligible to participate in the Healthy Indiana Plan, please consult the menu on the left of this page, or contact 1-877-GET-HIP-9 (1-877-438-4479).

Some current health plan members will transition to HIP 2.0. Click here to learn more.