What Does President Trump Mean for ObamaCare?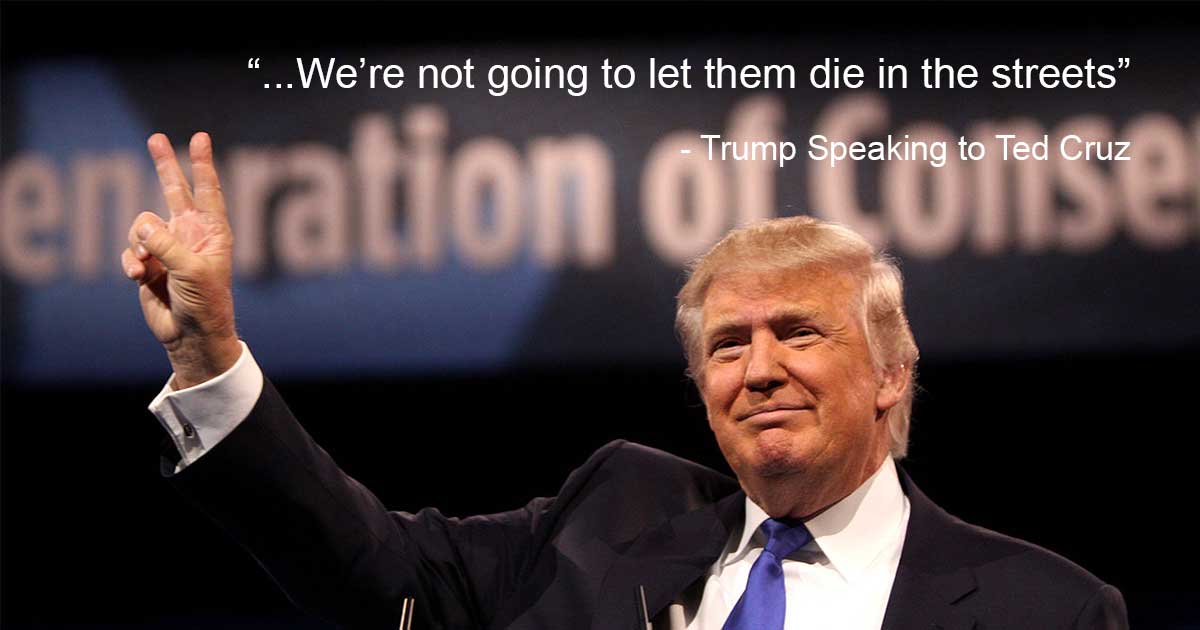 ObamaCare Under Trump: TrumpCare
Trump's won the Nov. 8 election, and that means TrumpCare may replace ObamaCare. Here is what changes to expect for ObamaCare under President Trump.
The information below is based on Trump's healthcare proposal as found on DonaldTrump.com, statements made by Trump before and after the election, and past GOP plans for health care and repealing and replacing ObamaCare.
UPDATE 2019: So much has happened since Trump took office, but this page acts as a reminder of what was expected going into the Trump presidency.
The Main Points
Trump and Republicans in Congress have stated that they will seek to repeal ObamaCare within Trump's first hundred days in office. However, after a meeting with President Obama, President-elect Trump has suggested he will either amend ObamaCare or repeal and replace it. In both cases, Trump suggested he would keep key provisions like guaranteed coverage for preexisting conditions and allowing kids to stay on their plans until 26. It will be important to hold him to that promise. TIP: See our review of the GOP ObamaCare alternative plan for an idea of what Republicans have suggested for these provisions and more (its not the same as the ACA version!). See an explainer of the GOP's "Continuous Coverage Exclusion" For Pre-Existing Conditions.
Under a full repeal, the 20+ million covered under the ACA's coverage provisions are in danger of losing coverage and cost assistance in 2017, but the future is unknown. Everything depends on how much of ObamaCare Trump and the GOP repeal, and what they replace it with.
ObamaCare is still the law here as of late 2016. That means you need to get covered during open enrollment or pay a fee. You can get cost assistance and can get coverage even if you have preexisting conditions.
Almost all GOP proposals eliminated the preexisting conditions clause. However, they let people continue their plan, or if that plan was cancelled for reasons other than non-payment, allowed for guaranteed coverage in another plan. In other words, special enrollment will stay, but open enrollment, the ability for sick people to buy a plan if they don't have coverage, and the mandate to obtain coverage are likely to go. Anyone who has been sick will need to obtain a plan now and keep it moving forward, potentially for life. This will become a much higher priority, and also become difficult as plans change, especially if insurance companies are once again permitted to cancel the insurance of the sick people they insure.
Trump and healthcare. We don't know what he is going to do in practice. He said he would do a full repeal, but from a legal standpoint that doesn't make sense. Most likely he will call it a repeal, keep the parts that aren't divisive while replacing other provisions. See our review of his repeal and replace plan he presented as a Candidate.
Some of the ACA's provisions are enacted and near impossible to remove, some require court cases, and some can just be repealed. A full repeal of the law, even with a House and Senate majority, would be a very tricky thing to pull off. There are roughly 1,000 pages of ACA and its provisions. It remains to be seen just how literal "full repeal" will be. As VOX points out, Trump and the GOP can absolutely repeal Obamacare — and 22 million people would lose health insurance.
Thus, to sum things up, 1. the ACA is still the law. 2. Trump's plan isn't so radical that those who are sick and depend on the ACA should panic. Candidate Trump said:
"We aren't going to let them die on the streets." "The Government's Gonna Pay For It." – Wildcard Donald Trump on Single-ish Payer, discussing how he wouldn't let "the bottom 25%" go without coverage because of cost; perhaps that includes those with preexisting conditions.

… but he also says, "No person should be required to buy insurance unless he or she wants to." – DonaldTrump.com
A List of Likely Changes to ObamaCare under TrumpCare
Here is a list of what changes to expect to ObamaCare under President Trump:
Children staying on their parent's plan until 26 could be removed. Some past GOP plans have got rid of it; others have kept the popular provision. UPDATE: Trump stated he would keep this provision.
The mandate to cover preexisting conditions will probably be eliminated. However, there will also probably be an exception for those who stay on a plan. Essentially special enrollment will probably stay around, but the mandate and open enrollment won't. UPDATE: Trump also stated he will keep this provision, however it will be hard to keep this but remove the mandate. Given this, he may revisit the idea of preexisting condition pools.
The fee for not having coverage will almost certainly be eliminated. This individual mandate is the main thing people don't like about the ACA.
Insurers will almost certainly be able to sell across state lines. This has long been on the GOP wish list.
Drug prices may be negotiated for Medicare.
Drug regulation may be passed to control costs. Trump has expressed a desire to go after drug companies before.
Medicaid will likely stay expanded but may get turned into a "block grant" program. This would mean states get a lump payment and a general guideline for Medicaid, rather than strict rules on spending. This is a longtime GOP favorite, so it is likely.
Trump said he would allow taxpayers to deduct health insurance premium costs on their tax returns; right now premium costs can't be deducted.
It is very likely that cost assistance would be repealed. However, we have had healthcare tax credits in the past before ObamaCare, so there may be another healthcare tax credit in the future. Past GOP plans have included one.
HSAs will almost certainly be expanded. Trump and the GOP have considered funding HSAs rather than providing cost assistance for out-of-pocket costs.
It is hard to tell what will happen to the many less talked about aspects of the law which have generally been working, like quality over quantity and Medicare payments.
All of the above can be gleaned from HEALTHCARE REFORM TO MAKE AMERICA GREAT AGAIN and past GOP proposals for healthcare like H.R.3762 (which have been very consistent since 2012 when we first started covering the ACA). See House Republicans unveil healthcare alternative to Obamacare for a recent article about this.
Learn more about the ACA and its benefits on our site.