Last Minute Advice for ObamaCare 2016 Open Enrollment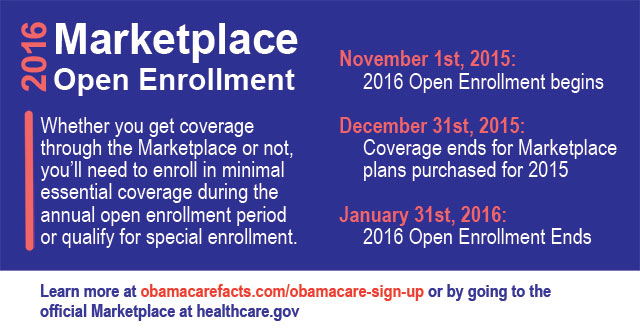 If you haven't yet enrolled in coverage for 2016, you are pushing it. Your last chance is January 31, 2016. Every year people wait until the last minute, but this is playing with fire. Enrolling in health insurance is a energy intense process. It's not that you can't enroll in HealthCare.gov or a non-marketplace coverage in minutes, you can. It's that taking the time to find the right plan with the right coverage isn't an instant process.
When you do last minute shopping, you meet the mad rush. If you have to verify info, OK well the Marketplace will likely give you time to finish the process, but no confirmation on that yet. This is to say, the best advice is don't wait until the last minute. If you are reading this panicked on the 31st, then here is what you do:
Sign up for your state's marketplace (often HealthCare.gov).
You can even get on the phone with a private broker (who can help you with marketplace and non-marketplace plans) while you are waiting on your application.
If you have coverage, you are safe from the fee and covered for the year.
If you miss the 31st deadline, you'll have very little in the way of options.
Sign up now, and don't wait until the last minute.
Everything else you need to know, and it's a lot, can be found here.