ObamaCare Extra Enrollment 2015 March 15 – April 30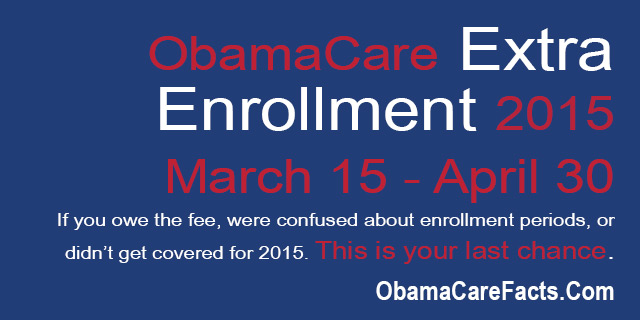 An extra enrollment period for ObamaCare will take place from March 15 – April 30, 2015. This is a special enrollment period for people who owe the ObamaCare tax for 2014 and were confused about enrollment for 2015. It provides an extra enrollment opportunity to avoid the fee for the rest of 2015.
Here is what you need to know about the 2015 Extra ObamaCare enrollment period for those without coverage:
Open Enrollment officially ended February 15th, 2015, however, those who had trouble enrolling got a little extra time.
The 2015 extra enrollment period starts March 15th, 2015 and ends April 30th, 2015.
The extra enrollment period is meant to give those without coverage an opportunity to avoid the bulk of the fee for 2015.
Those who don't have a plan for 2015 yet will still owe the fee for months they don't have coverage, or an exemption.
The only time you can get cost assistance is during open enrollment (or during a special enrollment periods like the March to April extra enrollment period).
Medicaid and CHIP are offered year round. Find out what to do if you got denied Medicaid or CHIP.
Other ObamaCare extensions existed for 2014.
Why is there an Extra Enrollment Period for ObamaCare in 2015?
The additional enrollment period for 2015 is a reaction to the fact that there are still many who are confused about the law. One of the main points of confusion is about how the fee works. The first time many will realize exactly how the fee works is when they file their 2014 taxes before the April 15th tax deadline.
Instead of having a bunch of people wanting coverage, but realizing that they will face the fee again in 2015 for not having it, officials have decided to offer a special enrollment opportunity.
Special enrollment periods, and the qualifying life events that trigger them, are built into the law. So aside from all the normal qualifying life events that trigger special enrollment periods, more will likely be added for March 15th – April 30th.
Every year we move forward under the ACA, the fee goes up, and open enrollment windows get more narrow. If you don't have health insurance yet, consider getting a short-term plan to cover you until the next enrollment date. You won't avoid the fee, but you won't go without coverage either.
In some limited cases, insurers offer ACA qualified plans year-round (for example: all plans offered in the Marketplace in Nevada must be offered throughout the year). If you don't qualify for a special enrollment period, check to see if private insurers are offering plans in your region. These plans wont qualify for subsidies if they are purchased outside of the Marketplace, but if you are lucky enough to find one, you won't owe the fee for not having coverage.