The Difference Between Medicare and Medicaid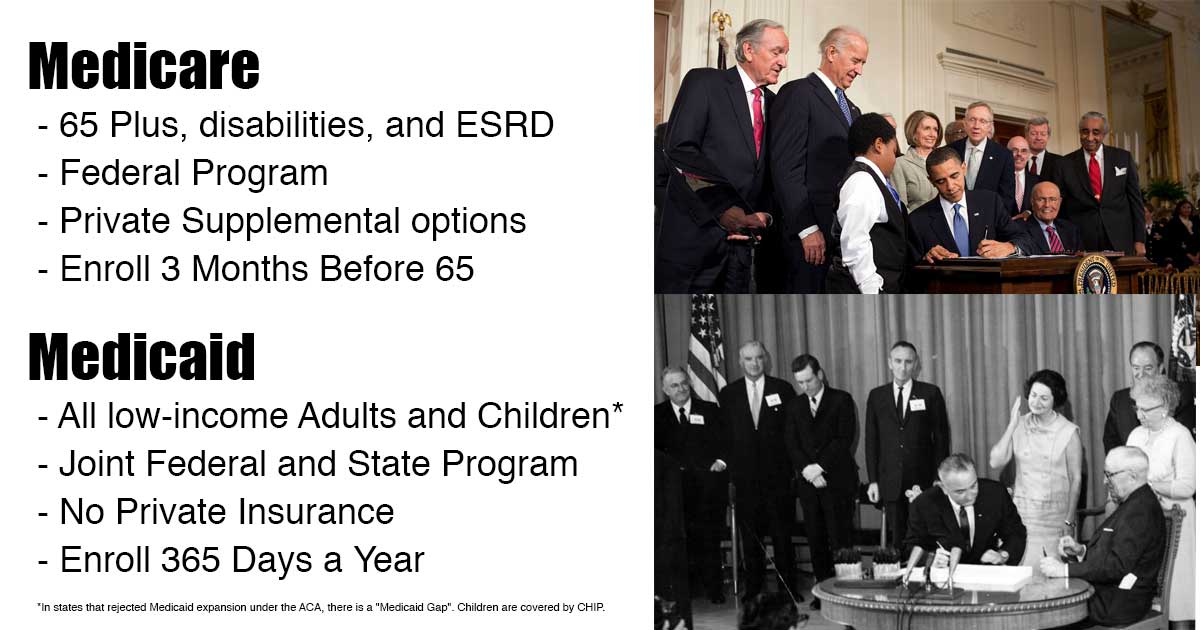 Did you ever wonder what the difference between Medicare and Medicaid is? Both programs are health insurance programs; they became signed laws in 1965 under Lyndon Johnson authorized by Title XIX of the Social Security Act.
Medicare was designed for seniors who had paid into the program during their working years, while Medicaid was designed to provide care for very low-income individuals. People with established disabilities and low-income elderly Americans are covered under both programs.
Medicare is a federal health insurance program that most people pay into while working. You can collect from Medicare once you turn 65, have been collecting Social Security Disability for two years with some exceptions, or have either end-stage renal disease (ESRD) or Amyotrophic Lateral Sclerosis (ALS) and meet some other requirements.
Medicaid is a free or low-cost program for low-income children and adults. We cover it in detail on our sister site FactMyth.com. By 2017, 70 million Americans received health care through Medicare. This includes 20 million adults, 7 million elderly adults, 32 million low-income children, and 10 million Americans with disabilities.[1] The original federal guidelines for Medicaid covered only very low-income individuals. However, each state has the right to administer its program, so coverage varies considerably from state to state.
In 2014, the Affordable Care Act gave states the right to expand Medicare to individuals under age 65 who had a family income below 133% of the Federal Poverty Level (FPL). The ACA also standardized regulations for eligibility for Medicare, Medicaid, and the Children's Health Insurance Program (CHIP) that was signed into law in 1997 to provide services for more children.
The following video will give you a quick overview of the difference between the two programs.
In order to understand why Medicaid expansion is important and how the ACA improved Medicare, it helps to understand the history of the programs and how they work. The original Medicare program was very limited. It has been expanded over time at the state level. See the breakdown of the difference between Medicare and Medicaid for a look at LBJ's landmark legislation and Reagan's bitter criticism.
Investopedia Video: Medicare Vs. Medicaid
Article Citations