How Can I Get Help with 1095C Instructions?
I need clarity on a few of the codes, and also need guidance as to which situation would be applicable to which code. I have already downloaded the instruction forms, but still need clarity.
Answer
Anyone looking for 1095C instructions you can find them here. You can see our 1095 page for more details on 1095s. That page focuses on the 1095A, since C and B forms aren't mandatory until 2016, but a lot of the basic information is the same.
NOTE: This question didn't ask any specific questions, so if you have specific questions please comment with them below so we can add them to this page.
Please see this PDF for details on 1095C forms from unitedhealth. This provides the best breakdown we have found so far. Also see the information below for more help.
In the meantime here are the 1095C forms:
And here are some 1095C pointers:
Use the 1094C form to tell the IRS about whether you offered workers Minimum Essential Coverage (MEC)
You may see the term ALE used in the 1094 and 1095 instructions. This means Applicable Large Employer. As in an employer who must file the forms.
Use the 1095C form to show what coverage a worker had, what months they had coverage, or to show self insured coverage. You'll file one form per employee.
If an employer provided self-insured coverage. This section is used for showing family members who had coverage.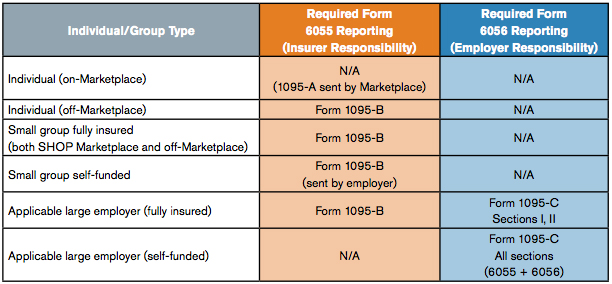 For further assistance you can always call the IRS helpline. Remember 1095-C forms are not mandatory until 2016.
IRS Telephone Lines and Hours of Operation
Service
Telephone number
Hours of operation
IRS Tax Help Line for Individuals
(800) 829-1040
M–F, 7:00 a.m.–7:00 p.m., local time
Business and Specialty Tax Line
(800) 829-4933
M–F, 7:00 a.m.–7:00 p.m., local time
Practitioner Priority Service (Practitioners Only)
(866) 860-4259
M–F, 7:00 a.m.–7:00 p.m., local time
e-Help (Practitioners Only)
(866) 255-0654
e-Help Desk Hours
Refund Hotline
(800) 829-1954
Automated service is available 24/7
Forms and Publications
(800) 829-3676
M–F, 7:00 a.m.–7:00 p.m., local time
National Taxpayer Advocate Help Line
(877) 777-4778
M–F, 7:00 a.m.–7:00 p.m., local time
Telephone Device for the Deaf (TDD):  Forms, Tax Help, TAS
(800) 829-4059
M–F, 7:00 a.m.–7:00 p.m., local time
Electronic Federal Tax Payment System
(800) 555-4477
24/7
Tax Exempt and Government Entities (TEGE) Help Line
(877) 829-5500
M–F, 8:00 a.m.–5:00 p.m., local time
TeleTax Topics and Refund Status
(800) 829-4477
24/7
Forms 706 and 709 Help Line
(866) 699-4083
M–F, 7:00 a.m.–7:00 p.m., local time
Employer Identification Number (EIN)
(800) 829-4933
M–F, 7:00 a.m.–7:00 p.m., local time
Excise Tax and Form 2290 Help Line
(866) 699-4096
M–F, 8:00 a.m.–6:00 p.m., ET
Information Return Reporting
(866) 455-7438
M–F, 8:30 a.m.–4:30 p.m., ET
Disaster or Combat Zone Special Hotline
(866) 562-5227
M–F, 7:00 a.m.–7:00 p.m., local time
FBAR and Title 31 Help Line
(866) 270-0733
(313) 234-6146 (not toll free)
M–F, 8:00 a.m.–4:30 p.m., ET