ObamaCare Open Enrollment 2020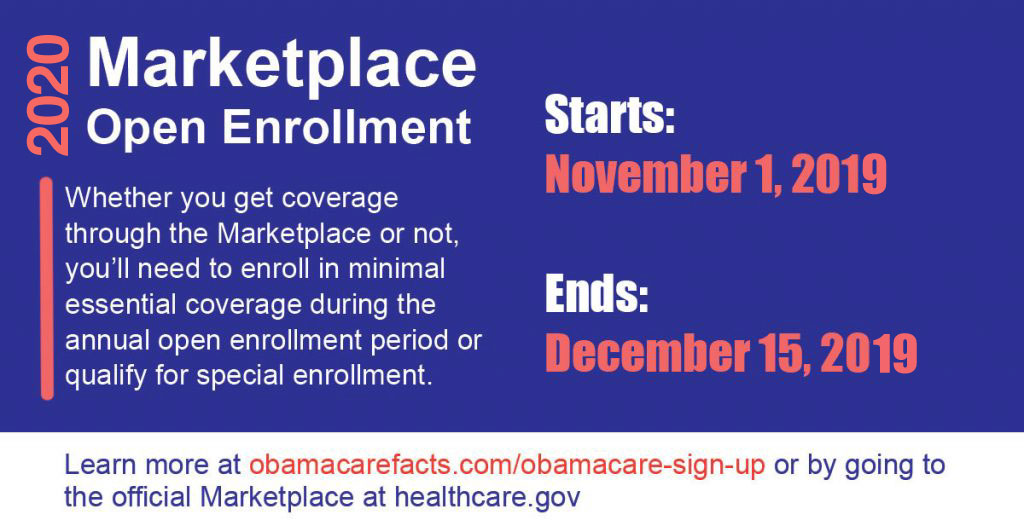 Open Enrollment For 2020 Plans
ObamaCare Open Enrollment 2020 started Nov 1, 2019 and ends Dec 15, 2019. Sign up for ObamaCare to get guaranteed coverage that qualifies for cost assistance based on income.[1]
Open enrollment is the only time of year you can enroll in a health plan, switch plans, or re-enroll in your current plan the in individual and family market. If you miss open enrollment, your only options are limited to special enrollment, short term health insurance, employer-based coverage, Medicare, Medicaid, and CHIP.
TIP: Only plans sold on the health insurance marketplace qualify for cost assistance.
Key Dates For Open Enrollment 2020 (the Open Enrollment Season For Plans Held in 2020)
Thursday November 1, 2019. Open Enrollment begins.
Saturday December 15, 2019: Open Enrollment ends (extensions may be granted).
Wednesday January 1, 2020: The earliest a plan purchased during open enrollment can start.
NOTE: Enrollment dates are subject to change each year. The federal government and/or some or all states may extend enrollment. We will post extensions below if and when any are announced.
State Specific Deadlines and Extensions
Some states have state specific deadlines each year.
States that are likely subject to extensions include:
California, Colorado, Connecticut, Flordia, Maryland, Massachusetts, Minnesota, New York, Rhode Island, and Washington DC.
Other states may be subject to extension in 2020 as well.
NOTE: We will update this page when we know the extensions for 2020 open enrollment.
How To Get Covered: Go directly to HealthCare.gov or find a marketplace approved broker like the ones on our site.
Citations
---
Dates and deadlines for 2020 health insurance. HealthCare.Gov.