What to Do if You Are Running Out of Time to Enroll




Ads by +HealthNetwork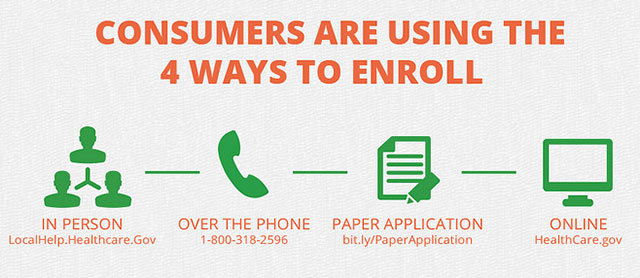 If open enrollment is ending soon for 2017, you may be running out of time to enroll in a Marketplace plan for coverage in 2018. Follow the steps below for a last-minute effort.
NOTE: December 15, 2017, is the last day to get ACA coverage in and out of the Marketplace in most states. A few states have extended open enrollment. To see if your state in among them, begin the online enrollment process.
Inside the Marketplace
Sign up for a Marketplace account on HealthCare.Gov or your State's Marketplace. This might trigger a Special Enrollment Period giving you a little extra time to complete the enrollment process. This has worked in the past. If you have a Marketplace account set up before midnight, you may get extra time to complete your enrollment.
Call the 24/7 marketplace helpline: 1-800-318-2596
Keep in mind the Marketplace is
super busy
right now. Don't simply wait on hold past midnight. Take action and set up your account online. It is especially important to go through the Marketplace if you can qualify for a subsidy or tax credits. You can use
KFF's Marketplace Calculator
to find out about your situation.
Outside the Marketplace
If you make too much to qualify for subsidies, you will still need to enroll in ACA-compliant insurance during open enrollment, but you do not need to use the marketplace. You can also get help from outside the Marketplace. You can get quotes and assistance from any major insurance provider or broker. They can use an "agent portal" to enroll you in a Marketplace plan and get you set up with a Marketplace account.
Below are some options outside of the Marketplace. We have done our best to vet each insurer or broker to ensure they can help you enroll in a Marketplace plan. You can shop for quotes as much as you want; you don't commit to anything until you enroll in a plan.
You can call one of these numbers to get help from outside of the Marketplace (they can still help you enroll in a Marketplace plan).
or
You can fill out this form. This will get your information out to major healthcare providers and brokers for quotes. Chances are you'll get contacted quickly by an insurer or broker who can help enroll you in a plan. Just about every major insurer and broker (along with the Federal and State Marketplaces) are overstaffed right now trying to ensure everyone who wants coverage gets through the signup process.
You can also try the options in our right-hand sidebar. We do our best to vet every advertiser who advertises on our site to ensure that they are qualified brokers and providers.
There are some options for last-minute shoppers. Aside from enrolling in more than one plan, you would be wise to do everything in your power to make sure you are enrolled by midnight. If not, at least be in the middle of the enrollment or application process.
Advice
At the very least get a Marketplace account set up and submit your application. This will give you access to any sort of extension that might be granted. It would be smart to get your Marketplace application set up, and then shop around for quotes outside the Marketplace for instance.
Make sure to enroll in a plan that offers Minimum Essential Coverage.
If you make between 100% and 400% of the Federal Poverty Level in Modified Adjusted Gross Household Income then make sure to get cost assistance. You can only get assistance from the Marketplace.
As a rule of thumb, pick a Silver Marketplace plan. These will be quality plans that are eligible for all cost assistance.
If you travel out-of-state go with a Silver multi-state PPO. If your medical insurance policy does not cover healthcare you need while traveling, you can buy a separate traveler's policy. See our page on Travel Insurance for 2018 for information.
See our subsidies page for more information on all the tips and tricks you could want to know in regards to subsidies.