Open Enrollment Extensions
In 2014 an ObamaCare extension was announced that extend open enrollment until mid-April for those who signed up, but did not enroll in a health plan. For 2015 extensions were offered to those who created a Marketplace account and other last minute shoppers. The same was true in 2016…
For 2017, with repeal and replace on the way, there has been no official extension announced.
With that said, we advise calling healthcare.gov or your state marketplace immediately if you have missed the deadline. The final opportunity has passed as of January 31st, 2017… but some states may allow a little leeway for those who are earnestly trying to enroll but have missed the deadline (as this was the case in past years).
Get more details on past extensions below for an idea of what could be happening for 2017.
Whether you didn't get covered yet, lost coverage, or are doing your taxes, you'll want to know about ObamaCare's extra sign-up periods.
2014 Open Enrollment Extension
People were able to check a box that says they had trouble signing up and were granted an ObamaCare deadline extension allowing them access to a special enrollment period where they could enroll in a plan up until April 19th, 2014.
Starting April 19th, 2014 the only way to be granted an extension outside of open enrollment was to contact the call center and request one, or apply online. Extensions are only given for certain qualifying life events and allow access to a special enrollment period.
The extension to mid-april only applied to open enrollment 2014, moving forward the only way to get covered outside open enrollment is through special enrollment.

Luckily, in 2015 and beyond signing up for the Marketplace plan will trigger a special enrollment period allowing you more time to complete the enrollment process.

For 2015 another extension was announced due to confusion about the fee for not having coverage. This extension is from March 15 – April 30th.
Sign up for ObamaCare each year during open enrollment to avoid relying on extensions. You'll get better value out of your policy.
ObamaCare Extension 2014 and Beyond
The mid-April extension was only for open enrollment 2014, however you may still qualify for an ongoing extension for a special enrollment period due to certain qualifying life events if you miss open enrollment.
Each year, if you try to sign up during open enrollment, you'll automatically qualify an "ObamaCare Extension". Please note this is only true if you create a Marketplace account.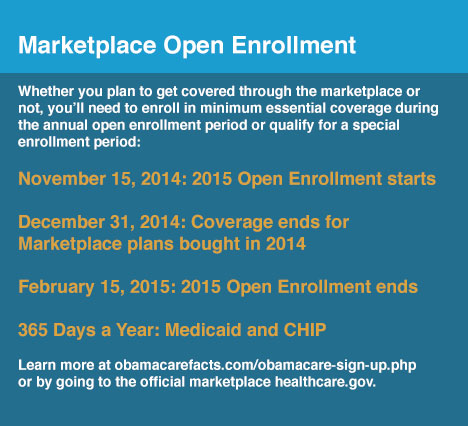 ObamaCare Extension Rules 2014
In 2014 you were able to claim the ObamaCare extension by checking a box that says you had issues enrolling in a plan. You must have already signed up for the marketplace to claim this exemption.
The exemption relied on an honor system, there will be no audit to check whether or not you had actually tried to enroll in a plan before March 31st. Requests for a special enrollment period after mid-April have more stringent guidelines.
The new exemption relies on "self-attestation", in other words as long as you signed up it will be your duty to click the box only if you actually had issues enrolling in a health plan, although no one will be questioning you or checking to see if you tell the truth.
Extra ObamaCare Sign Up Period Due to Taxes 2015
For many Americans the first time they realize that they have to pay a fee, or that they missed open enrollment, will be at tax time.
The point of ObamaCare is to get people covered, not to punish them for not having coverage. The extra sign up period will go from March 15th to April 30th giving those who owe the fee enough time to get covered either before or after taxes are due. Learn more about the Extra Enrollment Period for 2015.
An extra ObamaCare sign up period from April 1st until April 15th would be a smart move. Although an extension from March 15th until April 15th would be a more reasonable time period as would April 1st to April 30th, as getting your taxes right and getting the right health plan can both be complex.
ObamaCare Special Enrollment Periods
Special enrollment periods are written into the law and are common among all types of insurance. They are meant to give those in "certain life circumstances" the ability to enroll in a plan outside of open enrollment. You can learn more about other ObamaCare's other special enrollment periods here.
Call the healthcare.gov call center now to see if you qualify: 1-800-318-2596. TTY: 1-855-889-4325. Available 24 hours a day, 7 days a week.
The Reason Behind the 2014 ObamaCare Enrollment Exemption
The ObamaCare enrollment exemption was announced due to the heavy surge of last minute traffic to healthcare.gov. The point of the program is now and has always been to make sure people are covered. There is a fear that the overwhelming amount of folks trying to sign up and enroll at the last minute could leave a small portion unable to sign up for the marketplace. The temporary extension allowed those who wait until the last minute about two weeks to ensure the enrollment process was completed.
Sign Up for ObamaCare During Open Enrollment
You need to sign up for health coverage during open enrollment each year. Requesting an extension beyond this point will require requesting a special exemption from the health insurance marketplace's call center. If your State is operating it's own marketplace these same rules may not apply. Sign up for ObamaCare today.
Remember the 2014 ObamaCare Deadline Extension only applied to those who signed up for a marketplace account before March 31st, 2014. To qualify for special enrollment you must have previously had insurance or become eligible to be insured within the past 60 days. Find 
your state's marketplace
now.
ObamaCare Extension