Obamacare Preventive Care
Twitter
Linkedin
Facebook
Google+
No Cost Sharing on Essential Preventive Care Thanks to the Affordable Care Act
ObamaCare includes preventive care at no out-of-pocket cost on most health plans. ObamaCare's free preventive services help to put the focus on wellness, early detection, and prevention, instead of treatments and cures.
FACT: At least 15 free preventive services and one wellness visit are covered on Major Medical Plans sold after 2014 without copays and coinsurance, regardless of whether you have met your deductible yet. Services must be done in-network to avoid cost sharing.
What Preventive Services are Covered Under ObamaCare?
Preventive care covers everything from immunizations, shots, screenings and tests. You'll also get a free annual wellness visit on all major medical which can be used to facilitate preventive care. We have a full list of services below.
What Part of Preventive Services isn't Covered Under ObamaCare?
For most preventive services, only the screening or vaccination itself is covered at no charge. The actual services required to facilitate the preventive care can be subject to cost sharing, and that is based on what plan you have. It's important to check with your plan before assuming everything related to preventive care will be covered. Learn more about exactly what is covered at no cost sharing.
Why Cover Preventive Services?
Waiting to treat illness until a person is sick, instead of focusing on prevention, has had a direct effect on the rising health care costs in the U.S.  Many Americans put off seeing a doctor until it's too late due to cost. By making key preventive services free it helps Americans stay healthy. A doctor shouldn't be someone to see only when you're sick. Doctors also provide services that help keep you healthy.
It's important to realize that before ObamaCare not all of these services were covered on all plans. Learn more about the other benefits of ObamaCare Americans get at no or reduced out-of-pocket costs and how cost assistance in the marketplace can make other care more affordable.
Though It Would Save Insurers Money They Frequently Would Not Cover Disease Prevention Exams
Since health insurance became a routine benefit of employment, amazingly the insurance companies did not often cover preventative exams or tests. Over time, more insurers have begun offering a smattering of preventive coverage. But, to the insured, it was frequently very expensive until the insured reached the plan deductible. For the past few decades deductibles and premiums rose quickly, and when hard economic times hit, people sought lower premiums that pushed their deductibles up. Once again, preventive health was on the back burner and the pilot light was out. For the uninsured, caring for a cold was challenging enough, preventive exams were a luxury that most could not afford.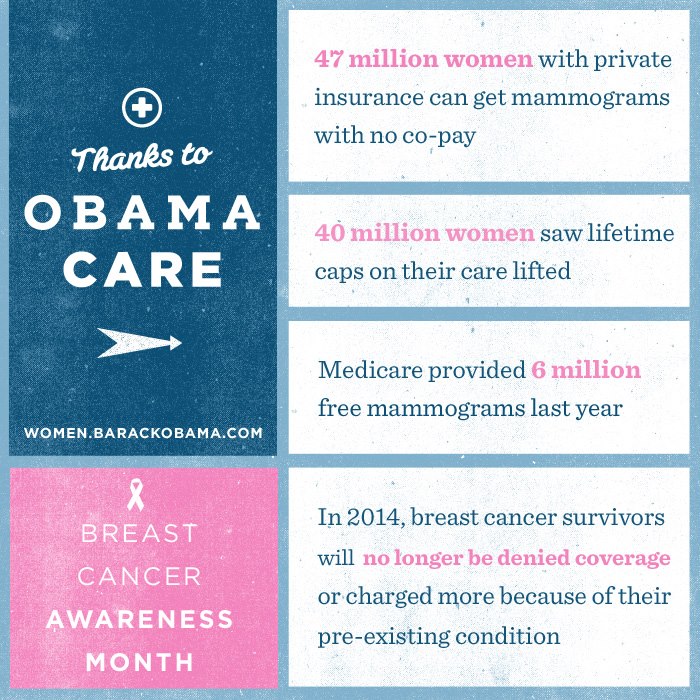 Am I Eligible For ObamaCare's Free Preventive Care?
Under ObamaCare most health plans are required to cover certain preventive care services at no out-of-pocket costs. These services don't require you to meet your deductible or other limits and should have no copay or coinsurance. If you are on a plan that doesn't cover essential health benefits and free preventive services check out your state's Health Insurance Marketplace to see if there is a better plan for you.
You may be eligible for free preventive screenings, like blood pressure and cholesterol tests, mammograms, colonoscopies, and more. This includes coverage for vaccines and new preventive services for women.
Fact: No matter how you get coverage, if you have minimum essential coverage, you have free preventive care.
Obama Care Revives and Expands Preventive Health
Some of the first benefits that the American public received under the Affordable Care Act went into effect on September 23, 2010. The Affordable Care Act required that all major medical health insurance policies that went into effect on that day or afterwards had to cover certain preventive services. In addition, these 15 services could not have any cost sharing. No cost sharing simply means no out-of-pocket payments and no need to wait until to reach a deductible.
What Types of Preventive Care Does ObamaCare Cover?
While adults get 15 services covered for preventive care, women get 22, and kids get 26 covered services. These services include some of the most important types of prevention like immunizations, mammograms, and wellness visits. Medicare patients also gain some new benefits under the ACA as the 2010 preventive health mandates apply to them as well.
Adult Services
Included in the 15 preventive services for adults are immunizations, screenings for depression, blood pressure, colorectal cancer, and high cholesterol. Diet and alcohol abuse counseling, though not screening services are also included as no out-of-pocket services.
Children are entitled to 26 preventive services. These include a host of developmental and other screenings and immunizations.
Women's Preventive Services ObamaCare
In 2012, women became entitled to benefits under specific provisions of the Affordable Care Act. These provisions include well-woman visits, counseling for domestic violence victims, domestic violence screenings, and contraception counseling and dispensing.
Children's Preventive Services ObamaCare
More About the Affordable Care Act and Preventive Care
All plans starting January 1, 2014 or later feature these no-out-of-pocket preventive health exams.
According to the Department of Health and Human Services, more than 54 million Americans have received no-out-pocket care by 2014.
Now that you understand some of the preventive care that is covered on new plans it's time to go see if you qualify for cost assistance on a new marketplace plan or to learn more about ObamaCare's new benefits, rights and protections.
Obamacare Free Preventive Care