How to Buy Health Insurance
Twitter
Linkedin
Facebook
Google+
Guide to Buying Health Insurance for 2015: How Health Insurance Works
Our guide to buying health insurance for 2015 walks you through how health insurance works and how to buy health insurance plans under Obamacare. Let's take a look at how ObamaCare affects buying health care plans, different ways to Buy Health Insurance under the Affordable Care Act, how to understand terms like premiums, coinsurance, copays, deductibles, out-of-pocket maximums, HMOs, PPOs, and HSAs, and how to choose the plan that has the right benefits, networks, costs, and coverage for you and your family.
Don't overbuy or go underinsured, finding the best health plan is all about knowing your medical needs and balancing premiums, out-of-pocket costs, and networks… not simply finding the lowest premium price-tag.
Buying the Right Health Insurance Policy
Getting the right plan for you and your family boils down to understanding your projected medical needs for the next year and your income, and then finding the plan that has a premium that fits your budget, and out-of-pocket costs that won't break the bank.  For folks with access to cost assistance, getting a plan with a low premium can be attractive, and is often the right move, however simply looking at the premium alone won't always get you the right plan.
FACT: Most people's medical expenses will be doctor office visits, therapists, and prescriptions. Many plans cover all these with copayments. These services could easily run to $5,000 or more a year before insurance.  This could mean a big difference between plans that have $10 copays and those with $40 copays.
A plan with a high deductible and high out-of-pocket costs isn't always worth the low premium cost, even with subsidies taken into account. Although any Major Medical Plan will protect your health and wallet in an emergency, thanks to new dollar limits and minimum benefits, you'll most likely pay for most of your medical expenses out-of-pocket each year without ever meeting your deductible on lower premium plans.  Getting a lower premium plans often means you'll most likely pay higher shares of health care costs (due less generous copays and coinsurance and higher deductibles). If you don't meet your deductible, your insurer will never pay their share of coinsurance for covered services.
NOTE: A free annual wellness visit and other select services, like some preventive services, are covered for free before your deductible is met on all plans under the ACA. High deductible plans also have the perk of being able to be paired with in HSA.
In some cases a lower tier health plan will mean putting off treatment or paying more than you would with a slightly better plan.  Shop smart, free 24/7 assistance is offered through the marketplaces!
We recommend a plan with no more than a $2,5000 deductible and at least 70% out of pocket expenses covered (this means getting a silver plan or better on the marketplace).  Tax Credit estimates are usually based on the lowest price Silver plan in your region, and cost assistance for reduced out-of-pocket costs are only offered on Silver plans.
It's important to note that better plans often come with better doctor networks and lower copays.  Even though all plans come with new essential health benefits, only specific preventive services are included with no out-of-pocket costs before you meet your deductible, so most of your medical services will have a coinsurance or copay!
Check out our sections on how health insurance works and comparing health plans for more information.
What Do I Need to Know About How Health Insurance Works in 2014 and Beyond:
Before we get to the details there are a few things everyone should know about health insurance for starting in 2014.
• When in doubt, choose a HMO over an PPO. You may have more freedom in general when choosing healthcare providers on a PPO, as you won't need referrals. However, HMOs tend to have a cheaper price tag.
• Always check your plans network and drug formulary for services and drugs you know you will need.  Shopping out-of-network will cost more and may not count as much toward your deductible.
• Make sure your network includes your family doctor or any other doctor you'd like to see or hospital you'd like to use. A smart move is to ask your family doctor what insurance they take and prefer, this can help you narrow down your health plan choices.
• Make sure your drug formulary covers the drugs you normally use with reasonable copays or coinsurance.
• If you project to have medical expenses you'll also want a plan with the great coinsurance, low copays, & a low deductible. Often this will be more important than your premium over time.
• As a rule of thumb, for services you'll use regularly, copays tend to be more important on high deductible plans, while coinsurance tends to be more important on lower deductible plans.
• We can compare a handful of plans that have similar premiums, but wildly different deductibles, coinsurances, copays & networks. You need to know what is the most important for you & your family. You'll always trade one perk for another when comparing plans.
• The individual mandate says that the 15% of Americans who don't currently have insurance will have to obtain and maintain health insurance (known as minimum essential coverage) starting in 2014, get an exemption, or pay a per month fee. The ACA is meant to help everyone find affordable health coverage, and there is usually an exemption or an avenue for extra help for those who struggle to afford coverage.
• If your insurance costs are unaffordable due to income you may get subsidies to buy insurance and/or an exemption from both the fee and the mandate. 26 million people are estimated to be exempt from the fee by 2016.
• If your employer offers coverage, you have access to Medicare, Medicaid or CHIP you won't have to pay the fee and can keep your plan.
• Make sure to do your research before you buy your health insurance for 2015, although most plans will count as "minimum essential coverage" and thus will exempt you from the individual mandate, there are types insurance that don't count including limited coverage for dental and vision only.
• All major medical plans starting after 2014 offer the same benefits, rights and protections including services from ten categories of essential health benefits. They also offer key preventative services and an annual check-up at no out of pocket costs. The big difference between plans will be premium costs, out-of-pocket expenses, and provider networks.
• Health insurance doesn't just cover you if you get sick. It also covers things like mammograms, maternity, check-ups for your kids and many other services at no out-of-pocket costs and protects you if you get an an accident. You'll also get charged at your insurers rates for services, so you'll shop cheaper than you would without coverage.
• If you are planning on shopping on your state's Health Insurance Marketplace you'll need to understand "metal plans". Metal plans are a type of qualifying health plan that counts as "minimum essential coverage" and are sold only on the marketplace. Learn more about "metal plans".
• The "free" or cheapest plan isn't always the best one. Read our guide to buying health insurance for 2015 to make sure you choose the right plan. As a rule of thumb most Americans should aim for a "Silver plan" equivalent or better. Silver plans typically have reasonable balance of out-of-pocket and premium costs and are eligible for all forms of marketplace cost assistance. There are a lot of factors that go into finding the right plan beyond premium costs, trying to save money upfront could cost you more in the long run.
• The "benchmark plan" on the Marketplace is a Silver plan. The amount Tax Credits cap your premium is based on the second cheapest plan on the marketplace. Silver plans are also the only plan that you can get Cost Sharing Reduction subsidies on. Many Silver plans also have high deductibles, meaning they can be paired with an HSA. All these factors make Silver plans a good place to start when looking for Marketplace plans.
• Some plans will offer lower deductibles or premiums but won't offer copays until deductibles are met. Others will offer higher deductibles for lower premiums. Others may offer attractive rates but have a more narrow network. Make sure to think about what medical services you are likely to use when picking your plan.
• All private major medical plans have a out-of-pocket maximum limit. If you have a high deductible plan coinsurance may not matter as your out-of-pocket maximum and deductible may be the same.
• Policies issued before 2010 ("grandfathered" health plans) don't have to adhere to all the new rights and protections offered by the Affordable Care Act. If you have a grandfathered plan you may want to or even have to shop for new health insurance in 2014. If your provider is discontinuing or changing your plan they will let you know.
• ObamaCare takes measures to prevent all types of discrimination in regards to your right to health care. Factors such as pre-existing conditions, health status, claims history, duration of coverage, gender, occupation, and small employer size and industry can no longer be used by insurance companies to increase health insurance premiums.
• The only factors that can affect premiums of new insurance plans starting in 2014 are your income, age, tobacco use, family size, geography and the type of plan you buy.  This applies to all plans sold through your State's health insurance marketplace.
• Premium costs are the amount you pay each month. Plans with higher premiums have lower out-of-pocket expenses.
• Types of out-of-pocket expenses include copays, coinsurance, deductibles, and out-of-pocket maximums.
• The amount you pay out of pocket is based on the actuarial value of your plan (the actuarial value is the average amount of out-of-pocket costs your insurer pays on a plan for everyone using the plan.  This isn't the exact amount it will cover you for.)
• Cost sharing refers to your share of the cost.
• There are three ways to buy health insurance starting in 2014 1) Your State's Health Insurance Marketplace 2) A Broker 3) Direct from a provider. Each have it's own pros and cons.
Ways to Buy Health Insurance:
There are three different ways to buy health insurance plans. You can compare and buy different types of "Qualified Health Plans" on your State's health insurance marketplace or purchase a traditional private insurance plan outside of the marketplace either directly through the insurer or a broker.  In some cases private brokers and providers outside the marketplace can help you find out your marketplace options or even help you sign up for a marketplace plan.
FACT: For private health plans in the individual and family market, you'll need to get covered during open enrollment. This is true both inside and outside the Health Insurance Marketplace.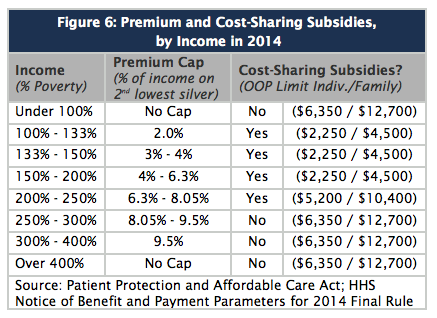 Let's take a look at the three different ways to buy health insurance plans:
1. Using your State's Health Insurance Marketplace to buy and compare health plans: Most Americans can use their State's health insurance marketplace to buy and compare health plans.
The benefits to buying a plan through your State's marketplace is that you may be eligible for cost-assistance for premiums and out-of-pocket costs if you make less than 400% of the Federal Poverty Level. Shoppers can also use the health insurance marketplace to compare health plan benefits, networks, costs and coverage from competing providers.
Please note that premium cost assistance is offered as advanced tax credits which get paid directly to your provider (or deducted on your Federal tax returns if you choose) and Cost Sharing Reduction subsidies that lower out-of-pocket costs. While tax credits lower the part of the monthly premium you pay, if you gain or lose income you will be responsible for the difference on your year end taxes.  Make sure to notify the marketplace if your income changes.
When you apply for your state's marketplace you will find out if a family member qualifies for Medicaid, Medicare or CHIP. Although competition drives marketplace costs down, insurers must pay a fee to sell insurance on the health insurance marketplace and therefore insurance you buy may in some cases be cheaper through a private insurer or a broker.
Find your State's Health Insurance Marketplace.
NOTE: You can also sign up for the marketplace by mailing in an online application (read these instructions first). The marketplace help line is available for 24/7 assistance (800) 318-2596.
2. Contact an Insurer to buy and compare health plans: You can contact an insurer and buy a health health insurance directly from the provider.
Buying health insurance directly from a provider means that you are cutting out the middle-man. If you aren't eligible for cost-assistance through the marketplace and you have a clear idea of what type of coverage you need, this could be the best option for you. Both private brokers and the marketplace charge the insurance provider additional fees that could increase the cost of your health insurance. Of course you'll only be able to compare health plans by that provider.
3. Speak to a Broker to buy and compare health plans: You can speak to a broker (or use an Online Broker) and they can help you find your best option for health insurance.
If you don't qualify for cost-assistance and want someone to help you compare and understand plans then a broker could be the best option for buying health insurance. Brokers will have a selection of different health plans in your state and will help you to be able to understand and compare benefits, networks, costs and coverage. Please be aware that brokers get a fee for selling you insurance. Although the fee is charged to the health insurance provider and not the consumer, it doesn't mean the fee won't be passed onto you.
NOTE: No matter what option you choose it's smart to shop around.  In some states the only way to see every plan offered in your region is to contact a number of agencies inside and outside the marketplace for quotes.
The following video explains how ObamaCare changes the way you buy health insurance:
How to Sign Up For The Health Insurance Marketplace
There are four ways to sign up for your State's Health Insurance Marketplace.
1) Find your State's marketplace website.
2) Get in person help. You can find inperson help by going to LocalHelp.Healthcare.gov.
3) Call the 24/7 marketplace helpline 1-800-318-2596.
4) Mail in a paper application. bit.ly/PaperApplication. (read these instructions first)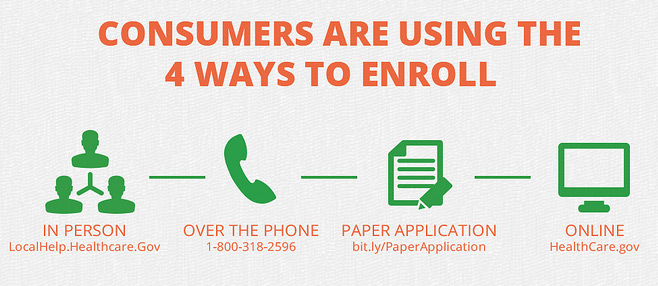 Other Ways to Buy Health Insurance
Aside from the three main options for private insurance there are a number of other ways to obtain health coverage.
Paper applications and the telephone: The federal government created paper applications you can use to find out whether you qualify for government programs like Medicaid, or for tax credits that help cover the cost of private insurance premiums. You can also sign up for the marketplace by mailing in an online application (read these instructions first). The marketplace help line is available for 24/7 assistance (800) 318-2596.
Navigators and other in-person assistance: The health-care reform law created new types of workers whose job it is to help people apply for financial assistance, insurance and government benefits like Medicaid and the Children's Health Insurance Program. These assisters can't charge for their services, can't take money from insurance companies and must show consumers all their options. Contact information for such organizations is available here LocalHelp.Healthcare.gov. While HealthCare.gov remains faulty, navigators and others can still get you started and follow up with you later about completing the process.
State Medicaid offices: If your income is low enough, you and your children may qualify for Medicaid or the Children's Health Insurance Program, either under the existing rules or via Obamacare's Medicaid expansion. Eligibility rules vary widely from state to state. The federal government provides links to state Medicaid agencies on HealthCare.gov.
Medicare.gov: If you are 65 years or older you'll get your health insurance through Medicare.
Health insurance companies: Insurers commonly allow sales through their websites and call centers. Consumers can review a list of what insurance companies and plans are available in their states — and even the average prices — via a section of HealthCare.gov that's working.
Web-based insurance brokers: Not to be confused with the government-run exchange websites, these private companies offer some of the same conveniences, like the ability to compare multiple plans on price and benefits. Vendors including eHealthinsurance, GoHealth and GetInsured are approved to allow shopping and enrollment through the federally run health insurance exchanges. These brokers are paid by insurance companies, so consumers aren't charged a fee.
What is Health Insurance?
What exactly is health insurance? The following video will help you understand what health insurance is and why you need it.  You can also check out our page all about health insurance and health insurance terms.
Comparing Benefits of Health Insurance Plans
When comparing health plan options you'll need to take into account what benefits plans cover. Luckily, ObamaCare has evened the playing field. Today all health plans have to cover a number of Preventative Services at no additional cost, and provide Essential Health Benefits with limited out-of-pocket expenses and no annual or lifetime dollar limits. Insurance sold to individuals and small businesses must now include these Ten Essential Health Benefits include:
Emergency services
Hospitalization
Laboratory tests
Maternity and newborn care
Mental health and substance-abuse treatment
Outpatient care (doctors and other services you receive outside of a hospital)
Pediatric services including dental and vision care.
Prescription drugs
Preventive services (such as immunizations and mammograms) and management of chronic diseases such as diabetes
Rehabilitation services
ObamaCare's new rules make sure all insurance plans cover the same basic benefits. When shopping for insurance you'll be focusing more on comparing networks and cost-sharing. Plans with higher premiums will tend to have better networks and less cost-sharing. So you'll want to focus on if services are offered in-network in your area, what providers you can see, how many times you can get a service, if that service is covered before deductible, and how generous copays and coinsurance for those services are.
Comparing Networks of Health Insurance Plans
When looking at health plans you will be comparing networks of providers—doctors, hospitals, laboratories, imaging centers, and pharmacies that have signed contracts with the insurance company agreeing to provide their services to plan members at a specific price.
Networks are broken down between preferred network (everything is covered), in-network, and out-of-network (you could be responsible for increased or full costs).
FACT: A PPO is a preferred provider network and you'll typically be able to see anyone in that preferred network without a referral. HMO's may require referrals for certain in-network and out-of-network services, and you'll have to pick a family doctor. In general a PPO will have a higher price-tag, but it's very dependent on the specific plan and your region. Often you'll be able to choose between two similar plans with one being an HMO and one a PPO.
If a doctor is not in your plan's network, the insurance company may not cover the bill, or may require you to pay a much higher share of the cost (although some of ObamaCare's new rules do limit what you can be charged for using certain services out of network). So if you have doctors you want to continue to see, you will want them to be in the plan's network.
If you are shopping in a marketplace, you can see each plan's provider directory and compare it to those offered by other plans.
If you are considering insurance through a job, you can obtain provider lists from participating insurance companies, or from the company's employee benefits department.
Please note your plan may have a different deductible and out-of-pocket maximum for in-network and out-of-network.
Comparing Costs of Health Insurance Plans
You pay for health insurance in two ways:
The monthly premium that you pay to purchase your plan.
The share of costs you pay out of your own pocket when you receive medical care. Those are some combination of deductibles, coinsurance, and copays.
In general, if you pay a higher premium up front, you will pay less when you receive medical care, and vice versa.
To make comparison easier, the plans sold in state marketplaces will be in standardized "metal tiers" with various combinations of premiums and cost-sharing based on actuarial value:
Bronze plans will cover 60 percent of the average member's total health care costs and thus have the lowest premiums.
Silver plans will cover 70 percent on average.
Gold plans will cover 80 percent on average.
Platinum plans will cover 90 percent on average and have the highest premiums.
Note: these are averages, not exacts.  See metal plans and actuarial value for more details.
In general, the higher the premium the better the cost sharing. Networks and additional benefits are also better on higher tier plans as a rule of thumb, but with any plan you trade one perk for another. So it's important to compare the trade-offs for each plan. An expensive plan may not actually provide better value for you, as so much is based on your income and annual medical needs.
Which of those plans is right for you depends on your health and your financial situation:
If you already know you have an expensive medical condition, consider a plan with a higher premium that covers more of your costs.
If you are generally healthy you might come out ahead paying a lower premium and a bigger share of your health costs, because those costs are most likely not going to be that high. Of course, you need to be prepared to pay more if you do unexpectedly become sick or injured.
How Much Do Health Care Plans Cost?
There are a number of factors that affect the cost of your health plans. This is true for health care plans purchased on or off of the health insurance marketplace. Health status and gender can no long affect the cost of your insurance, but the following factors can.
Your income (this determines whether you get cost assistance or qualify for programs like Medicad or CHIP)
Your age (the older you are, the more you pay. The ACA limits age/cost ratios)
Your smoking status (some regions do not allow smoking status to be considered). There is a 50% tobacco surcharge that is added after cost assistance starting 2015.
Where you live
The number of people enrolling with you (e.g. a spouse or child)
See new ACA rules and regulations for more details on what can affect healthcare costs and cost ratio limits.
About Cost-Sharing: Types of Out-of-Pocket Costs on Health Insurance Plans
The terms "cost-sharing" or "out-of-pocket costs" refer to the proportion of your medical bills you will be responsible for paying when you actually receive health care. Cost-sharing never includes your monthly premium, balance billing amounts for non-network providers, or spending for non-covered services.
If you buy insurance through your state marketplace, you'll be able to see and compare the cost-sharing structure of plans before you buy. If you get insurance through a job, the information will be on the Summary of Benefits and Coverage form.
These are the four cost-sharing terms you will see.  Keep in mind that deductibles, copays, coinsurance only apply to covered services.  So make sure you understand your plans network!
Deductible. The amount you pay every year for covered services before the insurance company starts paying the full share of the costs.  In every plan you can buy, preventive services will be covered in full even if you haven't used up your deductible for the year. Most plans will also pay a portion of your costs for covered services, usually doctor visits and prescription drugs, even before your deductible has been met.  For these services you'll be charged a copay or your coinsurance amount.
If the deductible is $2,000, then you would pay cash for the first $2,000 worth of covered services including coinsurance and copays each year, after you meet your deductible the insurance company would start paying the full share of costs. In general plans with higher premiums have lower deductibles, and vice versa.
Copay. A fixed dollar amount you pay for certain types of care. You might pay a $20 for a doctor visit and the insurance company will pick up the rest. Plans with higher premiums generally have lower copays, and vice versa. And some plans do not have copays at all. They use other methods of cost-sharing.
Coinsurance. A percentage of the cost of your medical care. For an MRI that costs $1,000, you might pay 20 percent ($200). Your insurance company will pay the other 80 percent ($800).  Coinsurance typically only kicks in after you reach your deductible, so it is much less important on high deductible plans where the out-of-pocket maximum is close to your deductible amount. Plans with higher premiums generally pick up a larger portion of the bill.
Out-of-pocket limit / Out-of-pocket maximum. The most cost-sharing you will ever have to pay in a policy period (typically a year). It is the total of your deductible, copays, and coinsurance for covered services (but does not include your premiums). Once you hit this limit, the insurance company will pick up 100 percent of your costs for the remainder of the year. Most people never pay enough cost-sharing to hit the out-of-pocket limit, but it can happen if you require a lot of costly treatment for a serious accident or illness. Plans with higher premiums generally have lower out-of-pocket limits.  The maximum out-of-pocket cost limit for any individual Marketplace plan for 2015 can be no more than $6,600 for an individual plan and $13,200 for a family plan. There are new dollar limits on all plans under ObamaCare.
The latest smartest video explaining how ObamaCare and the Health Insurance Marketplaces work. Don't forget to apply for your State's marketplace today! Find your State's Health Insurance Marketplace to apply.
Insurance Plan Types and Medical Savings Accounts
There are four types of health insurance plans: Health Maintenance Organizations (HMOs), Participating Provider Options (PPOs), Exclusive Provider Organizations (EPOs), and Point of Service (POS) Plans. Consumer Directed Health Plans (CDHPs) can be paired with Health Savings Accounts (HSAs), Flexible Spending Accounts (FSAs), or, on some grandfathered plans, Archer Medical Savings Accounts (MSAs); allowing employers, employees, or self employed individuals to contribute tax free dollars towards their medical expenses.
FACT: A PPO doesn't require that you get a referral from a doctor before getting treatment from out-of-network like an HMO. Regardless of your plan, if you get services out of network you will have to pay more for them.
Insurance Plan Types
HMO Health Maintenance Organization plans often offer the best pricing & the least flexibility. They serve up lower prices by limiting your care to the doctors, clinics & hospitals within the HMO's network. HMOs require you to choose a primary care physician (PCP) who coordinates your health care & provides you referrals before you are able to get treatment from other network providers or specialists. If you go out outside the network your services won't be covered except treatment for medical emergency.
PPO Preferred Provider Organization plans offer networks of doctors, hospitals & clinics that are deemed "preferred providers." Go to them for treatment & you get lower rates negotiated by the insurance company. However, PPOs provide more flexibility than HMOs because they allow you to seek care outside the network, but doing so will likely cost you more in deductibles and copays. Unlike HMOs, PPOs don't require you get a doctor referral before you see a specialist. Many of the plans, do require prior approval for certain expensive services.
POS Point of Service plans can reduce your out-of-pocket costs by choosing providers in the network — or you can seek services outside the network and pay more. It's your choice. The exact definition varies from one state to another. Many POS plans are more like a HMO in that they require you to choose a PCP and get referrals for specialist care. Some even cover higher costs if your PCP decides to refer you to an out of network specialist.
EPO Exclusive Provider Organizations plans offer a managed care plan where services are covered only if you go to doctors, specialists, or hospitals in the plan's network (except in an emergency).
ADVICE: Consider the tax benefits of using one of the health savings accounts below. Make sure you understand limits on the accounts & periods in which you must use the funds if applicable.
Types of Health Savings Accounts
FSA Flexible Spending Account. FSAs are set up through an employer plan & they allow you to set aside pre-tax dollars for certain health and dependent-care needs. For example, the money can be used to pay for deductibles, prescription copays and other treatments not covered by your insurance. A big downside for many: whatever you don't use by the end of your company's benefits year will be forfeited. Check with your employer's Human Resources department for specifics on their FSA. They can provide a list of FSA-qualified costs that you can purchase directly or be reimbursed for. A few common FSA-qualified costs include:
Copays for medical treatments & doctor visits,
Hospital & doctor fees for medical tests & services (for example, X-rays & cancer screenings).
Physical Rehabilitation.
Dental & Orthodontic expenses (like cleanings, fillings, or braces).
Inpatient treatment for alcohol or drug addiction
Vaccines (immunizations) & flu shots.
HSA Health Savings Account. HSAs are tax-preferred savings accounts available to those enrolled in health plans. Employers & employees are allowed to contribute to them. HSAs allow you to set aside tax-free dollars to pay for routine, out-of-pocket health expenses. You also pay no federal taxes on interest earned by your HSA as long as you use the money to pay for eligible medical expenses, as defined by the IRS. Dental & vision are included.Unlike an FSA, HSA funds roll over annually & accumulate, even if an employee changes jobs. The accumulated funds can be removed for non-eligible expenses, but then will be subject Federal Income Tax and 20% penalty. Once an individual qualifies for Medicare these accumulated funds can still be used tax free for medical expenses Medicare doesn't cover or can be used like an IRA or 401k (however you'll still have to pay taxes on this, but no penalty). In addition, should a person decide they no longer want to use a high-deductible health plan, these funds can usually be rolled into an IRA retirement account without facing taxes.
MSA "Archer" Medical Savings Account. The Archer MSA was intended to be used by self-employed individuals & small businesses with fewer than 50 employees. The plan is entirely self-directed, including its initial setup & compliance with the plan thresholds. It works very closely to HSAs & have been replaced by HSAs since 2007, however some grandfathered plans may still use MSAs that have been "left open".
Cheap Health Insurance: Are Health Care Plans Cheaper on the Marketplace?
Those looking for cheap health insurance will want to check their State's Health Insurance Marketplace first. In many cases equivalent healthcare plans sold on the marketplace will have very similar price tags to those sold off of the marketplace. If you don't qualify for subsidies in some cases buying insurance from a broker or directly from a health insurance company can be your best bet. If you make under 400% of FPL and could qualify for subsidies then it makes sense to purchase your insurance through the marketplace. No matter what you decide to do you can always shop around for quotes. How you obtain health insurance is your choice!
Learn more about the types of plans sold on the health insurance marketplace.
How Health Insurance Works Summary
Now that you have an idea of how health insurance works and how to buy health insurance for 2015 it's time to fill out some applications and see what your insurance options are. While there are fees for not obtaining coverage and insurance companies can always decide to not offer your plan, no one is actually forcing you to buy a plan and no one is forcing you to stay with the plan you are on. Your healthcare is in your hands, keep reading more ObamaCare facts so you can understand the Affordable Care Act and health insurance.
How Health Insurance Works