I Signed Up For a Quote and Now I'm Getting Many Calls
I signed up to get a quote for insurance and now I'm getting 20+ calls a day about insurance offers and I am SICK of it! How do I make it stop!?
Answer
Filling out any online form with your contact information can lead to endless marketing calls or emails because of a common practice known as "selling leads" or "lead generation." Some websites knowingly and maliciously collect this data to sell, and others are unaware that a non-direct advertiser is doing so. However, once your information is out there, it can enter a sort of marketing pyramid scheme. Except that unlike conventional pyramid schemes which collapse when there are no new people to sell to, the same phone number or email address can be repackaged and sold again and again.
QUICK NOTE: If you are getting calls or texts from HealthCare.Gov specifically, this is normal. If you want it to stop, you should gather your account info, contact them, and ask them to remove your number. The same generally applies to state marketplaces like Covered California. In all other cases, follow the directions below.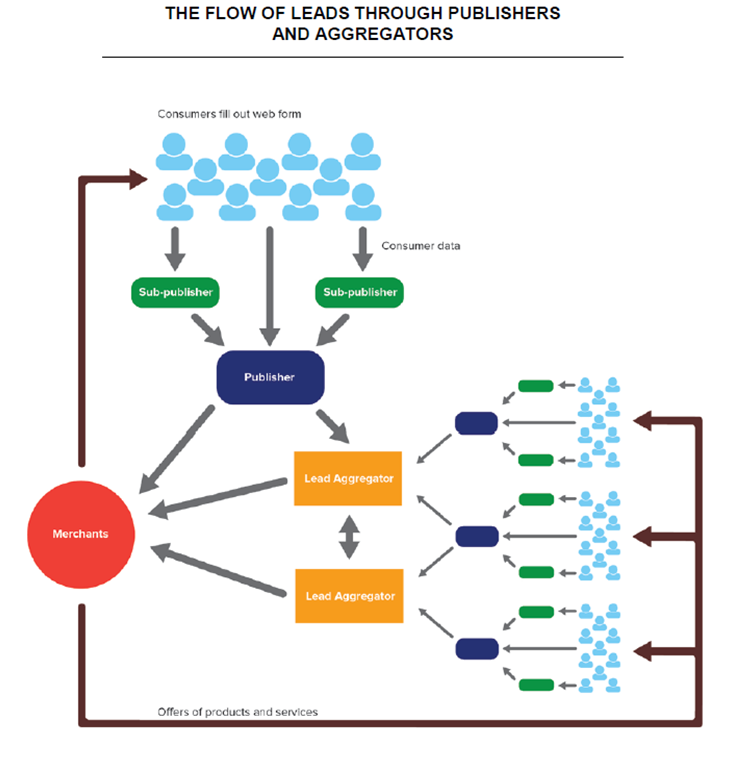 Source: "Follow the Lead" FTC.gov
Less reputable third party companies on the internet resell leads, poorly track, and spam phone calls when customers fill out a quote form all the time. This is not typically a practice that is endorsed by reputable entities or official websites (including ObamaCareFacts.com and HealthCare.Gov) major insurers, brokers, or advertisers. Rather, this is an unfortunate result of factors relating to the freedom of the internet.
Some companies may, in the fine print of a quote, let you know that you are giving them permission to contact you or resell your information. As frustrating as this can be, the way they do this all is often absolutely technically legal.
We at ObamaCareFacts.com don't have any direct advertising on our site that does this. In fact, we have worked hard to ensure this doesn't happen given the subject matter, but non-direct advertising works differently. Non-direct advertising involves companies bidding on ad space through a third party marketing company. A reputable third party ad company typically does a good job at quality control ensuring shady companies don't bid on reputable feeds. However, when it comes to big ticket items like health insurance, which is required for everyone by law, the "bad guys" sometimes infect the entire telemarketing industry with ill-gotten and repetitive lead generation.
If anyone has filled out a form related to health insurance and immediately gotten a lot of phone calls, it can be frustrating. It isn't necessarily indicative of suspicious behavior, especially if you were actually looking for an auto quote, health insurance broker, or anything else and the response was from people able to provide that service. However, in many cases, there is no telling how many companies will get access to your lead after that. Shady as it might be, it is technically a legal practice. It's not even clear if the companies purchasing the leads are even always aware how old it is or how it was originally obtained.
What Can I Do to Stop SPAM Phone Calls?
There is no simple remedy after your information has gotten into a lead generation and third-party marketing industry, but there are some things that you can do to prevent it or at least be prepared to address it when it does happen.
Double Check:
Before entering your information into any website make sure it is an official website, a website that you trust, and the correct website you were looking for. There are websites that use some form of "Obamacare" and "Facts" in their title, and a few have at times blatantly (and lazily) plagiarized ObamacareFacts.com content.
Never use a link from within an email to reset a password or to provide private information even if it appears to be from a website you trust. Go directly to the official site or call them directly to double check. The same is true for incoming phone calls asking for personally identifying information. If it seems important, from your bank for example, then hang up, look up the phone number for your bank, and call them directly. Then report it to the Federal Trade Commission.
Keep Track:
Keep track of the websites you give your information out to in a word document. Copy and paste the URL and the name of the company instead of clicking on links. This will allow you to address those responsible, to warn others (as in the comments below), and to notify website owners of non-direct advertisers' behavior. This is also true of the calls you get in response to an online request. Immediately ask, "What is the name of your company?" Save that information along with the phone number. Tell them that if you get another call, you will report them.
Register on the National Do Not Call Registry:
It won't prevent solicitation from unethical sources or the many companies who purchase the leads, but you can report violations of the Do Not Call Registry to the Federal Trade Commission (FTC)
Contact Officials:
There are several ways to contact legislators and officials who can address what is and isn't legal and could create regulations about telemarketing and email lead generation. Tell them how lead generation practices are affecting you.
If you have filled out a health insurance quote form and now receive lots of phone calls do your best to:
Let us know the exact site you filled out the form on and post the URL. (Check your history, lots of sites have similar looking names!)
Let us know the path you used to get to that site. What sites did you visit before, what page did you click on an ad from, what ad did you click on?
One thing to note is that there are reputable companies out there who will give your information to multiple other reputable companies and this can result in what seems like a lot of calls. Five companies contacting you once, maybe twice, each is easily overwhelming, but if you requested a quote for something its best to shop around. This is different from situations where your contact information is passed down the line to less reputable companies who call on a daily basis.
Keep in mind that you may miss the fine print or Privacy Policy for subscription and give your permission for these people to contact you. It's frustrating, but often what is happening is also legal and is intended to connect consumers with the services and goods they are looking for. It doesn't usually put you at direct risk for big issues like identity theft.
Also keep in mind in many instances people asked (maybe unknowingly) to be contacted about setting up an appointment to meet with an insurance agent, and when you never picked up they were simply trying to call you back to schedule that appointment. This wouldn't result in 20+ calls but could result in a call or two a few times.
Hopefully, we will see some comments below that explain situations clearly so we can help address this problem.
TIP: See FTC.Gov's Stopping unwanted phone calls and text messages and Phony calls about health insurance for more reading.
NOTE: When you comment with a link we change it to "dot com" instead of ".com" to avoid sending people to sites that are reselling health insurance information. Thanks for being understanding!