ObamaCare Subsidies
Twitter
Linkedin
Facebook
Google+
ObamaCare Subsidies on Your State's Health Insurance Marketplace
ObamaCare subsidies can save you money on your premium and out-of-pocket expenses. ObamaCare subsidies are only available through the marketplace, let's take a look at what subsidies are, how they work,and how you can apply for free or low-cost health insurance today!
Get the details on all of ObamaCare's subsidy types below or see our sections on:
ObamaCare Cost Assistance Subsidy Facts
There are three types of cost assistance: Premium Tax Credits to lower your premiums, Cost Sharing Reduction subsidies for lower out-of-pocket costs, and Medicaid and CHIP.  Let's take a quick look at some cost assistance subsidy facts before we get to the details.
• Cost assistance subsidies are only available through your state's health insurance marketplace and only available during open enrollment, unless you qualify for a special enrollment period (the exception being Medicaid and CHIP which can be obtained at any time of year.)
• Although subsidies are only offered on marketplace plans, most health insurance brokers outside the marketplace can help you enroll in a marketplace plan.
• Subsidies are based on income.  In most states anyone making under 400% of the Federal Poverty Level (FPL) can get some type of subsidy on Marketplace plans.
• Those making under 400% of the FPL have access to tax credits, those making under 250% FPL are eligible for cost sharing reduction subsidies on Silver Plans, and those making 138% (or less in some states) are eligible for Medicaid.
• The Federal Poverty Level adjusts for inflation each year allowing more and more folks to qualify for more cost assistance.
• If you qualify for cost assistance a marketplace plan can't cost you more than 9.5% of your income after tax credits are applied.  The less you make the lower the cap!
• In states that didn't expand Medicaid many adults will fall in the Medicaid gap meaning they won't qualify for Medicaid or subsidies.
• Cost sharing reduction subsidies are only Available On Silver Plans.
• Tax credits can be applied in part or in full in advance to lower your premiums or adjusted on your federal income taxes.
• If your income changes, report it so the marketplace can adjust your subsidies.  You may qualify for bigger subsidies if your income decreases and you will save yourself from having to repay advanced tax credits if your income increases.
• In order to adjust tax credits at the end of the year, you'll need to file a Premium Tax Credit Form 8962 along with your 1040 Income Tax Returns. Your assistance amounts can change with even a slight change in income. This means many will qualify for greater refunds due to Tax Credits, while some will repay a portion of their Advanced Tax Credit Payments.
• If you don't qualify for subsidies you may want to see your options outside of the marketplace too, in some states some plans aren't offered on the marketplace.
• You may qualify for both cost assistance and an exemption from the tax if the cheapest marketplace after subsidies costs more than 8% of your income.
• Cost assistance is available for small businesses with less than 25 full-time equivalent employees too. Learn more about ObamaCare and Small Business.
ObamaCare Rebates and Refunds: While not a subsidy per-say, the ACA also includes provisions that help lower your premiums. If your insurer spends too much on overhead and not enough on care they owe a rebate. In 2011-2013 alone $1.9 million in rebates had been returned to customers. Rebates can be given as a check or applied to lower premiums moving forward. Learn more about the 80/20 rule and rate review provisions that are saving people money on your premiums, without many even knowing it.
What is a Subsidy?
A healthcare subsidy (cost assistance) lowers the amount you spend on your monthly premium (via advanced premium tax credits) or reduces your out-of-pocket costs for things like copays, coinsurance, deductibles and out-of-pocket maximum (cost sharing reduction).  Subsidies are "subsidized" by the federal government and are paid for through taxes.
Who is Eligible For Subsidies Under ObamaCare?
Subsidy eligibility is based on income for all legal residents in the US.  However, anyone who has access to affordable employer based health insurance, is eligible for Medicare, or who falls in the "Medicaid gap" will not be able to get subsidies.  Other restrictions apply.
During open enrollment Americans making under 400% of the federal poverty level (FPL) can get a type of subsidy called advanced premium tax credits. Tax credits lower premium costs. Those making less than 250% FPL can get cost sharing reduction subsidies to lower out-of-pocket costs. Those making less than 138% FPL (in some States) may be eligible for Medicaid (which subsidizes both premiums and cost sharing). Subsidies are only available through their State's health insurance marketplace.
Do I Qualify For ObamaCare's Cost Assistance Subsidies?
Any legal resident under 65 making between 100%-400% of the Federal Poverty Level qualifies for cost assistance, as long as they don't have access to affordable employer coverage. Subsidies are only offered on Health Insurance Marketplace plans.
The best way to see if you qualify for subsidies is to simply simply find your states marketplace or the Federal Marketplace HealthCare.Gov and fill out an application. Applying doesn't lock you in to buying health insurance, but it will give you an idea of your options.
You can use the ehealthinsurance.com subsidy calculator to see if you qualify for cost assistance on the marketplace and learn about your health care options both inside and Outside Of The Marketplace at the same time. Or you can use our Subsidy Calculator to learn more.
REMEMBER: While qualified health insurance agents, brokers and providers can help you see if you qualify for cost assistance subsidies and help you sign up for a Marketplace plan, subsidies are only available for plans offered on your states marketplace. Keep reading to learn more about how cost assistance works with the Affordable Care Act.
Marketplace Subsidies and Open Enrollment
Marketplace subsidies must be obtained during Open Enrollment, or during a Special Enrollment Period in the case of a qualifying life even.
You can apply for cost assistance before open enrollment, but you won't be able to enroll in a plan with those subsidies until each years annual open enrollment period. If you would like to apply now find your State using the link below, or keep reading to get a better understanding of how subsidies work.
Click here to find your state health insurance marketplace (also known as an exchange.)
What if I Don't Qualify For Subsides?
If you don't qualify for subsidies through the marketplace due to your income, then you'll want to shop around outside the marketplace in addition to looking at Marketplace plans.
Not all of the plans offered in your region are offered on the marketplace,and not all insurers participate in the marketplace.  Some will find their best plan on the marketplace even without subsidies while some will find the best plan outside the marketplace.  We strongly suggest finding a trusted broker or agent to help you with the process of shopping outside the marketplace.  There is no need to make a choice until you are ready, although regardless of how you shop you'll need to obtain coverage during open enrollment in the individual market.
Get tips for shopping for health plans.
Can I get Subsidies If I Qualify For Medicaid?
If you qualify for Medicaid, or if your State doesn't expand Medicaid, and you make less than 100% of the Federal Poverty Level, you will not qualify for subsidies on the health insurance marketplace. This affordability gap is sometimes called the "Medicaid Gap".
ObamaCare Subsidies Fix For Insurance Purchased Outside of the Marketplace
Some people in some states who bought insurance outside of the marketplace due to technical issues with their states website, despite qualifying for subsidies, could have retroactively sign up for a marketplace plan and receive federal subsidies. The marketplace closed on March 31st, 2014 and that change had to be made before that deadline. Contact your insurance company for further details.
What if I Can't Afford Health Insurance?
If you can't "afford" health insurance you are may be exempt from the individual mandate (the requirement to buy insurance or pay a fee) and are eligible for free or low-cost insurance due to ObamaCare's subsidies. Many Americans will be exempt from the requirement to buy health insurance, but will be able to get a free or very low-cost plan on the marketplace regardless.
During open enrollment for 2014 the top reason why some people did not even look for coverage was the perception that they could not afford insurance. Applying for a marketplace account is the easiest way to find out if you qualify for assistance!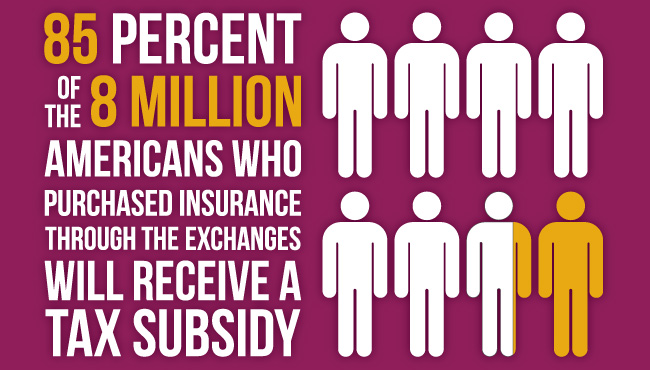 Can I Get Subsidies If I Qualify For Employer Coverage?
If you have access to affordable employer coverage, that meets minimum requirements, you can't get cost assistance subsidies.
Can I Purchase Insurance On the Exchange if I Have Insurance Through Work?
You can purchase insurance on the exchange, but you (and your family) will not qualify for tax breaks, credits or help on up front costs unless your employer offers substandard insurance (it must offer the same benefits as the basic Bronze plan sold through ObamaCare's exchanges / marketplaces) or if your insurance costs more than 9.5% of your income.
If your employer based insurance doesn't meet the above criteria you should be eligible for subsidies. However you'll need your employer to fill out a employer coverage tool form before you can get covered.
The 9.5% cap is for the employee-only income, meaning the total cost of a plan offered by an employer to the employee can be more than 9.5% of family income. There is no rule that says your spouse, dependents, or you have to take the insurance your employer offers. The rule only states that they cannot receive cost assistance subsidies. If an employer based plan is unaffordable you may qualify for an exemption from the fee. Watch the following video on employee health insurance:
How Will Subsidies Affect My Cost?
As a rule of thumb, the less you make the lower your premium will be (due to advanced premium tax credits), and the lower your out-of-pocket costs will be as well. The cost of your plan is based on what plan you choose, family size, location, age and smoking status. Subsidies are then applied to the cost of your plan. When you use the marketplace your subsidies will automatically be calculated and you'll be able to see your final price when comparing plans.
As you can see from the image below ObamaCare's subsidies can drastically lower the amount of you premium you are responsible for. However, as we'll discuss below, if you gain or lose income during the year you will be responsible for the difference on your year end tax returns.
Above is the basic rule for cost assistance, below is how the above chart is actually calculated on your Premium Tax Credit form for your Tax Returns. The numbers on the left show a percentage of the Federal Poverty Level, the numbers on the right represent the max percentage of household income a your premium can cost after tax credits.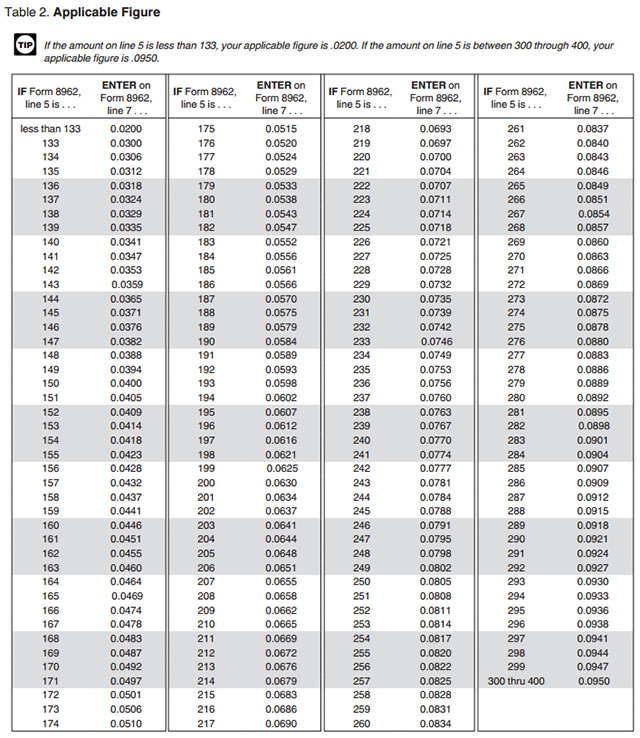 Subsidies and Types of Marketplace Plans
Under the ACA, there are four types of plans, referred to as "metal plans" due to their quality corresponding to the value of their metal types. In other words a "Gold" plan is better than a "Bronze" health insurance plan.
When purchasing a plan through the marketplace with cost assistance subsidies you will be purchasing one of the above plans. The important thing to realize is that higher costs plans mean less out-of-pocket costs to you and a wider network of doctors and hospitals to choose from.
Ideally you'll be looking for a plan with a high actuarial value (low out-of-pocket costs) and a low premium. Don't make the mistake of buying a free or low-cost Bronze plan when you and your family could get a Sliver plan that covers a larger percentage of out-of-pocket expenses saving you money in the long run. Check out some of our tips on buying health insurance.
The Federal Poverty Guidelines Help to Determine Subsidies
Subsidy calculations allow people earning up to 400 percent of the federal poverty guidelines to receive help in paying for their insurance. The following table explains the 2014-2015 poverty guidelines.
Federal Poverty Guidelines Used to Calculate Premiums, Cost-Assistance, and Taxes in 2014 – 2015:
Federal Poverty Guidelines 2014
Persons in Household
2014 Federal Poverty Level for Continental U.S.
Medicaid Eligibility (138% of FPL)
Premium subsidy threshold (400% of FPL)
1
$11,670
$16,105
$46,680
2
$15,730
$21,707
$62,920
3
$19,790
$27,310
$79,160
4
$23,850
$32,913
$95,400
5
$27,910
$38,516
$111,640
6
$31,970
$44,119
$127,880
7
$36,030
$49,721
$144,120
8
$40,090
$55,324
$160,360
Three Kinds of Subsidies on ObamaCare's Health Insurance MarketplaceIf your income is less than the amount in the above table, you may qualify for coverage under Medicaid. But, your state must participate in expanded Medicaid in 2014. If it is not participating and you do not qualify for Medicaid under your state's Medicaid rules you pay the entire cost of a plan bought through the marketplace.

ObamaCare provides three different kinds of subsidies. Medicaid / CHIP for those making less than 138% of the Federal poverty level (FPL), help with out-of-pocket costs for those making up to 250% of the FPL and advanced premium tax credits for those making up to 400% of the FPL.
Types of Cost Assistance: Health Insurance Financing
Individual Annual Income
Family of Four Annual Income
Medicaid health coverage, if your state
decides to offer it
Up to $16,105
Up to $32,913
Help to pay your premium, if you buy in
your state's online marketplace
Between $11,670-$46,680
Between $23,850-$95,400
Subsidies for out-of-pocket costs, if you
buy in your state's online marketplace
Up to $29,175
Up to $59,625
ObamaCare and Advanced Premium Tax Credits
If you qualify for Advance Premium Tax Credits, you use them immediately to lower your monthly premium expense. You pick how much advance tax credits that will apply each month towards your premium payment up to a maximum amount. If you choose an amount that is less than your total Advance Premium Tax Credit, you get the difference when you file your income taxes as a tax refund. But, if the total of your advance premium payments is greater than the amount of your credit, you must pay it back with your tax filing.
Eligibility for Tax Credits
In general, you may be eligible for the credit if you meet all of the following:
buy health insurance through the Marketplace;
are ineligible for coverage through an employer or government plan;
are within certain income limits;
file a joint return, if married; and
cannot be claimed as a dependent by another person.
If you are eligible for the credit, you can choose to:
Get It Now: have some or all of the estimated credit paid in advance directly to your insurance company to lower what you pay out-of-pocket for your monthly premiums during 2014; or
Get It Later: wait to get all of the credit when you file your 2014 tax return in 2015.
If you need to adjust tax credits, that is done at tax time. There is a limit to the amount of tax credits you must pay back, based on income.
Learn more from the IRS on Tax Credits.
Health Insurance Premiums and Cost Sharing under PPACA for Average Family of 4
For "Silver Plan"
Income % of federal poverty level
Premium Cap as a Share of Income
Income $ (family of 4)
Max Annual Out-of-Pocket Premium
Premium Savings
Additional Cost-Sharing Subsidy
133%
3% of income
$31,900
$992
$10,345
$5,040
150%
4% of income
$33,075
$1,323
$9,918
$5,040
200%
6.3% of income
$44,100
$2,778
$8,366
$4,000
250%
8.05% of income
$55,125
$4,438
$6,597
$1,930
300%
9.5% of income
$66,150
$6,284
$4,628
$1,480
350%
9.5% of income
$77,175
$7,332
$3,512
$1,480
400%
9.5% of income
$88,200
$8,379
$2,395
$1,480
In 2016, the FPL is projected to equal about $11,800 for a single person and about $24,000 for family of four. Use the Kaiser ObamaCare Cost Calculator or this updated Cost Calculator from Covered California for more information. DHHS and CBO estimate the average annual premium cost in 2014 to be $11,328 for family of 4 without the reform. Source: Wikipedia
ObamaCare and Out-of-Pocket Subsidies (Cost Sharing Reduction)
In order to receive out-of-pocket assistance (AKA cost sharing reduction subsidies), you must buy a Silver plan from the state exchange and an individual or family must have incomes no more than 250 percent of the Federal Poverty Line. This means that families in the lowest income group pay no more than 6 percent of its share of out-of-pocket expenses, while those at the upper level of the group pay up to 27 percent of out-of-pocket expenses. Combining Advance Premium Tax Credits with Out-of-Pocket subsidies creates an average subsidy of about $5,000 for families and individuals. But, low-income families get larger subsidies and those with several children get the most.
Income Level Actuarial Value (the amount of costs a Silver plan will cover due to cost sharing reduction subsidies for % of the Federal Poverty Level).
100-150% FPL = 94% Actuarial Value
150-200% FPL = 87% Actuarial Value
200-250% FPL = 73% Actuarial Value
More than 250% FPL = 70% Actuarial Value
Sometimes these Actuarial Value levels are called CSR levels. When looking at summary of benefits and coverage, look for CSR Level 73, 87, or 94 to see what your plan will cover.
ObamaCare and Medicaid
For the least wealthy Americans ObamaCare makes getting Medicaid easier. But, the same Supreme Court ruling that found the mandate legal exempted states from expanding Medicaid and allows expansion to be voluntary. This means that many of the states that oppose Medicaid expansion have not implemented it. In these states, the people affected most likely cannot afford health insurance from the state exchanges.
In states that have expanded Medicaid, coverage may differ from Silver plan coverage but provides most benefits such as free preventive care. Learn more about Medicaid Expansion.
Subsidies are only available when you a policy from your state health care insurance exchange. For those with questions, call the exchange and speak with a navigator. They are specially trained personnel who will be able to answer questions about subsidies, coverage, deductibles, and more.
The following video will give you a simple explanation of what ObamaCare Subsidies are and how they work:
This video explains how ObamaCare Subsidies work in a little more detail:
Verify Cost Assistance Each Year
If you have cost assistance from last year make sure to verify your income on your state's marketplace and shop around for plans to ensure you are getting the most bang for your buck.
If you have a marketplace plan from last year you'll need to verify your cost assistance and may want to shop around for other marketplace options to ensure you get the best deal.
What Subsidies Do I Have to Pay Back?
You don't have to pay back Cost Sharing Reduction Subsidies or Medicaid, but you could end up owing Advanced Premium Tax Credits back up to the limit for your income level. See details of the Tax Credit form used to pay back Tax Credits.
Line 28. Repayment Limitation. The amount is limited to certain amounts insuring you can't owe more than you can afford if you received too many Advanced Premium Tax Credits.
Less than 200% FPL ………………………….. $300 single, $600 any other filing status
At least 200% FPL but less than 300% … $750 single, $1,500 any other filing status
At least 300% FPL but less than 400% … $1,250 single, $2,500 any other filing status
Apply For ObamaCare Subsidies Now
Remember subsidies are only available through ObamaCare's health insurance marketplace. Make sure to check out your State's Health Insurance Marketplace today. You can apply at anytime to see if you qualify for cost-assistance but you'll have to enroll in a plan during each years annual open enrollment.
Do I Qualify For Subsidies From ObamaCare?